September 2, 2013
Written by Marykate O'Malley, mother of three wonderful children, Gladwyne, PA
Freeze Mom! Drop that saran wrap!
I know, I know, you need to store the salad for the party, and put away the cheese platter until dinner. I also know you will fight and tug and try to get that bowl or platter covered and air tight. But you won't because it is a trap. The saran wrap trap. It only wraps itself but never the item you are trying to cover. Maybe it's me. Maybe you are all skilled saran wrappers. When I try – no wrap. Maybe it sarans – what does that mean exactly? I am sorry saran wrap. I am bitter. Bitter because this is a skill I have not mastered and I am certain there are people who have. I don't think I will ever be counted among them.
And so imagine my delight when I was at my beautiful lovely sister in law's baby shower and her gem of a mother was pulling delectable platters and salads from the fridge. And then she starts flinging these little covers off the bowls that look like shower caps – except they are not, they are food covers! Can you say brilliant?!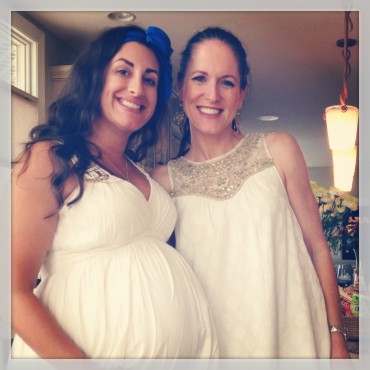 My beautiful sis in law – can't wait for this baby! Blessed!
I searched out these little shower cap wraps and tried it out today for the first time. I made a Cobb salad with shrimp and tabbouleh for a barbeque at my other beautiful lovely sister in law's home (blessed) and in one swift motion – food was covered and ready to go. Check out Covermates! (Sold at Target, amazon and from their website) They come in assorted sizes.
And most importantly, wishing all of you a fun and safe Labor Day!! Cheers!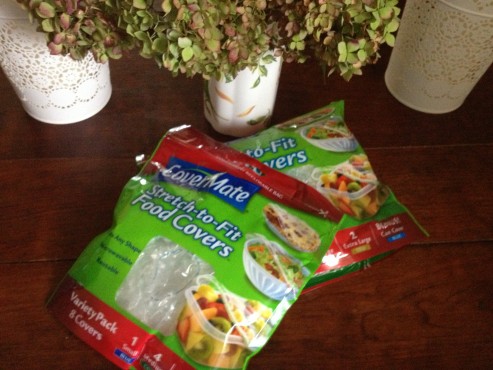 Share this post
You might like...
Category: Brilliant, Cookin', For Moms, For The Home, Gear, Girl Time, Holidays, Kitchen, Kitchen Gadgets, Kitchen Pantry, Mission Control, Momzone, Organizing, Random and Fun
5 Comments »
Julie R

on September 3, 2013 1:54 pm

Yes I love these too!!!! I also found some at the Dollar Tree Store. http://www.dollartree.com/household/paper-plastic/food-storage/Stor-It-Bowl-Cover-Ups-Variety-Packs/500c509c512p297150/index.pro

---

Heidi Farmer

on September 3, 2013 4:40 pm

This is GREAT! and love to your sister-in-law. Babies, how fun!!

---

Marykate

on September 3, 2013 6:41 pm

Julie – thank you!!
Heidi – they are so easy and re-usable so green too!

---

Julie R

on September 4, 2013 8:25 am

MaryKate – also glad to know that I am not the only one that can't make Saran work. I have tried the name brand "Saran," the competitor brand, the generic brand, etc. I can't seem to make it work. I think it is magic!!!!!

---

Marykate

on September 4, 2013 10:02 pm

Julie – me too! It just gets all wrapped up in itself and I cant get it to stay on the platter. I think it maybe has something to do with stretching it? Will probably never know!

---
Leave Us Some Comment-Love