May 29, 2014
Written by Marykate O'Malley, mother of three wonderful children, Gladwyne PA 
What a tremendous loss. What a benevolent, poetic, brilliant human being and beautiful soul. She is gone but her words and teachings remain. I only wish we had that rich soulful voice around a little longer.  In honor of the great Maya Angelou, I share some of my favorites quotes with you. And would love to hear yours.
If you don't like something, change it. If you can't change it, change your attitude. Don't complain.
There is no greater agony than bearing an untold story.
We delight in the beauty of the butterfly, but rarely admit the changes it has gone through to achieve that beauty.
You may not control all the events that happen to you, but you can decide not to be reduced by them.
Try to be a rainbow in someone's cloud.
The love of the family, the love of the person can heal. It heals the scars left by a larger society. A massive, powerful society.
Courage is the most important of all the virtues because without courage, you can't practice any other virtue consistently.
Nothing will work unless you do.
It's one of the greatest gifts you can give yourself, to forgive. Forgive everybody.
I've learned that you can tell a lot about a person by the way (s)he handles these three things: a rainy day, lost luggage, and tangled Christmas tree lights.
History, despite its wrenching pain, cannot be unlived, but if faced with courage, need not be lived again.
Listen to yourself and in that quietude you might hear the voice of God.
I've learned that making a living is not the same thing as making a life.
You may not control all the events that happen to you, but you can decide not to be reduced by them.
We can learn to see each other and see ourselves in each other and recognize that human beings are more alike than we are unalike.
If you're always trying to be normal, you will never know how amazing you can be.
The desire to reach the stars is ambitious. The desire to reach hearts is wise and most possible.
Have enough courage to trust love one more time. And always one more time.
We have to confront ourselves. Do we like what we see in the mirror? And, according to our light, according to our understanding, according to our courage, we will have to say yea or nay — and rise!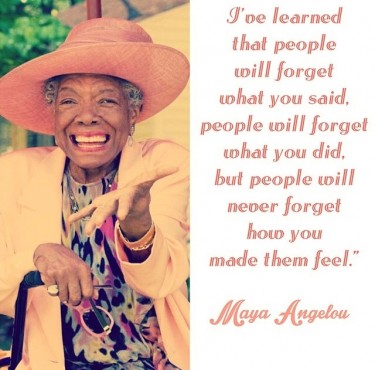 Share this post
You might like...
Category: Art, Board Books, Books, Brilliant, Brilliant Authors, For Moms, Momzone, Nonfiction, Picture Books, Random and Fun, Wondermom Resources
No Comments »
No comments yet.
Leave Us Some Comment-Love