March 13, 2014
written by Cathy Baker, mom of two of the world's sweetest tweens, enjoying the journey in the Missouri Ozarks
This week is Spring Break for us.  I must admit, with having 13 snow days this winter, it seems crazy to have another week off now. However, I have been reminded this week, that happiness is everywhere. We don't have to take a luxurious vacation (although those are nice!) to live a life full of joy. We just have to open our eyes to notice the free happiness.
Here's where I've found happiness this week…
My parents arriving from Michigan to spend the week with us. ~ Warmth and sunshine filling the air. ~ Homemade dinners shared around the table. ~ Being lost in dinner conversation. ~ Picnic in the park. ~ Spring Bulbs pushing their way through the soil. ~ Mom adding some blooming pansies to my flower bed. ~ Trying a new place for lunch with my mom. ~ Indulging in dark chocolate mousse and caramel crepes. ~ Daughters' laughter filling our days. ~ Watching grandparents and granddaughters create special bonds. ~ Sleeping in. ~ Quiet, unrushed mornings. ~Extra time for prayer and reflection. ~ Staying up late. ~ Husband, without complaint, going to work every day while the rest of us are off. ~ Husband getting out early a couple of afternoons to enjoy some time with us. ~ His arms around me as we sit in the grass.  ~ Bluest skies framing our kites soaring high. ~ Celebrating husband's birthday at HuHot. ~ Daughters' homemade carrot cake, cinnamon rolls, and blueberry cobbler melting in my mouth. ~ First grilling out of the season. ~ Three generations enjoying card games around the table. ~ Springtime walks energizing the soul. ~ Puppy snuggles. ~ Family gathered together enjoying movie time. ~ Flipping the pages of a book. ~ Pondering the book for days after finishing it (Jodi Picoult – The Storyteller). ~ Sweet friend surprising us by dropping off 128 bottles of OPI nail polish! ~ Hours spent painting a rainbow of colors on our nails. ~Finally figuring out how to get all 600 photos off my phone (long story). ~ Breathing Spring into my lungs. 
I hope you find the same joy during your Spring (or Spring Break) — and yes, for some of you still buried in winter, it will come! 😉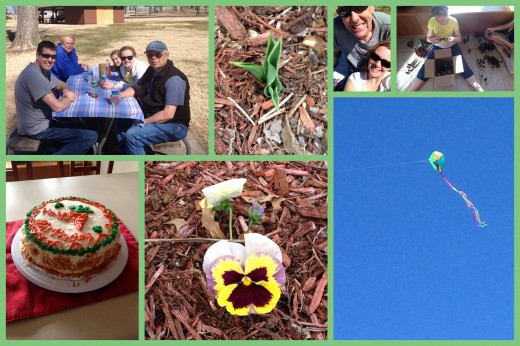 Share this post
You might like...
Category: Random and Fun
Tags: spring |
No Comments »
No comments yet.
Leave Us Some Comment-Love