July 28, 2010
I had to show you this gorgeous vegetable garden, which features 6 raised beds for a rotation of assorted vegetables (leeks, sugar snap peas, beans, carrots, tomatoes and tomatillos, etc), a terraced small herb garden, a berry garden with grapes, raspberries, strawberries, and rhubarb; and a raised patio planter for early and late season spinach and assorted lettuces.  Whew – hungry yet?
"The big view" with a bit of the herb garden in the foreground.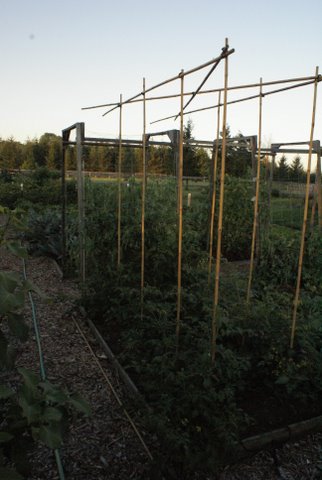 These bamboo supports are for the tomatoes.
Strawberries in the foreground. Raised beds of broccoli & cabbage, beans, carrots in the middle ground and tomatoes on bamboo supports in background. The sunflower was a volunteer from last years fence planting.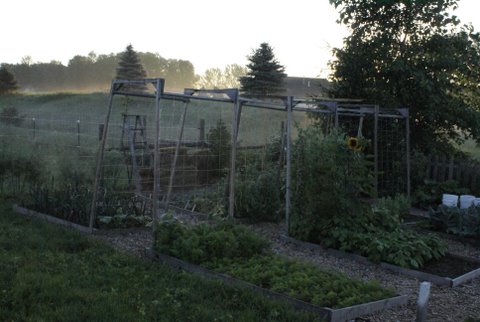 Raised beds of veggies with peas on trellis & cukes just getting started on another trellis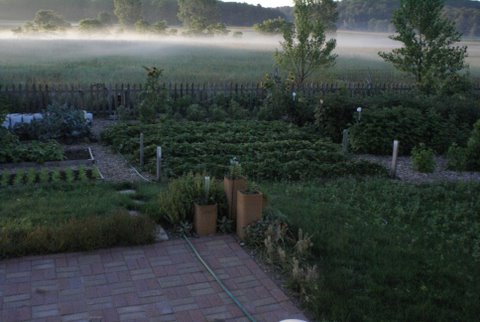 Early morning fog heightens the gorgeousness.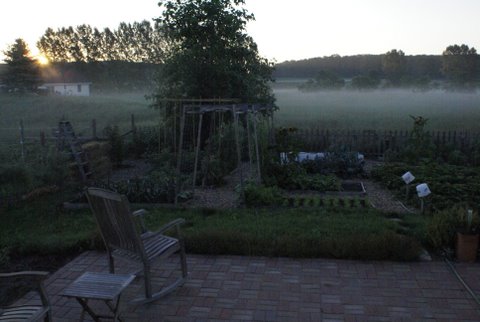 The view for breakfast "al fresco." A few ice cream pails hanging on posts in the garden are handy to pick more than just a handful for snacking. Netting draped over the posts keep birds out of the berries.
The master gardener, Stella Otto says, "It's all planted in a compact space for easy care/low maintenance and includes trickle irrigation and wood chipped paths. Trellises and other supports provide vertical growing area to make picking easier.  Best of all, it's just steps from my kitchen; adjacent to our brick patio. In the summer I enjoy a sunrise breakfast al fresco overlooking the garden and our 10 acre horse farm. This garden provides for my husband & myself as well as our soon to be college bound teenager.  After freezing, canning, and preserving what we need for the winter, we still have plenty to share with friends and neighbors without an excess amount of time and work. Although we have plenty of acreage available, I purposely chose to design the garden for a small compact space to complement our cape cod style home with enclosed yard. The design could easily be used in a small in town or suburban lot."
And friends, this garden is something to aspire to!

Share this post
You might like...
Category: Garden
Tags: raised vegetable garden, vegetable garden |
9 Comments »
on July 28, 2010 9:32 am

Wow, that is a beauty!

---

on July 28, 2010 12:08 pm

I love gardens, and this one is so organized!

---

on July 29, 2010 11:58 am

Love it!

---

Laura

on July 29, 2010 1:56 pm

Where is this? I want to live here . . .

---

on August 1, 2010 6:44 am

What a beautiful garden! Stella Otto is also the author of two books, one of which won the Benjamin Franklin award- the Backyard Berry Book, and the Backyard Orchardist. You can check them out at her website, which is http://www.stellaotto.com. I read the Backyard Berry book to help me with my berry plantings, and it really has tons of valuable information, lucidly written, and beautifully presented. (Just like her garden!)

---

Martha

on August 1, 2010 6:45 am

Her books, The Backyard Berry Book and the Backyard Orchardist give a lot of tips on how to grow fruit in small gardens like this.

---

on August 1, 2010 6:46 am

What a wonderful garden, many great ideas. I know Stella Otto has a website with much more and she has published a couple of wonderful helpful books as well. Her website is a must http://www.stellaotto.com

---

Nikki R.

on August 1, 2010 6:46 am

Nice work Stella and Francis…. your gardens are lovely. Congrats!

---

Kathy Becker

on February 7, 2011 9:18 am

Wow Stella! Only a stone's throw from my house, and I never knew what delights were hiding back there! I'm stopping by for coffee–in the spring!!

---
Leave Us Some Comment-Love