November 27, 2012
written by Cathy Baker, mom of two sweet tweens, livin'  in the Missouri Ozarks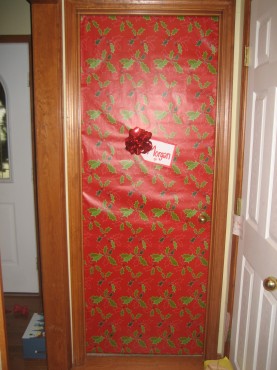 My Christmas decorating is just not complete until I wrap my girls' bedroom doors up as Christmas Presents!  It's SOOO easy! See..
Secure with tape at the top (I pull it over the top & secure on the back of their door.)
Roll the paper down the door
Cut a slit for door knob, I usually cut a tiny square/circle right at the knob, then put extra tape around the knob.
Secure with tape at the bottom, again I cut it slightly longer, and pull it under the door and secure on the back of their door.
Add a few pieces of tape to secure the sides!
Add a cute bow and a gift tag with their name.
And most importantly, call your child to come see and watch the giant smile light up their face!
A few extra tips:
Try and get wrapping paper that is the same width as your door. This will avoid having to cut off the extra if it is too wide (not hard to cut, just extra step.)
Make sure the print you choose will be going the right direction when you hang it on the door. Sometimes words (or Santa!) will be sideways if not careful.
I save the bows and the gift tags to use year after year. They are getting a little beat up after 10 years, so I'm gonna look for some new ones at the end of this Christmas Season.
Now that my decorating is done, I'm getting our countdown to Christmas Stockings ready to go!  My girls are super excited about this too! I love my countdown stockings because they remind me to slow down and Cherish this season through their eyes!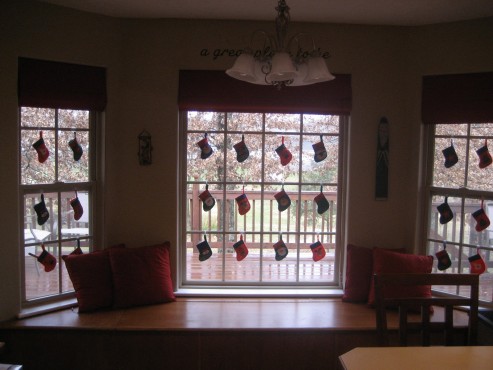 Share this post
You might like...
Category: Holidays, Random and Fun
Tags: christmas decorating |
No Comments »
No comments yet.
Leave Us Some Comment-Love