December 6, 2012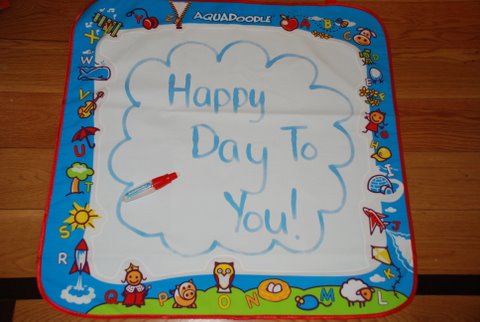 If you haven't been formally introduced to Aquadoodle yet, please make your introductions.  This little drawing mat o' fun will rock your world.
Oh, and your adorables will love it too.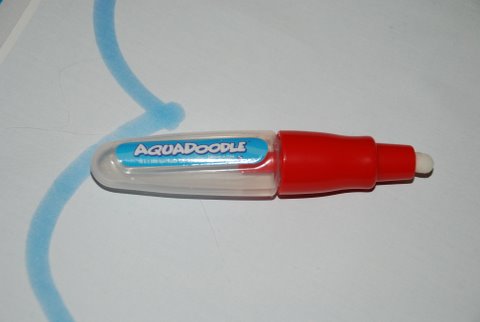 You just fill this little pen with water and let the adorables run wild drawing on the mat.
The water pen magically draws on the special mat.  When the water dries, it disappears.  Like I said, magic.
No mess.
No chemicals.
No cleanup.
Just pure fun.
***GIVEAWAY DETAILS!! ***(Yes, you've made it to the end!)
TWO lucky, lucky winner can win an Aquadoodle, simply by leaving a comment by Friday December 14th. I'll choose the winner using Random.org and announce it on Saturday December 15th!
Because we just LOVE comments, here's how to gain extra entries (please leave them as separate entries):
1. Do you subscribe by email or RSS to The Good Stuff Guide? We love our subscribers, so you get an extra entry. Wahoo!
2. Email 5 of your friends about The Good Stuff Guide and tell them what a rockin' website this is. We'd love to have them join us!
3. "Like" The Good Stuff Guide on Facebook and receive the latest news. (We LIKE you too!)
4. "Share" any recent post from The Good Stuff Guide on your Facebook wall by clicking 'Share' under our Facebook posts with links to The Good Stuff Guide site.  This makes a visit to our site just a click away for all your Facebook friends – the more the merrier…
5. "Pin" one of these photos to one of your pinterest boards!
6. Follow @goodstuffguide on twitter and tweet this article with the following the hashtags #GSGgiveaway
(Feel free to do them all – that's a total of 7 entries! Are you feeling lucky?!)

Share this post
You might like...
Category: Activities, Art, For Kids
26 Comments »
Tracy Eau Claire

on December 6, 2012 9:09 am

Would love to win one of these. Had one for years but we wore it out – literally wore holes in it from too much fun!

---

Jackie J.

on December 6, 2012 4:39 pm

I would love to win this to replace the one we wore out. They are so much fun.

---

Jackie J.

on December 6, 2012 4:40 pm

I subscribe to email so I can keep up on the latest products for children.

---

on December 7, 2012 6:50 am

My only grandson is just ready for this! I'm hoping for some luck!

---

on December 7, 2012 6:50 am

I subscribe to the e-mails- very informative!

---

Jamie Newman

on December 7, 2012 11:45 am

Im an email subscriber!

---

Jamie Newman

on December 7, 2012 11:46 am

I'm a facebook friend!

---

Jamie Newman

on December 7, 2012 11:46 am

My son would love this and it would be great for our upcomming 12 hour car ride!

---

Kaijsa

on December 7, 2012 5:29 pm

This is great!

---

Kaijsa

on December 7, 2012 5:30 pm

Email subscriber!

---

Kaijsa

on December 7, 2012 5:30 pm

Liked on Facebook!

---

Kaijsa

on December 7, 2012 5:31 pm

Pinned!

---

Kaijsa

on December 7, 2012 5:33 pm

Tweeted!

---

Jules Greenaway

on December 8, 2012 9:26 am

LOVE the Aquadoodle!!!! We have a travel one & it's saved us on more than one occasion!!!!

---

Jules Greenaway

on December 8, 2012 9:27 am

I'm an email subscriber… YAY!!

---

Jules Greenaway

on December 8, 2012 9:27 am

And I'm a "Friend" on FB!!

---

Jessica Crump

on December 8, 2012 1:43 pm

I subscribe to email feeds and my boys would love this

---

Jessica Crump

on December 8, 2012 1:43 pm

I am a friend on facebook

---

Jessica Crump

on December 8, 2012 1:44 pm

I shared the aqua doodle post on my facebook wall

---

Jessica Crump

on December 8, 2012 1:44 pm

I emailed 5 friends about this wonderful site. I love the articles and ideas

---

Jessica Crump

on December 8, 2012 1:45 pm

I tweeted about the giveaway

---

Jessica Crump

on December 8, 2012 1:47 pm

I pinned the good stuff guide and aqua doodle pictures

---

Rachel C

on December 9, 2012 9:02 pm

I'd love to replace ours that was written on with markers! Thanks for the chance

---

Rachel C

on December 9, 2012 9:02 pm

email subscriber

---

nannypanpan

on December 9, 2012 10:46 pm

my son would enjoy this
nannypanpan@gmail.com

---

nannypanpan

on December 9, 2012 10:46 pm

e-mail

---
Leave Us Some Comment-Love