August 9, 2011
Howdy folks!
This Tuesday, Wednesday and Thursday, you are in for a special Back-to-School treat – Giveaways every day!
First up:
Meet the Mabel's Labels Ultimate Back-t0-School Combo Pack!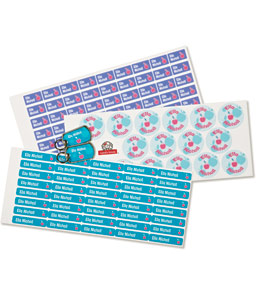 If your adorable is prone to lose things, these handy personalized labels will save your sanity.
The pack includes:
* 50 Tag Mates – washer and dryer safe for clothes
* 40 Skinny-Minis – dishwasher and microwave safe
* 16 Shoe Labels – waterproof and UV resistant
* 2 Teeny Tags – waterproof and UV resistant
* Comes in 6 color combos including this one: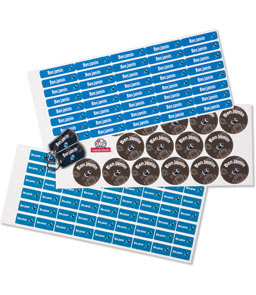 And if you're wondering if these really stay "stuck", I placed these on my sippy-cups about 2 years ago, and, by golly, through uncountable dishwasher runs (and we have a really hot one!), they look just as they did the day I stuck them.  Scout's honor! 

Giveaway
You can win one Colourful Ultimate Back-to-School Combo Pack ($42) customized for your adorable just by leaving a comment by Tuesday, August 16th and I'll choose the winner using Random.org on Wednesday, the 17th.
Because I just LOVE comments, here's how to gain extra entries (please leave them as separate entries):
1. Do you subscribe by email or RSS to The Good Stuff Guide? I love my subscribers, so you get an extra entry. Wahoo!
2. Email 5 of your friends about The Good Stuff Guide and tell them what a rockin' website this is. We'd love to have them join us!
3. "Like" The Good Stuff Guide on Facebook and receive the latest news and your chance at additional giveaways. (I LIKE you too!)
4. "Share" any recent post from The Good Stuff Guide on your Facebook wall by clicking 'Share' under our Facebook posts with links to The Good Stuff Guide site.  This makes a visit to our site just a click away for all your Facebook friends – the more the merrier…
(Feel free to do them all – that's a total of 5 entries!)
Good luck!
And many thanks to Mabel's Labels for this awesome giveaway!

Share this post
You might like...
Category: Gear
78 Comments »
Lesli C

on August 12, 2011 9:41 am

I'm an email subscriber

---

Lesli C

on August 12, 2011 9:41 am

I like you on Fb- yay!

---

Lesli C

on August 12, 2011 9:42 am

I emailed five friends about the back to school giveaways!

---

alison

on August 12, 2011 12:59 pm

want to win this

---

alison

on August 12, 2011 1:00 pm

email subscriber

---

alison

on August 12, 2011 1:00 pm

emailed 5 friends about this giveaway

---

alison

on August 12, 2011 1:01 pm

like the good stuff guide on fb @ alison sheardy czischke

---

Chelsea

on August 12, 2011 8:01 pm

Love these!

---

Chelsea

on August 12, 2011 8:01 pm

FB fan!!!

---

Chelsea

on August 12, 2011 8:01 pm

Email subscriber too

---

on August 12, 2011 11:57 pm

These would be so handy!

---

on August 12, 2011 11:57 pm

Also a fan on FB.

---

Guillermo

on August 13, 2011 10:09 am

Great idea!

---

Jules Greenaway

on August 14, 2011 9:17 am

These would come in so handy…

---

Jules Greenaway

on August 14, 2011 9:17 am

I'm a subscriber…

---

Jules Greenaway

on August 14, 2011 9:18 am

And of course a fan on "FB"

---

Jamie Newman

on August 14, 2011 4:11 pm

Oooh, I would love to win these!

---

Jamie Newman

on August 14, 2011 4:12 pm

I'm a subscriber!

---

Jamie Newman

on August 14, 2011 4:12 pm

FB fan!

---

Colleen Gallagher

on August 14, 2011 8:21 pm

Love these

---

on August 15, 2011 11:39 pm

My daughter could use this for school supplies
tbarrettno1 at gmail dot com

---

on August 15, 2011 11:40 pm

email subscriber
tbarrettno1 at gmail dot com

---

on August 15, 2011 11:40 pm

like on facebook
tbarrettno1 at gmail dot com

---

Chani M

on August 16, 2011 2:45 am

Could TOTALLY use these!!

---

Chani M

on August 16, 2011 2:45 am

Fb fan

---

Guillermo

on August 16, 2011 4:35 pm

email subscriber

---

Guillermo

on August 16, 2011 4:36 pm

emailed friends.

---

Guillermo

on August 16, 2011 4:36 pm

liked on facebook

---
Leave Us Some Comment-Love