December 10, 2013
Written by Marykate O'Malley, mother of three wonderful children Gladwyne PA
I recently discovered Beatriz Ball. The collection is full of exquisitely beautiful pieces handmade by metalware artisans on the outskirts of Mexico City. And for you lovely readers… A Giveaway!! One lucky winner will receive the Vento Alex Pedestal and Soho spreader.
This is the perfect gift for newlyweds, mothers, sisters, friends and… YOU!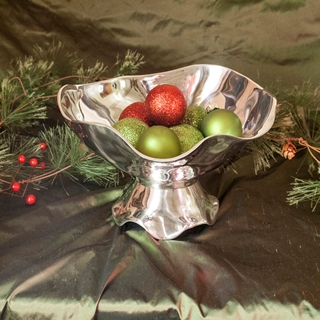 One lucky, lucky winner can win a Beatriz Ball bowl and spreader simply by leaving a comment by Friday December 13th. We'll choose the winner using Random.org and announce it on Saturday December 14th!
 GIVEAWAY INSTRUCTIONS….
Because we just LOVE comments, here's how to gain extra entries (please leave them as separate entries):
1. Do you subscribe by email or RSS to The Good Stuff Guide? We love our subscribers, so you get an extra entry. Wahoo!
2. Email 5 of your friends about The Good Stuff Guide and tell them what a rockin' website this is. We'd love to have them join us!
3. "Like" The Good Stuff Guide on Facebook and receive the latest news. (We LIKE you too!)
4. "Share" this post from The Good Stuff Guide on your Facebook wall by clicking 'Share' under our Facebook posts with links to The Good Stuff Guide site.
5. "Pin" any of The Good Stuff Guide's photos to one of your pinterest boards!
6. Follow @goodstuffguide on twitter and tweet this article with the following the hashtags #GSGgiveaway
(Feel free to do them all – that's a total of 6 entries! Are you feeling lucky?!)
Good Luck!
Share this post
You might like...
Category: Cookin', For Moms, For The Home, Giveaway Winners, Holidays, Kitchen, Kitchen Gadgets, Kitchen Pantry, Random and Fun
26 Comments »
on December 10, 2013 12:39 pm

What a gorgeous bowl, it would be perfect on the table I plan to build soon!

---

on December 10, 2013 12:39 pm

I subscribe via RSS, yay!

---

on December 10, 2013 12:40 pm

I like you on Facebook

---

on December 10, 2013 12:42 pm

I need a new way to display my fruit! I hate my wicker baskets. This would be beautiful!!

---

on December 10, 2013 12:43 pm

I am a subscriber (crunchygreenmom@gmail.com)

---

on December 10, 2013 12:43 pm

I Liked on FB (Suzanne Bastien)

---

Sandi McDowell

on December 10, 2013 12:53 pm

I like you on facebook! Great fruit bowl.

---

Sandi McDowell

on December 10, 2013 12:54 pm

I am a subscriber!

---

on December 10, 2013 12:55 pm

That's a gorgeous bowl! I have the perfect spot

---

on December 10, 2013 7:54 pm

That's a beautiful bowl!

---

Nannypanpan

on December 11, 2013 10:46 pm

Beautiful bowl

---

Nannypanpan

on December 11, 2013 10:47 pm

Email
Nannypanpan@gmail.com

---

Jules Greenaway

on December 12, 2013 8:28 am

Very simple & beautiful!! Would make a great gift for anyone!!

---

Jules Greenaway

on December 12, 2013 8:28 am

I'm an email subscriber!! YAY!!

---

Virginia

on December 12, 2013 12:48 pm

Love this piece
You have such great ideas and love Facebook page!
Your RSS feed is one of the few pieces of email that I actually look forward to reading each day!

---

Celeste Won

on December 13, 2013 4:32 pm

Beautiful bowl!-Celeste

---

Jennifer C

on December 13, 2013 4:37 pm

Liked on FB!

---

Jennifer C

on December 13, 2013 4:38 pm

Follow RSS!

---

Jennifer C

on December 13, 2013 4:39 pm

I sent emails to my five favorite people…

---

Jennifer C

on December 13, 2013 4:44 pm

Just tweeted!

---

Jennifer C

on December 13, 2013 4:45 pm

Just pinned!

---

Celeste Won

on December 13, 2013 8:33 pm

I subscribe,too. Beautiful bowl!-Celeste

---

Celeste Won

on December 13, 2013 8:44 pm

I "liked" you on Facebook.

---

Julia C.

on December 13, 2013 10:10 pm

Beautiful and looks like it could be used in a lot of ways!

---

Julia C.

on December 13, 2013 10:10 pm

Liked on Facebook!

---

Julia C.

on December 13, 2013 10:10 pm

Pinned on Pinterest!

---
Leave Us Some Comment-Love