July 25, 2011
Happy Monday to you!
Something for the girls today…
Meet the Calico Critters Baby Amusement Park: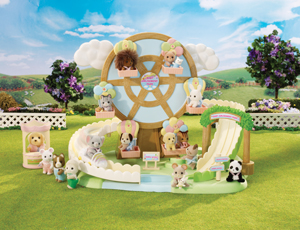 This cutey-patootie set includes a roller coaster, a ferris wheel, and a ticket stand.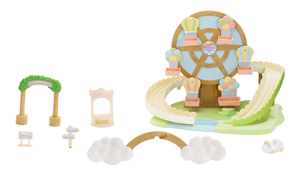 It's really just adorable, but FYI, the set itself does not come with any critters which make it so engaging in the photo.  The set we were sent had an extra package attached, but I do feel that 1 or 2 little guys should be included for the magnitude  and price point of this set.
With that said, my boys (!) have just loved playing with this.  I thought we would test it out and pass it along to some darling girl, but they won't let me part with it!  So I think that says a ton!
Perfect for imaginative, quiet play.
And you can win one…
Giveaway
One lucky, lucky winner can win a  Calico Critters Baby Amusement Park ($49.99) simply by leaving a comment by Tuesday, August 2nd.  I'll choose the winner using Random.org and announce it on Wednesday.
Because I just LOVE comments, here's how to gain extra entries (please leave them as separate entries):
1. Do you subscribe by email or RSS to The Good Stuff Guide? I love my subscribers, so you get an extra entry. Wahoo!
2. Email 5 of your friends about The Good Stuff Guide and tell them what a rockin' website this is. We'd love to have them join us!
3. "Like" The Good Stuff Guide on Facebook and receive the latest news and your chance at additional giveaways. (I LIKE you too!)
4. "Share" any recent post from The Good Stuff Guide on your Facebook wall by clicking 'Share' under our Facebook posts with links to The Good Stuff Guide site.  This makes a visit to our site just a click away for all your Facebook friends – the more the merrier…
(Feel free to do them all – that's a total of 5 entries!)

Share this post
You might like...
Category: Toys and Gift Ideas
64 Comments »
Jessica Crump

on July 28, 2011 8:28 pm

I shared a post on facebook.

---

Jessica Crump

on July 28, 2011 8:29 pm

I emailed 5 friends.

---

Jackie

on July 29, 2011 7:35 am

My two little girls would be in heaven. Looks adorable!

---

Amanda Starr

on July 31, 2011 8:51 am

Oh my daughter loves Calicos they just cost a bit too much for us to get the cute playsets so thanks for the chance!

---

Amanda Starr

on July 31, 2011 8:52 am

"Like" The Good Stuff Guide on Facebook

---

Amanda Starr

on July 31, 2011 8:53 am

Subscribe to RSS

---

Sarah Dinkle

on July 31, 2011 11:33 pm

I subscribe to your emails! My daughter would love this for her birthday (her birthday is August 3rd!)

---

Sarah Dinkle

on July 31, 2011 11:34 pm

I "like" the good stuff on facebook! My daughters Birthday is August 3rd, she would loooove this

---

Sarah Dinkle

on July 31, 2011 11:35 pm

I shared a post on Facebook Thank you for the chance to win something adorable for my little girls birthday

---

Katie

on August 1, 2011 11:47 am

This is very cute – we'd love to win.

---

Katie

on August 1, 2011 11:47 am

I'm already a fan on FB.

---

Kaijsa

on August 1, 2011 11:47 pm

Love these! So cute.

---

Kaijsa

on August 1, 2011 11:48 pm

Email subscriber! Love this blog!!

---

Kaijsa

on August 1, 2011 11:48 pm

Facebook superfan!!

---
Leave Us Some Comment-Love