May 23, 2011
Happy Monday! I absolutely adore spring weekends and this one was great: we met and adored the folks who will be renting our house for 6 weeks this summer (more on that later…), I spent some time in the garden planting (I'm almost through the annuals for the year), and loads of time playing with the adorables.
Today's Giveaway is awesome: I've been meaning to do a Brilliant Author Series on Lauren Child, the creator of Charlie and Lola, Clarice Bean, and others. Lauren's sense of written comedic timing is spot on. I also love the quirky illustrations that are so creative and, via graphic design, help the story come alive.
Here's the Charlie and Lola loot you can win: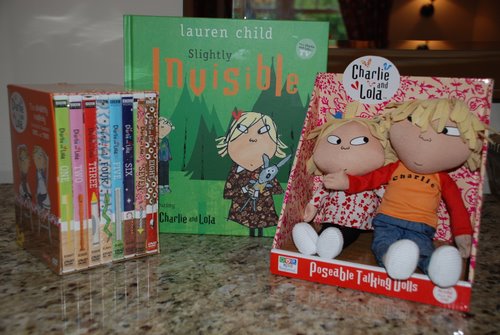 This includes…
1.Slightly Invisible (Charlie and Lola)
– the new book out May 11th that continues the hilarity that is Lola.  I have to hand it to Charlie: he is patient and clever to "manage" his sister.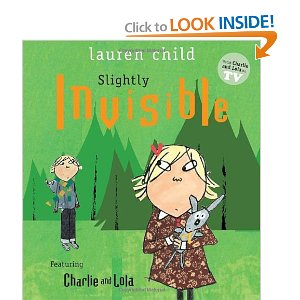 2. Charlie and Lola, Vol. 1-8
($65.99) – an 8 DVD set encompassing the first 2 seasons of this witty and smart show.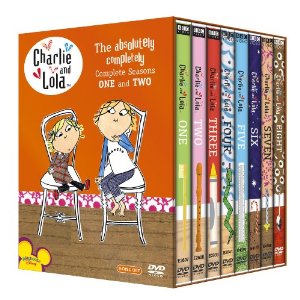 3. Charlie and Lola – Plush – Talking Posable Charlie & Lola Set
($28.25) – your own Charlie and Lolas to make your adorable's (or yours, I won't tell) playtime come alive.
So here's how you win…
Giveaway
One lucky, lucky winner can win the new simply by leaving a comment by Friday, May 27th.  I'll choose the winner using Random.org and announce it on Saturday.
Because I just LOVE comments, here's how to gain extra entries (please leave them as separate entries):
1. Do you subscribe by email or RSS to The Good Stuff Guide? I love my subscribers, so you get an extra entry. Wahoo!
2. Email 5 of your friends about The Good Stuff Guide and tell them what a rockin' website this is. We'd love to have them join us!
3. "Like" The Good Stuff Guide on Facebook and receive the latest news and your chance at additional giveaways. (I LIKE you too!)
4. "Share" any recent post from The Good Stuff Guide on your Facebook wall by clicking 'Share' under our Facebook posts with links to The Good Stuff Guide site.  This makes a visit to our site just a click away for all your Facebook friends – the more the merrier…
(Feel free to do them all – that's a total of 5 entries!)
Good luck!
Oh, and if you were wondering, I did finally break down and make these Chocolate Oatmeal Big Ole' Hunk a Love bars over the weekend.  I held out for as long as I could…
Share this post
You might like...
Category: Activities, Picture Books
90 Comments »
on May 24, 2011 10:26 am

I also subscribe to the blog! :>)

---

Linda

on May 24, 2011 10:41 am

We love books and can't wait to read these.

---

Linda

on May 24, 2011 10:42 am

I like you on facebook

---

Linda

on May 24, 2011 10:42 am

I'm an email subscriber

---

Rachel C

on May 24, 2011 11:14 am

My kids would love this!

---

Rachel C

on May 24, 2011 11:15 am

email subscriber

---

Kaijsa

on May 24, 2011 11:34 am

I LOVE Charlie and Lola!!

---

Kaijsa

on May 24, 2011 11:35 am

Email subscriber!!

---

Kaijsa

on May 24, 2011 11:36 am

I like you on FB

---

Kaijsa

on May 24, 2011 11:39 am

Shared the giveaway on my fb page!

---

Jackie J.

on May 24, 2011 12:08 pm

I'd never heard of Charlie and Lola, so I clicked on the first link. How cute!

---

Jackie J.

on May 24, 2011 12:08 pm

I'm an email subscriber and I'd love to win these for my classroom.

---

Maria Malaveci

on May 24, 2011 2:08 pm

My kids adore Charlie & Lola, and we would be thrilled to win!

---

Maria Malaveci

on May 24, 2011 2:09 pm

Subscribe by email to The Good Stuff Guide?

---

Maria Malaveci

on May 24, 2011 2:10 pm

"Like" The Good Stuff Guide on Facebook

---

Maria Malaveci

on May 24, 2011 2:14 pm

Emailed 5 of my friends on Facebook about the giveaway and the site!

---

Maria Malaveci

on May 24, 2011 2:18 pm

Shared the giveaway on my Facebook Wall

---

on May 24, 2011 4:26 pm

Charlie and Lola are the best! My kids absolutely, positively love the stories and shows.

---

Sandra

on May 25, 2011 12:02 am

Oh, yes please! My son and I LOVE Charlie and Lola!!!

---

Sandra

on May 25, 2011 12:03 am

I am an email subscriber to The Good Stuff Guide! WOOT!!

---

Sandra

on May 25, 2011 12:07 am

I emailed (or messaged, actually) 5 friends via Facebook and raved about your site! 😀

---

Sandra

on May 25, 2011 12:07 am

I already "Like" TGSG on Facebook!

---

Sandra

on May 25, 2011 12:14 am

I shared the Artimus Artwork post on Facebook! SUCH a grand idea!

---

on May 26, 2011 4:19 am

Oh, my girl would be totally blown away to get these!

---

on May 26, 2011 4:19 am

subscribed via mail!

---

on May 26, 2011 4:20 am

following you on FB

---

Lauren C.

on May 26, 2011 8:48 am

Your site is wonderful!!

---

Lauren C.

on May 26, 2011 8:49 am

I "like" you on Facebook too!!

---

Lauren C.

on May 26, 2011 8:49 am

You're site is great!!!

---

Anna Voulelis

on May 26, 2011 11:15 am

I would love to win this for my grandkids!

---

Anna Voulelis

on May 26, 2011 11:16 am

Subscribe by email!

---

Anna Voulelis

on May 26, 2011 11:18 am

"Like" The Good Stuff Guide on Facebook!

---

Anna Voulelis

on May 26, 2011 11:19 am

I shared this giveaway on my Facebook Wall!

---

Michael Voulelis

on May 26, 2011 11:21 am

I would love to win this for my niece and nephew. They love Charlie & Lola! Thanks for the giveaway!

---

Michael Voulelis

on May 26, 2011 11:22 am

Subscriber by email!

---

Michael Voulelis

on May 26, 2011 11:23 am

"Like" The Good Stuff Guide on Facebook

---

Maria

on May 26, 2011 10:15 pm

Subscriber by RSS

---

Michael Voulelis

on May 26, 2011 10:31 pm

Shared on my FB wall.

---

Mimi

on May 28, 2011 3:45 pm

Do love those dolls !

---

Mimi

on May 28, 2011 3:46 pm

These are cuties !

---
Leave Us Some Comment-Love