June 27, 2011
Happy, happy Giveaway Monday to you!
Meet the Chuggington Traintastic Laptop from VTech:
This little laptop packs a huge punch with 40 (!) learning activities that teach letters, alphabetical order, letter case, words, numbers, number order, counting, shapes, memory, matching and more.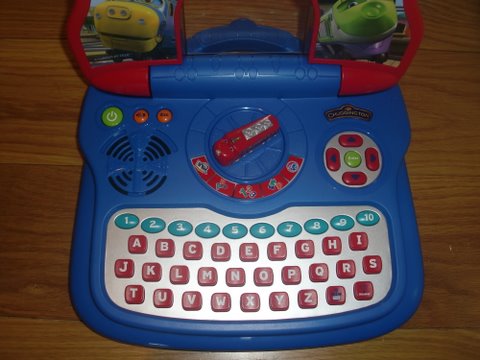 You turn the train dial to choose from 5 different modes of letters, numbers, logic and games, exploration mode and adventure
In addition:
Exploration mode gives kids the freedom to learn as they explore the letters and numbers
Adventure mode allows kids to play the game as one of their favorite characters
Features the favorite Chuggington characters including the trainees Wilson, Brewster and Koko
It's a HIT!
And you can win one…
Giveaway
One lucky, lucky winner can win a Chuggington Traintastic Laptop by VTech ($32) simply by leaving a comment by Friday, July 1st (Whatttt???  July????).  I'll choose the winner using Random.org and announce it on Saturday.
Because I just LOVE comments, here's how to gain extra entries (please leave them as separate entries):
1. Do you subscribe by email or RSS to The Good Stuff Guide? I love my subscribers, so you get an extra entry. Wahoo!
2. Email 5 of your friends about The Good Stuff Guide and tell them what a rockin' website this is. We'd love to have them join us!
3. "Like" The Good Stuff Guide on Facebook and receive the latest news and your chance at additional giveaways. (I LIKE you too!)
4. "Share" any recent post from The Good Stuff Guide on your Facebook wall by clicking 'Share' under our Facebook posts with links to The Good Stuff Guide site.  This makes a visit to our site just a click away for all your Facebook friends – the more the merrier…
(Feel free to do them all – that's a total of 5 entries!)
Share this post
You might like...
Category: Toys and Gift Ideas
100 Comments »
nan

on June 28, 2011 9:34 am

e-mail
nannypanpan at gmail.com

---

Kristin

on June 28, 2011 10:31 am

Love your giveaways!!

---

Jan Schaub

on June 28, 2011 11:51 am

My grandson's would love this.

---

Jan Schaub

on June 28, 2011 11:52 am

I like you on facebook.

---

Jan Schaub

on June 28, 2011 11:52 am

I subscribe by email.

---

Jessica Crump

on June 28, 2011 11:52 am

My son's love everything Chuggington and would LOVE this.

---

Jessica Crump

on June 28, 2011 11:53 am

I subscribe via email.

---

Jessica Crump

on June 28, 2011 11:54 am

I like you on facebook.

---

Jessica Crump

on June 28, 2011 11:54 am

I am sharing on facebook.

---

Jessica Crump

on June 28, 2011 11:55 am

I am emailing 5 friends.

---

Andrew Crump

on June 28, 2011 11:56 am

I subscribe via email.

---

Andrew Crump

on June 28, 2011 11:56 am

My son would love this.

---

Veronica L

on June 28, 2011 1:21 pm

My boys would have a blast with this, thanks for the chance

vhenline(at)gmail(dot)com

---

Veronica L

on June 28, 2011 1:21 pm

I am an e-mail subscriber, thanks

---

Veronica L

on June 28, 2011 1:22 pm

I "Like" The Good Stuff Guide on Facebook (Veronica L)

---

monkygm

on June 28, 2011 1:26 pm

My son would LOVE this!

---

monkygm

on June 28, 2011 1:26 pm

Email subscriber!

---

monkygm

on June 28, 2011 1:27 pm

Facebook fan!!

---

Amy

on June 28, 2011 1:29 pm

My son does so love trains!

---

Heather C

on June 28, 2011 1:30 pm

My son is just starting to get into trains and I know he would love this toy! Thanks for hosting the great giveaway!

---

Heather C

on June 28, 2011 1:31 pm

I subscribe to you VIA RSS

---

monkygm

on June 28, 2011 1:38 pm

Shared on facebook!!!

---

monkygm

on June 28, 2011 1:39 pm

Shared with friends!

---

Julie G.

on June 28, 2011 3:23 pm

I am an email subscriber

---

Julie G.

on June 28, 2011 3:24 pm

This would be a great birthday gift!

---

Mimi

on June 28, 2011 8:59 pm

Looks awesome for kids !

---

Mimi

on June 28, 2011 8:59 pm

Good for learning of all kinds.

---

Rachel C

on June 28, 2011 11:25 pm

My son would love this

---

Rachel C

on June 28, 2011 11:25 pm

email subscriber

---

Veronica

on June 29, 2011 10:37 am

I'd like to enter!

---

Jamie Brigham

on June 30, 2011 9:34 pm

I would love love love to win this for my son, I would save it for Christmas for my son

---

Jamie Brigham

on June 30, 2011 9:35 pm

I am subscribed via email to this blog and confirmed woohoo

---

Jamie Brigham

on June 30, 2011 9:36 pm

I am a fan of yours on facebook- Jamie Brigham

---

Jules Greenaway

on July 1, 2011 12:34 pm

I'm probably too late, it's been a pretty crazy week!! Oh how we LOVE Chuggington!!!!

---

Jules Greenaway

on July 1, 2011 12:35 pm

I'm a subscriber…

---

Jules Greenaway

on July 1, 2011 12:35 pm

And of course I'm a Facebook fan!!!!

---

Vivian A

on July 3, 2011 11:29 am

Landon looooves Chuggington!

---

Vivian A

on July 3, 2011 11:30 am

Landon loves Chuggington!!

---

Vivian A

on July 3, 2011 11:30 am

Email subscriber!

---

Vivian A

on July 3, 2011 11:31 am

Let friends know!

---

Vivian A

on July 3, 2011 11:32 am

Facebook loved!

---

Guillermo

on July 3, 2011 11:32 am

I'd like to enter for my son.

---

Guillermo

on July 3, 2011 11:33 am

email subscriber

---

Guillermo

on July 3, 2011 11:34 am

emailed friends

---

Guillermo

on July 3, 2011 11:34 am

liked on facebook

---

Vivian A.

on July 3, 2011 2:11 pm

Landon loooves Chuggington! (It's so adorable hearing him trying to pronounce it.)

---

Vivian A.

on July 3, 2011 2:11 pm

Email subscriber!

---

Vivian A.

on July 3, 2011 2:11 pm

Let friends know!

---

Vivian A.

on July 3, 2011 2:12 pm

Facebook loved!

---

Michelle H

on July 5, 2011 2:13 pm

how neat! what are the ages? I have a 1yr nephew who is very advanced!

---
Leave Us Some Comment-Love