December 13, 2013

Written by Marykate O'Malley, mother of three wonderful children, Gladwyne PA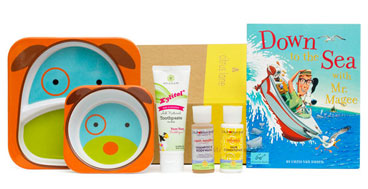 sample box! 
Enter to win a free 3-month box subscription from Citrus Lane! 
Citrus Lane
is passionate about finding the best products for kids and parents. With a subscription, you'll receive a signature Citrus Lane box each month with four or more products selected especially for the age and stage of your child. You'll discover new parenting solutions and trusted brands–all delivered right to your door! Find out what all the buzz is about by entering to win a free 3 month subscription!!
GIVEAWAY INSTRUCTIONS!
Because we just LOVE comments, here's how to gain extra entries (please leave them as separate entries):
1. Do you subscribe by email or RSS to The Good Stuff Guide? We love our subscribers, so you get an extra entry. Wahoo!
2. Email 5 of your friends about The Good Stuff Guide and tell them what a rockin' website this is. We'd love to have them join us!
3. "Like" The Good Stuff Guide on Facebook and receive the latest news. (We LIKE you too!)
4."Share" this post from The Good Stuff Guide on your Facebook wall by clicking 'Share' under our Facebook posts with links to The Good Stuff Guide site.
5. "Pin" any of The Good Stuff Guide's photos to one of your pinterest boards!
6. Follow @goodstuffguide on twitter and tweet this article with the following the hashtags #GSGgiveaway
(Feel free to do them all – that's a total of 6 entries! Are you feeling lucky?!) Good Luck!
Share this post
You might like...
Category: Activities, Art, Books, Brilliant, For Kids, For Moms, Gear, Giveaway Winners, Holidays, Momzone, Random and Fun, Toys and Gift Ideas, Wondermom Resources
39 Comments »
Jessica Crump

on December 13, 2013 6:06 am

I'm an email subscriber

---

Jessica Crump

on December 13, 2013 6:06 am

I like you on Facebook

---

Jessica Crump

on December 13, 2013 6:07 am

I have 3 little ones that would love this

---

Jessica Crump

on December 13, 2013 6:07 am

I shared the post on Facebook

---

Jessica Crump

on December 13, 2013 6:08 am

I've also emailed 5 friends about the giveaways.

---

on December 13, 2013 6:35 am

Love this! I'm a subscriber!

---

Jules Greenaway

on December 13, 2013 8:01 am

This sounds awesome!! I bet Aden would love this, I know I would!! Anything that's better for my lil man, I'll take it!!

---

Jules Greenaway

on December 13, 2013 8:02 am

I'm an email subscriber!!

---

Jules Greenaway

on December 13, 2013 8:02 am

And… I like you on FB!!

---

sara

on December 13, 2013 1:22 pm

subscriber rss

---

sara

on December 13, 2013 1:28 pm

follow on twitter and tweet https://twitter.com/AmericanExpress/status/409759539962318848

---

Julia C.

on December 13, 2013 10:06 pm

This would be a great way to keep things fresh with my little ones. We are always looking for something new!

---

Julia C.

on December 13, 2013 10:06 pm

Liked on Facebook!

---

Julia C.

on December 13, 2013 10:07 pm

Pinned on Pinterest!

---

Jamie Newman

on December 14, 2013 7:45 am

I'm an email subscriber!

---

Jamie Newman

on December 14, 2013 7:46 am

I like you on facebook

---

Jamie Newman

on December 14, 2013 7:47 am

Would love to win this! I was a subscriber and had to cancel because of financial reasons

---

Jamie Newman

on December 14, 2013 7:47 am

Pinned on Pinterest!

---

Kaijsa

on December 14, 2013 3:37 pm

I am so excited about Citrus Lane!

---

Kaijsa

on December 14, 2013 3:38 pm

Email subscriber!

---

Kaijsa

on December 14, 2013 3:39 pm

I like you! On Facebook, too…

---

Rachel C

on December 14, 2013 6:28 pm

Looks fun! I'm an email subscriber.

---

Amanda Starr

on December 14, 2013 9:09 pm

subscribe by email

---

Andrina G

on December 14, 2013 10:19 pm

I subscribed via email.

---

Andrina G

on December 14, 2013 10:20 pm

I like you on Facebook. Andrina Goetz

---

Andrina G

on December 14, 2013 10:22 pm

I pinned it http://www.pinterest.com/pin/499969996103961072/

---

latanya

on December 16, 2013 9:30 am

rss subscriber

---

latanya

on December 16, 2013 9:33 am

I like you on facebook

---

latanya

on December 16, 2013 9:34 am

https://twitter.com/sweetums82/status/412591447502635008

---

Sandi McDowell

on December 16, 2013 8:32 pm

I am a friend on facebook

---

Sandi McDowell

on December 16, 2013 8:33 pm

rss subscriber

---

Sandi McDowell

on December 16, 2013 8:33 pm

Pinned–a great idea!

---

Heather Thomas

on December 17, 2013 2:28 pm

I subscribe to the emails

---

Heather Thomas

on December 17, 2013 2:28 pm

I like your page on Facebook

---

Heather Thomas

on December 17, 2013 2:29 pm

I shared this post on Facebook

---

Heather Thomas

on December 17, 2013 2:29 pm

I pinned a photo

---

Heather Thomas

on December 17, 2013 2:30 pm

Emailed 5 friends…I love your emails!

---

Christine

on December 19, 2013 2:34 am

Entering!

---

Christine

on December 19, 2013 2:34 am

Im an email subscriber too!

---
Leave Us Some Comment-Love