July 5, 2011
Our 4th of July was restful and fun and I hope yours was too!
This is my youngest adorable who is completely geeked to be on the boat.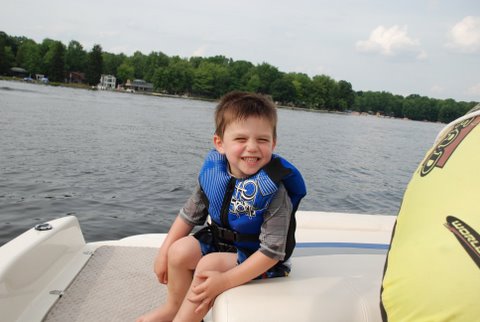 We spent our time on the lake tubing –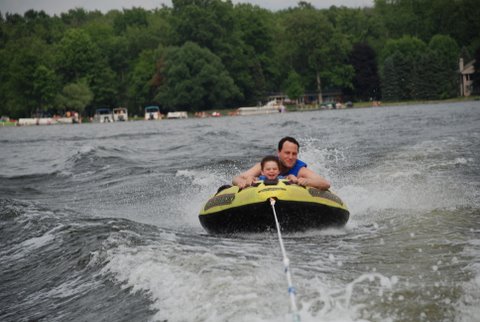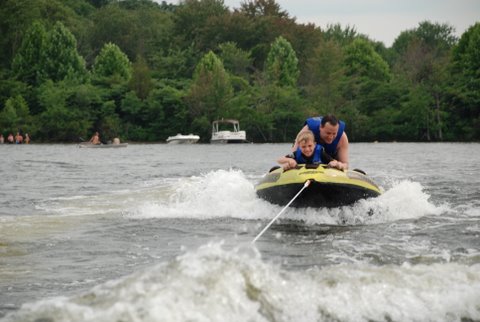 I love spending time on the lake!
Today's Giveaway is the Crocodile Hop Game from Learning Resources: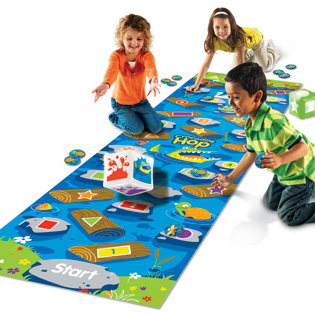 This is a floor mat game that includes a set of cards and 2 inflatable dice.  The adorables cross the river by hopping from number to color to shape.  The colorful and fun graphics were a big draw for my adorables.
It also reinforces early learning skills of color and shape recognition, numbers and counting (1-10), and problem solving.
Great for summer!
Giveaway
One lucky, lucky winner can win Woody the Rocking Horse from Prince Lionheart simply by leaving a comment by Tuesday, July 12th.  I'll choose the winner using Random.org and announce it on Wednesday.
Because I just LOVE comments, here's how to gain extra entries (please leave them as separate entries):
1. Do you subscribe by email or RSS to The Good Stuff Guide? I love my subscribers, so you get an extra entry. Wahoo!
2. Email 5 of your friends about The Good Stuff Guide and tell them what a rockin' website this is. We'd love to have them join us!
3. "Like" The Good Stuff Guide on Facebook and receive the latest news and your chance at additional giveaways. (I LIKE you too!)
4. "Share" any recent post from The Good Stuff Guide on your Facebook wall by clicking 'Share' under our Facebook posts with links to The Good Stuff Guide site.  This makes a visit to our site just a click away for all your Facebook friends – the more the merrier…
(Feel free to do them all – that's a total of 5 entries!)

Share this post
You might like...
Category: Activities, Toys and Gift Ideas
67 Comments »
nan

on July 7, 2011 10:09 pm

e-mail
nannypanpan at gmail.com

---

Katie

on July 11, 2011 10:35 am

This looks like it would be a blast!

---

Katie

on July 11, 2011 10:36 am

I'm a fan on FB.

---

Holly

on July 11, 2011 12:21 pm

Hey, this looks like sooooooo much fun!

---

Hyang

on July 11, 2011 11:55 pm

Love educational games like this!

---

Hyang

on July 11, 2011 11:56 pm

email subscriber

---

Hyang

on July 11, 2011 11:56 pm

Emailed friends.

---

Hyang

on July 11, 2011 11:58 pm

Facebook liked.

---

Megan

on July 12, 2011 4:43 pm

My little one would love this

---

Megan

on July 12, 2011 4:44 pm

liked you on FB facebook

---

Megan

on July 12, 2011 4:54 pm

I found you on FB threw Moneywise Moms

---

Guillermo

on July 12, 2011 8:34 pm

Looks like fun

---

Guillermo

on July 12, 2011 8:35 pm

email subscriber

---

Guillermo

on July 12, 2011 8:41 pm

emailed my friends

---

Guillermo

on July 12, 2011 8:41 pm

facebook liked

---

Lynsi

on July 12, 2011 11:49 pm

This looks like great fun!

---

Lynsi

on July 12, 2011 11:50 pm

Also like you on fb.

---
Leave Us Some Comment-Love