July 6, 2011
Happy Wednesday!
Yesterday we had an interesting one: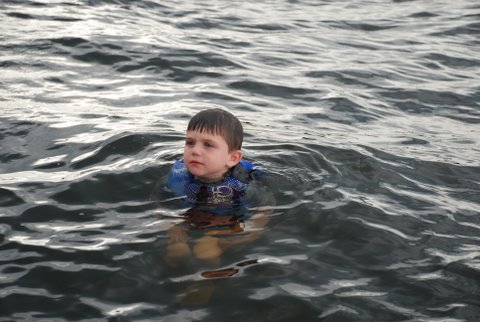 My younger adorable decided he didn't want to get into the boat…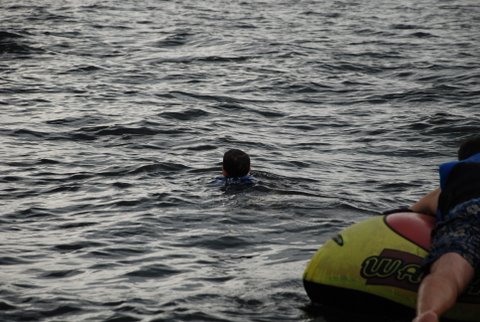 and instead took off swimming across the lake towards home.
He's stubborn, that one.  It took many minutes – and the Running Man jumping into the water – to convince him to rejoin us.
I'm going to have to think on that one…
Today's giveaway is from Firefly Toothbrushes:
You get 6 light-up timer character toothbrushes that dazzle, delight and defend against cavities.  The family includes the ORIGINAL colorful and sparkly FIREFLY, BABY FIREFLY, or indulge your kid's passion for dolls, cars, cartoons or comics with BARBIE, HOT WHEELS, SPIDER-MAN and the new PEANUTS models.  Each lights up at the touch of a button and flashes for one minute – the time dentists say is needed to thoroughly brush each row of teeth.
These are a hit with my adorables!  And that's saying a LOT in the teeth department.
Giveaway
One lucky, lucky winner can win Firefly Toothbrushes simply by leaving a comment by Tuesday, July 12th.  I'll choose the winner using Random.org and announce it on Wednesday.
Because I just LOVE comments, here's how to gain extra entries (please leave them as separate entries):
1. Do you subscribe by email or RSS to The Good Stuff Guide? I love my subscribers, so you get an extra entry. Wahoo!
2. Email 5 of your friends about The Good Stuff Guide and tell them what a rockin' website this is. We'd love to have them join us!
3. "Like" The Good Stuff Guide on Facebook and receive the latest news and your chance at additional giveaways. (I LIKE you too!)
4. "Share" any recent post from The Good Stuff Guide on your Facebook wall by clicking 'Share' under our Facebook posts with links to The Good Stuff Guide site.  This makes a visit to our site just a click away for all your Facebook friends – the more the merrier…
(Feel free to do them all – that's a total of 5 entries!)

Share this post
You might like...
Category: Gear
58 Comments »
Guillermo

on July 12, 2011 8:42 pm

email subscriber

---

Guillermo

on July 12, 2011 9:01 pm

emailed friends

---

Guillermo

on July 12, 2011 9:01 pm

facebook liked

---

Lynsi

on July 12, 2011 11:56 pm

Love these.

---

Amanda Starr

on July 31, 2011 8:59 am

Very cool, thanks for the chance!

---

Amanda Starr

on July 31, 2011 9:00 am

subscribe by RSS

---

Amanda Starr

on July 31, 2011 9:01 am

"Like" The Good Stuff Guide on Facebook

---

Amanda Starr

on July 31, 2011 9:02 am

Silly me, duh it's over

---
Leave Us Some Comment-Love