December 5, 2012
The Giveaways continue!
We love these Go! Go! Sports Dolls: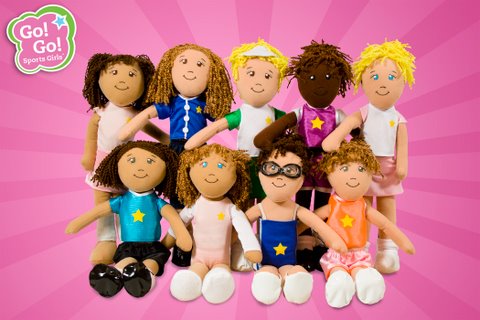 Aren't they cute?
These dolls reinforce that girls can do anything they set their mind to.  "The whole point of the business is to send the message to girls to dream big and go for it." says Jodi, the founder.
With tons of sports (including many new ones) available, every girl will be able to find a perfect match.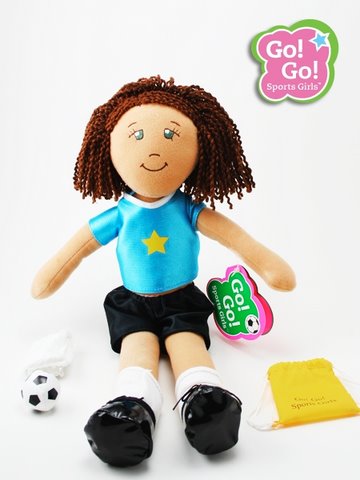 Meet Cassie, the Soccer Girl!
The Collection includes: Brooke the Golf Girl, Anna the Soccer Girl, Cassie the Soccer Girl, Ella the Running Girl, Gracie the Tennis Girl, Maya the Gymnastics Girl, M.C. the Dancing Girl, Sam the Softball Girl, Suzi the Swimming Girl, Kate the Bastketball Girl, Steph the Volleyball Girl, Roxy the Cheerleading Girl and Taye the Basketball Girl (see all the girls in person here).
***GIVEAWAY DETAILS!! ***(Yes, you've made it to the end!)
One lucky, lucky winner can win a Go! Go! Sports Doll of their choice, simply by leaving a comment by Friday December 14th. I'll choose the winner using Random.org and announce it on Saturday December 15th!
Because we just LOVE comments, here's how to gain extra entries (please leave them as separate entries):
1. Do you subscribe by email or RSS to The Good Stuff Guide? We love oursubscribers, so you get an extra entry. Wahoo!
2. Email 5 of your friends about The Good Stuff Guide and tell them what a rockin' website this is. We'd love to have them join us!
3. "Like" The Good Stuff Guide on Facebook and receive the latest news. (We LIKE you too!)
4. "Share" any recent post from The Good Stuff Guide on your Facebook wall by clicking 'Share' under our Facebook posts with links to The Good Stuff Guide site.  This makes a visit to our site just a click away for all your Facebook friends – the more the merrier…
5. "Pin" one of these fun stocking stuffer ideas to one of your pinterest boards!
6. Follow @goodstuffguide on twitter and tweet this article with one of the following the hashtags #GSGgiveaway
(Feel free to do them all – that's a total of 7 entries! Are you feeling lucky?!)

Share this post
You might like...
Category: For Kids, Toys and Gift Ideas
22 Comments »
Jenny Bates

on December 6, 2012 8:15 am

Another great idea!! I have two very athletic and energetic girls and one who would love this doll!!!

---

Jackie J.

on December 6, 2012 4:17 pm

I would select Suzu the Swimming Girl since all of my granddaughter are taking swimming lessons.

---

Jackie J.

on December 6, 2012 4:18 pm

I am an email subscriber. I always enjoy seeing what you have to share. Thanks!

---

Kaijsa

on December 7, 2012 5:21 pm

Super cute! Another great find!

---

Kaijsa

on December 7, 2012 5:22 pm

Email subscriber!

---

Kaijsa

on December 7, 2012 5:23 pm

Liked on FB!

---

Kaijsa

on December 7, 2012 5:24 pm

Pinned it!

---

Kaijsa

on December 7, 2012 5:25 pm

Tweeted!

---

Rachel C

on December 7, 2012 8:21 pm

Cute! I like the swimming one too.

---

Rachel C

on December 7, 2012 8:21 pm

email subscriber

---

Jessica Crump

on December 8, 2012 1:53 pm

I have a little cousin that would love this as a gift as I have boys

---

Jessica Crump

on December 8, 2012 1:54 pm

I am an email subscriber

---

Jessica Crump

on December 8, 2012 1:54 pm

I like your page on facebook.

---

Jessica Crump

on December 8, 2012 1:55 pm

I shared a recent facebook post

---

Jessica Crump

on December 8, 2012 1:56 pm

I tweeted on Twitter

---

Jessica Crump

on December 8, 2012 1:57 pm

I pinned on Pinterest to my stocking stuffer board

---

Jenny

on December 11, 2012 9:35 am

My little swimmer would love this!

---

Jenny

on December 11, 2012 9:38 am

I also like you on FB!

---

Alison

on December 11, 2012 2:06 pm

The gymnastics doll

---

Alison

on December 11, 2012 2:06 pm

Email subscriber

---

Alison

on December 11, 2012 2:07 pm

Emailed 5 friends about. Your website

---

Alison

on December 11, 2012 2:07 pm

Like you on fb @ Alison Sheardy czischke

---
Leave Us Some Comment-Love