July 14, 2011
Today is all about Michigan Blueberries!  44 POUNDS of blueberries.
I traveled with the adorables over to my old stomping grounds in Southwest Michigan, just outside of Kalamazoo.
Mind you, I didn't plan on buying 44 POUNDS of blueberries.  I started with 3 10-pound boxes.   We eat them fast, and it starts to make me nervous when we hit our last 10 pounder.
But then the adorables wanted to pick blueberries too.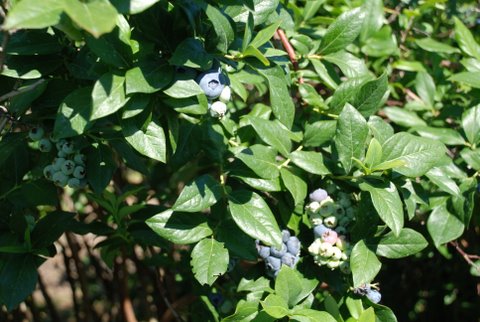 Little clumps of yummy right there.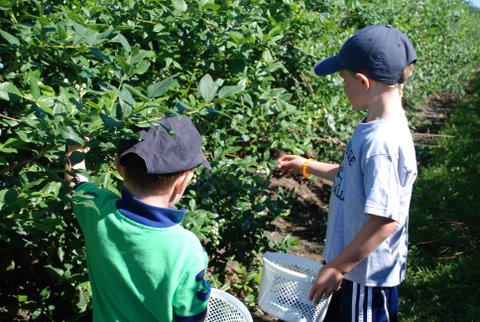 2 buckets and me filling them up as fast as they can eat my efforts.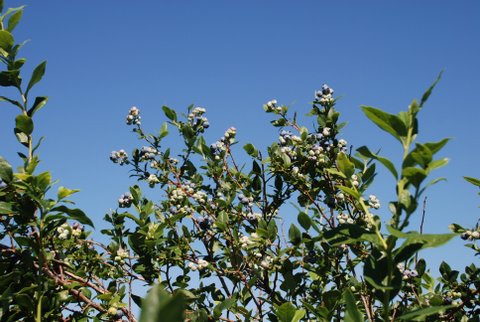 If only I had Go-Go Gadget arms.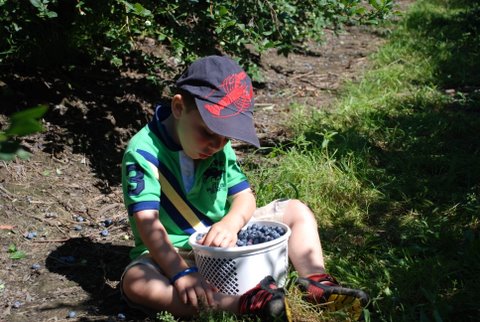 This adorable is one pooped pup and there's nothing better than fresh, warmed by the sun blueberries.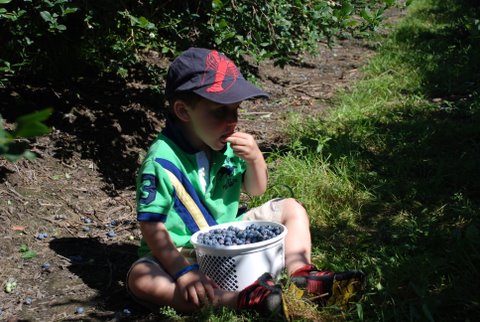 P.S. I found this hat somewhere so if it is yours, alert me.  I've been trying to find its owner.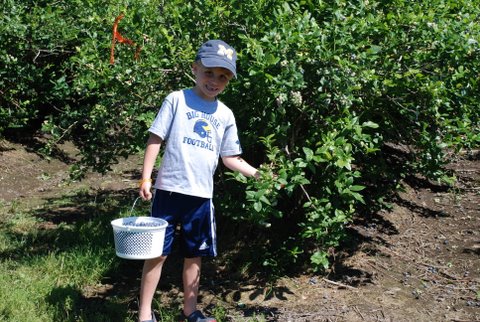 A bumper crop this year!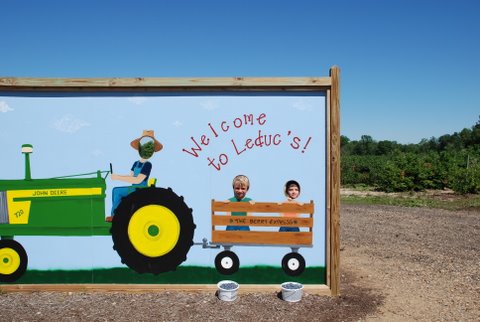 So 3 10-pound boxes and 2 7-pound buckets bring us to 44 pounds.
See?? Not so crazy.
If you could taste their sweet perfection, you would totally understand.
But I think I see our future as Blueberries for breakfast, lunch and dinner.
For Today's Giveaway, your little adorable is going to love it!
Meet both the Big View Bug Jars: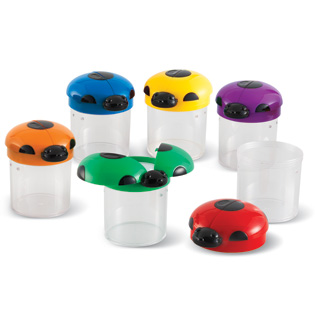 These bug jars are awesome!  You catch the bug, and pop open the ladybug top to find a magnifying glass for easy viewing.
And the Early Explorer's Science Set: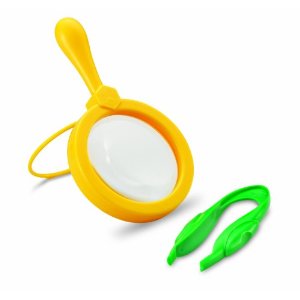 This is a stand-up magnifying glass and a pair of tweezers that are perfect for chubby little toddler fingers.
My adorables have loved both of these sets.  You won't believe all the yard has to offer!
Giveaway
One lucky, lucky winner can win a the Big View Bug Jars and the Early Explorer's Science Set simply by leaving a comment by Tuesday, July 19th.  I'll choose the winner using Random.org and announce it on Wednesday.
Because I just LOVE comments, here's how to gain extra entries (please leave them as separate entries):
1. Do you subscribe by email or RSS to The Good Stuff Guide? I love my subscribers, so you get an extra entry. Wahoo!
2. Email 5 of your friends about The Good Stuff Guide and tell them what a rockin' website this is. We'd love to have them join us!
3. "Like" The Good Stuff Guide on Facebook and receive the latest news and your chance at additional giveaways. (I LIKE you too!)
4. "Share" any recent post from The Good Stuff Guide on your Facebook wall by clicking 'Share' under our Facebook posts with links to The Good Stuff Guide site.  This makes a visit to our site just a click away for all your Facebook friends – the more the merrier…
(Feel free to do them all – that's a total of 5 entries!)

Share this post
You might like...
Category: Activities, Toys and Gift Ideas
35 Comments »
Julie R.

on July 14, 2011 8:18 am

Heidi – I understand. One year I took six kids strawberry picking. I don't remember the exact # of pounds, but my goodness it was a lot. Looks like you guys had a GREAT time.

---

Gillian Schaadt

on July 14, 2011 12:48 pm

Cute bug containers. Perfect for my crazy duo.

---

Katie

on July 14, 2011 12:54 pm

Haven't been blueberry picking yet, but it's definitely on my list of things to do with the kiddos.

---

Katie

on July 14, 2011 12:54 pm

I already like the GSG on FB.

---

on July 14, 2011 2:05 pm

We like blueberries at our house too. The jars and science set are cool and would be well used here.

---

christine

on July 14, 2011 3:32 pm

i have two boys who would love this!!

---

on July 14, 2011 5:11 pm

We love picking blueberries. We still have a few weeks here before they are ready. We pick them to freeze for the year. It's never enough though.

---

Megan

on July 14, 2011 5:45 pm

My little one is compleatly BUG CRAZY

---

Megan

on July 14, 2011 5:45 pm

he would LOVE both of these sets

---

Megan

on July 14, 2011 5:46 pm

We LOVE blueberry picking, too it is so much fun and it is hard NOT to go overboard

---

Kim B

on July 14, 2011 10:25 pm

Holy cow! We went picking today also but only 2 pints. But also some lovely peaches. And the bug jars are cute. Perfect for our firefly hunts.

---

Kim B

on July 14, 2011 10:26 pm

Follow on fb.

---

Vivian

on July 14, 2011 11:11 pm

You'll have enough antioxidants to last you for the rest of the year! 😉

---

Vivian

on July 14, 2011 11:43 pm

Email subscriber!

---

Vivian

on July 14, 2011 11:55 pm

Facebook loved!

---

Marykate

on July 15, 2011 8:49 am

Adorable pics of the adorables!! Looks so fun!

---

gillette

on July 15, 2011 9:25 am

My little one loves bugs…. need this!

---

gillette

on July 15, 2011 9:26 am

a subscriber…. your boys are adorable, of course!

---

Rachel C

on July 15, 2011 1:32 pm

Fun giveaway! and you're right – there's nothing like fresh off the bush blueberries!

---

Colleen Gallagher

on July 16, 2011 5:19 pm

great giveaway..thanks..and a few blueberries too!

---

nan

on July 17, 2011 5:23 pm

my son would love it
nannypanpan at gmail.com

---

nan

on July 17, 2011 5:24 pm

e-mail
nannypanpan at gmail.com

---

nan

on July 17, 2011 5:25 pm

rss subscriber

---

Kareem

on July 19, 2011 9:59 am

I can't tell you how much backyard fun my guys could have with this giveaway

---

Jamie N.

on July 19, 2011 2:19 pm

My little guy would like this!

---

Jamie N.

on July 19, 2011 2:20 pm

email subscriber!

---

Jamie N.

on July 19, 2011 2:22 pm

facebook fan!

---

Stephanie C.

on July 19, 2011 4:16 pm

This looks like a lot of fun!

---

Stephanie C.

on July 19, 2011 4:16 pm

FB Fan

---

Stephanie C.

on July 19, 2011 4:17 pm

Email subscriber

---

Jessica Crump

on July 22, 2011 9:32 am

I love that you are telling about your Michigan trip. We just spent a month there. I actually went to college in Kalamazoo. I love the science kits.

---

Jessica Crump

on July 22, 2011 9:32 am

email subscriber

---

Jessica Crump

on July 22, 2011 9:33 am

facebook fan

---

Jessica Crump

on July 22, 2011 9:33 am

emailing 5 friends about your awesome site.

---

Jessica Crump

on July 22, 2011 9:35 am

sharing the post on facebook.

---
Leave Us Some Comment-Love