December 12, 2013
Written by Marykate O'Malley, mother of three wonderful children, Gladwyne PA
As it turns out, I have just as much Christmas music as I have other music. Let's just say I like it. Like a lot. While reading, for your listening pleasure, please enjoy Andrea Bocelli's "Santa Clause is Coming to Town". This is one of my current favorites. Hearing children sing anything is so beautiful and I love the play of a great like Bocelli intertwined with children's voices.
And now to Nantucket Bound, another lovely thought, because everything is lovely in Nantucket. One lucky winner will win a personalized draft stopper. I have one that says Home Sweet Home. In a 1930's colonial, draft stoppers are your friend.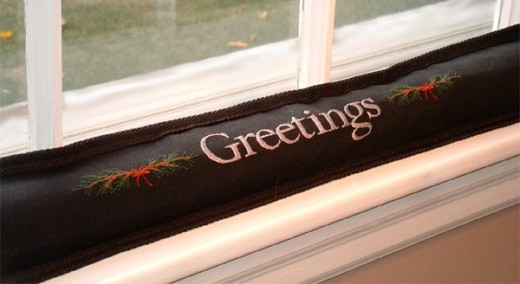 And so are New England Firewood Carriers! I have one that says GSG (Good Stuff Guide) which is perfect for carrying wood and having it stashed by the fireplace. Our winner will also receive this personalized gift as well!
Enter by….
GIVEAWAY INSTRUCTIONS
Because we just LOVE comments, here's how to gain extra entries (please leave them as separate entries):
1. Do you subscribe by email or RSS to The Good Stuff Guide? We love our subscribers, so you get an extra entry. Wahoo!
2. Email 5 of your friends about The Good Stuff Guide and tell them what a rockin' website this is. We'd love to have them join us!
3. "Like" The Good Stuff Guide on Facebook and receive the latest news. (We LIKE you too!)
4."Share" this post from The Good Stuff Guide on your Facebook wall by clicking 'Share' under our Facebook posts with links to The Good Stuff Guide site.
5. "Pin" any of The Good Stuff Guide's photos to one of your pinterest boards!
6. Follow @goodstuffguide on twitter and tweet this article with the following the hashtags #GSGgiveaway (Feel free to do them all – that's a total of 6 entries! Are you feeling lucky?!)
Good Luck!
Share this post
You might like...
Category: Brilliant, For Moms, Gear, Giveaway Winners, Holidays, Organizing, Random and Fun
24 Comments »
Krista

on December 12, 2013 8:18 am

I LOVE your site! I subscribe by email, and follow you on Facebook. I enjoy the site, because there are always so many helpful tidbits, ideas, and just simple things that are great to know in everyday life. Thank you all for your daily inspirations!

---

Solducky

on December 12, 2013 5:46 pm

We live in a home built in 1935, and believe me, we could use more draft dodgers!

---

Solducky

on December 12, 2013 7:28 pm

I liked you on FB as sarah solducky

---

Solducky

on December 12, 2013 7:30 pm

I subscribed via email as well. Thanks!

---

Jessica Crump

on December 13, 2013 6:03 am

I am an email subscriber

---

Jessica Crump

on December 13, 2013 6:04 am

I love the good stuff guide. I love the articles about food and your family vacations to Michigan where I grew up. I love home tours as well.

---

Jessica Crump

on December 13, 2013 6:05 am

I like the GSG on Facebook

---

Jessica Crump

on December 13, 2013 6:05 am

I shared the post on Facebook.

---

nannypanpan

on December 13, 2013 7:22 am

thank you for the chance and merry christmas

---

nannypanpan

on December 13, 2013 7:22 am

email
nannypanpan@gmail.com

---

on December 13, 2013 12:45 pm

Looks beautiful…..would definitely use.
Thanks,
Judy

---

Jackie

on December 13, 2013 4:25 pm

Thanks for the chance at great prizes.Beautiful!

---

Celeste Won

on December 13, 2013 4:26 pm

It's been a pretty cold December in PA…Thanks, Celeste

---

Jackie

on December 13, 2013 4:27 pm

I subscribe to your site because of the variety of topics.

---

Celeste Won

on December 13, 2013 4:31 pm

I just subscribed:)-Celeste

---

RLR

on December 13, 2013 5:06 pm

I like you on Facebook! Love the pillows!

---

RLR

on December 13, 2013 5:09 pm

I just tweeted the link

---

latanya

on December 16, 2013 9:35 am

rss subscriber

---

latanya

on December 16, 2013 9:36 am

I like you on facebook

---

latanya

on December 16, 2013 9:38 am

https://www.facebook.com/latanya.thornhill/posts/10101193138807188

---

latanya

on December 16, 2013 9:39 am

http://www.pinterest.com/pin/232639136975114080/

---

Julie R.

on December 18, 2013 4:24 pm

enter me please. =)

---

Julie R.

on December 18, 2013 4:25 pm

email subscriber

---

Julie R.

on December 18, 2013 4:25 pm

FB fan

---
Leave Us Some Comment-Love