July 21, 2011
For all of you working on Summer Reading logs, I thought today's giveaway was perfect!
Meet the Ring The Bell Electronic Goal Tracker from Educational Insights: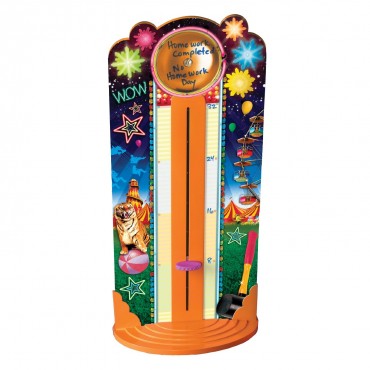 My elder adorable was psyched when we opened this to chart his books and hear the bell. And I say anything that makes racking up books fun is a HIT in my book!
(FYI, I can't for the life of me find here at the cottage the little screwdriver necessary to open the batteries.  I need my little pink toolkit safely home in CT.  A trip to Ace hardware tomorrow!)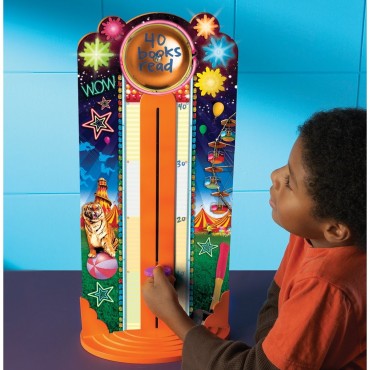 The dry-erase area alongside the tracker makes it easy to count in any quantity you choose.  We're currently working on 20 Early Readers at a time for a little prize, so I can set 5-book markers and move the gauge between to show his progress.
Teachers – I can think of TONS of other uses for this in the classroom.  What are yours??
Giveaway
One lucky, lucky winner can win a  Ring The Bell Electronic Goal Tracker from Educational Insights ($32.99) simply by leaving a comment by Tuesday, July 26th.  I'll choose the winner using Random.org and announce it on Wednesday.
Because I just LOVE comments, here's how to gain extra entries (please leave them as separate entries):
1. Do you subscribe by email or RSS to The Good Stuff Guide? I love my subscribers, so you get an extra entry. Wahoo!
2. Email 5 of your friends about The Good Stuff Guide and tell them what a rockin' website this is. We'd love to have them join us!
3. "Like" The Good Stuff Guide on Facebook and receive the latest news and your chance at additional giveaways. (I LIKE you too!)
4. "Share" any recent post from The Good Stuff Guide on your Facebook wall by clicking 'Share' under our Facebook posts with links to The Good Stuff Guide site.  This makes a visit to our site just a click away for all your Facebook friends – the more the merrier…
(Feel free to do them all – that's a total of 5 entries!)
In other news, we had 2 amazing things happen in rapid succession..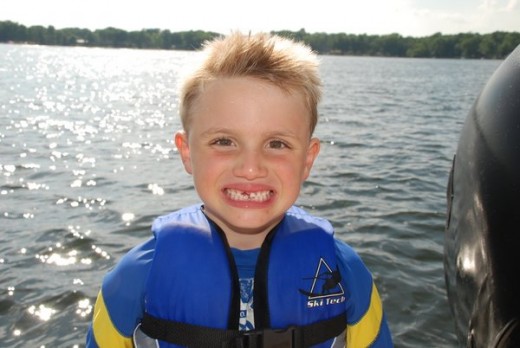 My elder adorable lost a front tooth whilst tubing.  (Scary for me, but he was just fine!)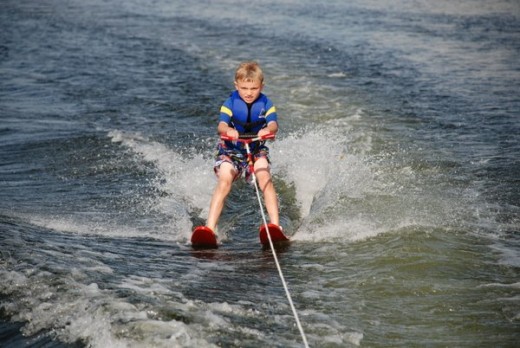 And he got up on water-skis and skiied more than halfway around the lake!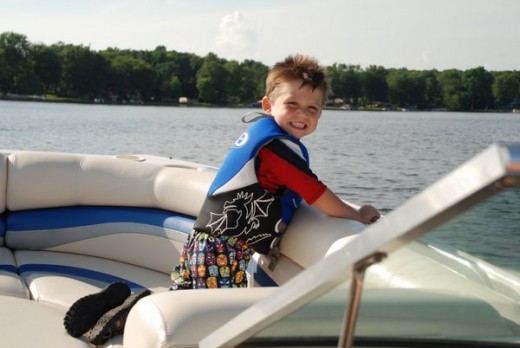 My younger adorable was geeked for him.
A little too much excitement for this mommy!
Share this post
You might like...
Category: Activities, Gear
27 Comments »
Julie R.

on July 21, 2011 9:03 am

So is the tooth fairy suppose to dive to the bottom of the lake to retrieve the tooth?

---

Julie R.

on July 21, 2011 9:04 am

FB fan

---

Julie R.

on July 21, 2011 9:04 am

email subscriber

---

Colleen Gallagher

on July 21, 2011 11:06 am

great giveaway

---

Diana

on July 21, 2011 11:21 am

fb fan

---

Jeff

on July 21, 2011 11:26 am

Awesome

---

christine

on July 21, 2011 11:38 am

oh what fun!

---

Joan Huhn

on July 21, 2011 12:13 pm

ANYTHING that motivates is a teacher's or mom's BFF!

---

Vivian

on July 21, 2011 8:20 pm

Reading can now be even more fun!

---

Vivian

on July 21, 2011 8:21 pm

Email subscriber!

---

Vivian

on July 21, 2011 8:32 pm

Let friends know!

---

Vivian

on July 21, 2011 8:33 pm

Facebook loved!

---

Rachel C

on July 22, 2011 8:59 am

This would also be useful to track saving money for something special.

---

Rachel C

on July 22, 2011 9:00 am

email subscriber

---

Jessica Crump

on July 22, 2011 9:40 am

Great for a classroom!

---

Jessica Crump

on July 22, 2011 9:40 am

facebook fan

---

Jessica Crump

on July 22, 2011 9:40 am

email subscriber

---

Jessica Crump

on July 22, 2011 9:41 am

emailing 5 friends

---

Jessica Crump

on July 22, 2011 9:42 am

shared post on facebook

---

Hyang

on July 22, 2011 5:45 pm

Cool idea!

---

Hyang

on July 22, 2011 5:57 pm

Email subscriber.

---

Hyang

on July 22, 2011 5:57 pm

Emailed friends.

---

Hyang

on July 22, 2011 5:58 pm

Facebook liked.

---

alison

on July 25, 2011 1:33 am

super cute

---

alison

on July 25, 2011 1:35 am

email subcsriber

---

alison

on July 25, 2011 1:35 am

emailed 5 friends about giveaway

---

alison

on July 25, 2011 1:36 am

like the good stuff guide on fb @ alison sheardy czischke

---
Leave Us Some Comment-Love