July 19, 2011
Hi all!  I'm coming off the most amazing girl's weekend with my college crew.  We've done this for 15 years straight (barring missing for new babies or work).  Oh how I love them and a weekend together leaves me full and happy!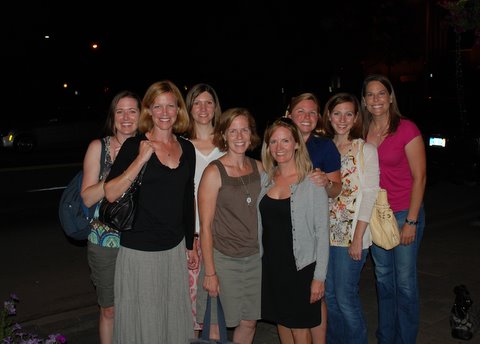 (I forgot to ask them if I could use this photo when we hugged and parted ways, so I'm hoping they invite me next year!)
They are as sweet and fun as they look in this photo, and I'm so lucky to have them for friends.  My cheeks hurt from laughing so much!
Today, you're in for a great treat!  Gather up the neighborhood adorables and let them loose in your backyard with this: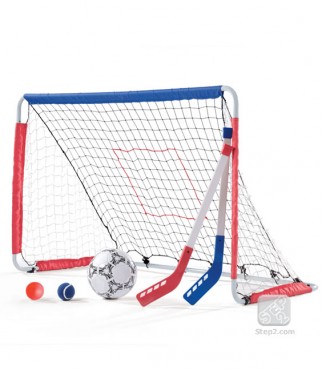 This is the Kickback Soccer Goal & Pitch Back from Step 2.  This set includes everything photoed here so you are all set.
Here's the really great part: you use the soccer goal as you would any soccer goal, but turn it around and you have a pitch back too!  I love it when the brilliant people behind these toys make them multi-functional!
And you can win one…
Giveaway
One lucky, lucky winner can win a  Kickback Soccer Goal & Pitch Back ($34.99) simply by leaving a comment by Tuesday, July 26th.  I'll choose the winner using Random.org and announce it on Wednesday.
Because I just LOVE comments, here's how to gain extra entries (please leave them as separate entries):
1. Do you subscribe by email or RSS to The Good Stuff Guide? I love my subscribers, so you get an extra entry. Wahoo!
2. Email 5 of your friends about The Good Stuff Guide and tell them what a rockin' website this is. We'd love to have them join us!
3. "Like" The Good Stuff Guide on Facebook and receive the latest news and your chance at additional giveaways. (I LIKE you too!)
4. "Share" any recent post from The Good Stuff Guide on your Facebook wall by clicking 'Share' under our Facebook posts with links to The Good Stuff Guide site.  This makes a visit to our site just a click away for all your Facebook friends – the more the merrier…
(Feel free to do them all – that's a total of 5 entries!)

Share this post
You might like...
Category: Activities, Toys and Gift Ideas
79 Comments »
Laura

on July 20, 2011 2:38 pm

email subscriber!

---

Laura

on July 20, 2011 2:38 pm

I like you on FB!

---

Colleen Gallagher

on July 20, 2011 4:48 pm

my kids would love this!

---

nan lara

on July 20, 2011 9:50 pm

my son would love this
nannypanpan at gmail.com

---

nan lara

on July 20, 2011 9:50 pm

rss subscriber

---

nan lara

on July 20, 2011 9:52 pm

e-mail
nannypanpan at gmail.com

---

Jules Greenaway

on July 21, 2011 8:35 pm

WOW, my adorable would just LOVE this!!!!

---

Jules Greenaway

on July 21, 2011 8:35 pm

I'm an email subscriber….

---

Jules Greenaway

on July 21, 2011 8:35 pm

AND a FB fan too!!!!

---

Leah Dater

on July 22, 2011 6:28 am

My boys would love this!

---

Leah Dater

on July 22, 2011 6:28 am

FB Fan.

---

Leah Dater

on July 22, 2011 6:29 am

email subscriber

---

Jessica Crump

on July 22, 2011 9:36 am

Oh this is perfect. My 4 year old is just about to start soccer this fall. He would love this!

---

Jessica Crump

on July 22, 2011 9:37 am

email subscriber

---

Jessica Crump

on July 22, 2011 9:37 am

facebook fan

---

Jessica Crump

on July 22, 2011 9:37 am

shaing the post on facebook

---

Jessica Crump

on July 22, 2011 9:38 am

emailing 5 friends about your rocking website.

---

Valerie S

on July 22, 2011 1:15 pm

My son is totally into soccer and would love this!

---

Valerie S

on July 22, 2011 1:16 pm

rss subscriber

---

Valerie S

on July 22, 2011 1:16 pm

like you on fb

---

Hyang

on July 22, 2011 5:38 pm

Perfect for my lil grandson!

---

Hyang

on July 22, 2011 5:38 pm

Email subscriber

---

Hyang

on July 22, 2011 5:39 pm

Emailed my friends.

---

Hyang

on July 22, 2011 5:44 pm

Facebook liked.

---

Pauline Milner

on July 23, 2011 5:24 am

Thanks for offering this giveaway.

Our kids love soccer and would definitely love this prize!

---

Pauline Milner

on July 23, 2011 5:25 am

I am subscribed to receive your emails using dod@rogers.com.

---

Pauline Milner

on July 23, 2011 5:25 am

I am following you on Facebook.

Facebook ID: Pauline Milner Pike

---

Cee

on July 23, 2011 1:02 pm

What an amazing giveaway! My daughter would love this. She loves soccer!

---

My little guys would totally love the soccer goal and pitch back !

on July 25, 2011 11:47 pm

Thanks for creating such a great site for Moms!

---
Leave Us Some Comment-Love