December 3, 2012
written by Cathy Baker, mom of two amazing daughters, from Missouri Ozarks
I still remember my favorite stocking ever. I was a teenager and my entire stocking was filled with makeup!! Lots and lots of makeup, mixed in with some chocolate and peppermint too, I'm sure. But I mostly remember the makeup. It was a total surprise and I loved it!  Now that I'm older, I love helping Santa find new and fun items to put in stockings! Let me share with you a few of them I've found this season!
SwaggerTags! SwaggerTags are personalized Name Tags for all your gear! How adorable are these? And the possibilities for their use are endless- backpacks, diaper bags, sport bags, lunch boxes, band instruments, bikes, dog leashes, luggage!  How fun if an entire team could have matching personalized tags for their bags?
You can add any picture of your own to the outside, then keep your personal info on the inside!  My daughter just put a SwaggerTag on her clarinet case.  She loved being able to personalize it with her school mascot (outside) and put our family picture (inside) along with her name and phone number. I even saw her smile after we put it on!  But if you need additional ideas to personalize your Swaggertag, you can always check out the Window Art link at the SwaggerTag website, where they have a growing selection of ready to print (free!) pictures that will fit right inside your SwaggerTag!  My daughter has also mentioned that several friends have commented on her SwaggerTag and wanted one.
These durable tags come with three  nylon cables (50 lbs. tensile strength) and they were manufactured with food-grade ABS for safety and durability!  And at only $3.99 you can order some for every stocking in your home!!  Check out the SwaggerTag website!   ***And guess what?! ***One lucky winner can win two SwaggerTags! Can I get a Woo Hoo?! (Entry details are include at the end of the article!)
Swiggies! Swiggies are fun water bottles  for your wrists! Ummm, no more carrying my kids water bottles on a walk!? I'm sold! Oh, and my girls are totally in love with them!  I have a feeling the swiggies will be new companions on our springtime hikes!  I also must say, my girls just wear these around the house – constantly refilling their water bottles and sipping away! See, here's my daughter…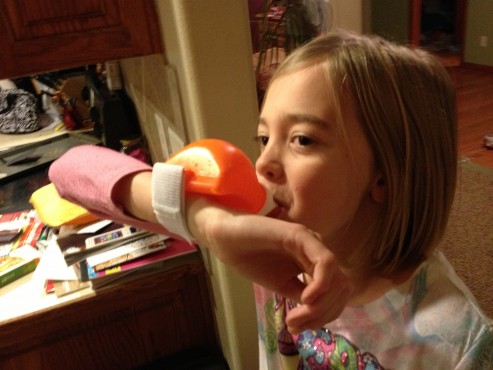 You can get a pack of two swiggies for $12.95. They come in a variety of fun colors,  in both child and adult sizes!  And one lucky reader is going to win one a pack of these! See details at end of this article to enter!
Handables. I think this little invention might just save my phone one day from a catastrophe! Or my daughter's ipod. You can watch a quick video promo here! As their website indicates, it's easily mounted on the back of handheld devices or smooth protective cases, providing a natural way to hold your smartphone, tablet, or eReader.  We put one of these on our phones and we have been impressed with how secure it feels.  I see my daughters easily slipping this on their hand to help hold the device in place.  My oldest daughter says, "It's cool. It's Awesome. and it works!"  It is easy to install and easy to use. And it is definitely extra security for the phone.   I do wish it would work with all cases, I'd like to add it to my otterbox, but it does say that it only works with smooth cases.
Available in a variety of colors and designs, you can purchase these for only $12.95 directly from the Handable website!  Are you keeping count…this is  item #3 that one lucky reader is going to win — one HandAble with 7 interchangeable colors — in our giveaway! So don't forget to leave a comment at the end to win!
SarahPinto Notebooks –
Okay, I admit it, I'm a sucker for pretty notebooks with fun designs! Sarah Pinto does not disappoint with cuteness in a variety of products such as  notebooks, planners, academic planners!  Love the bold colors! And being only 5×7, they are the perfect size to fit in a stocking!   I am impressed with the heavy-duty spiral binding, and the covers are double thick, with the cute design being on both sides. Made in the USA out of recycled paper and soy-based inks.  Check out all the fun products at SarahPinto.Com!
***GIVEAWAY DETAILS!! ***(Yes, you've made it to the end!)
One lucky, lucky winner can win two SwaggerTags, a pack of Swiggies, and a Handable with 7 interchangeable colors, simply by leaving a comment by Friday December 14th. I'll choose the winner using Random.org and announce it on Saturday December 15th!
Because I just LOVE comments, here's how to gain extra entries (please leave them as separate entries):
1. Do you subscribe by email or RSS to The Good Stuff Guide? I love my subscribers, so you get an extra entry. Wahoo!
2. Email 5 of your friends about The Good Stuff Guide and tell them what a rockin' website this is. We'd love to have them join us!
3. "Like" The Good Stuff Guide on Facebook and receive the latest news. (We LIKE you too!)
4. "Share" any recent post from The Good Stuff Guide on your Facebook wall by clicking 'Share' under our Facebook posts with links to The Good Stuff Guide site.  This makes a visit to our site just a click away for all your Facebook friends – the more the merrier…
5. "Pin" one of these fun stocking stuffer ideas to one of your pinterest boards!
6. Follow @goodstuffguide on twitter and tweet this article with one of the following the hashtags #GSGgiveaway #swaggertag #swiggies #handable #sarahpinto
(Feel free to do them all – that's a total of 7 entries! Are you feeling lucky?!)

Share this post
You might like...
Category: Random and Fun
Tags: Stocking Stuff Ideas |
49 Comments »
Jenny Bates

on December 3, 2012 9:50 am

I love all the amazing and creative ideas you find/come up with!! I am constantly popping on here to see what else is new!!
Thanks, Ladies!!

---

lisa ernst

on December 3, 2012 10:17 am

Thanks for the great ideas Cathy!

---

Brian

on December 3, 2012 10:55 am

These look like great things to put in a stocking for a 9-year old girl! (who happens to be friends with yours)

---

sara

on December 3, 2012 4:56 pm

Really cool ideas. I would love a stocking full of makeup and candy too!

---

sara

on December 3, 2012 4:57 pm

subscriber rss, google reader

---

sara

on December 3, 2012 4:58 pm

follow on twitter and tweet https://twitter.com/SaraMama/status/275720548393287681

---

sara

on December 3, 2012 4:58 pm

like you on fb
sara peterson davis

---

sara

on December 3, 2012 4:59 pm

pinned it @saramama
http://pinterest.com/pin/277112183293399749/

---

on December 3, 2012 9:23 pm

Love all of these fun ideas – things that you just don't see anywhere, so they are extra special and FUN! Thanks for sharing!

---

on December 3, 2012 9:23 pm

I'm a subscriber!

---

on December 3, 2012 9:24 pm

I like The Good Stuff Guide on Facebook!

---

on December 3, 2012 9:26 pm

I shared this post on Facebook

---

on December 3, 2012 9:27 pm

I pinned Swiggies on my new Christmas ideas Pinterest board

---

on December 3, 2012 9:34 pm

Aaaand, tweeted!
https://twitter.com/momsmagic/status/275789087309438977

---

JLee

on December 4, 2012 12:14 am

Love the swiggies and swagger tags! Thanks for sharing these great finds!

---

JLee

on December 4, 2012 12:16 am

I subscribed!

---

JLee

on December 4, 2012 12:21 am

Liked on Facebook!

---

JLee

on December 4, 2012 12:22 am

Shared on Facebook!

---

JLee

on December 4, 2012 12:31 am

Emailed 6 friends to tell them about thegoodstuffguide.com

---

Kaijsa

on December 4, 2012 11:12 am

Great finds! Thanks for sharing!

---

Kaijsa

on December 4, 2012 11:13 am

Email subscriber!

---

Kaijsa

on December 4, 2012 11:14 am

Liked on FB, and oh-so-likeable!

---

Kaijsa

on December 4, 2012 11:17 am

Tweeted!

---

Kaijsa

on December 4, 2012 11:22 am

Pinned!

---

on December 4, 2012 11:24 am

I love all these ideas, even the makeup in the stocking – I may have to do that one this year!

---

on December 4, 2012 11:40 am

Subscribe by email!

---

on December 4, 2012 11:41 am

Shared with 5 friends via email!

---

on December 4, 2012 11:42 am

Liked on GSG Facebook!

---

on December 4, 2012 11:43 am

Shared a GSG post on Facebook!

---

on December 4, 2012 11:59 am

Finally figured out how to pin it to my board!

---

on December 4, 2012 12:00 pm

Following on Twitter and tweeted!

---

Christina

on December 4, 2012 7:59 pm

I almost forgot about the stockings!

---

Julie Godfrey

on December 5, 2012 8:11 am

Awesome article, love to learn about new products!

---

Julie Godfrey

on December 5, 2012 8:11 am

I am an email subscriber.

---

Judy riley

on December 6, 2012 8:31 am

Looks like a fun idea.

---

Judy riley

on December 6, 2012 8:32 am

Grandkids will love them.

---

Judy riley

on December 6, 2012 8:33 am

Great for traveling.

---

Jackie J.

on December 6, 2012 4:48 pm

I really like the Squiggles for my grandsons who live in Arizona. What a great alternative to carrying a water bottle in that dry Arizona heat.

---

Jackie J.

on December 6, 2012 4:49 pm

I subscribe so I can keep up on all the latest ideas. You do a great job!

---

Jessica Crump

on December 8, 2012 1:27 pm

I am an email subscriber and would love to win! Been following the blog for 3 years now.

---

Jessica Crump

on December 8, 2012 1:28 pm

I like the facebook page

---

Jessica Crump

on December 8, 2012 1:28 pm

I emailed 5 friends and told them about your site.

---

Jessica Crump

on December 8, 2012 1:29 pm

I shared the facebook post about one of the giveaways.

---

Jessica Crump

on December 8, 2012 1:32 pm

I pinned the swaggertag onto my board stocking stuffers

---

Jessica Crump

on December 8, 2012 1:36 pm

Following on twitter and retweeted #GSGgiveaway

---

Jessica Crump

on December 8, 2012 1:58 pm

I could use this as a stocking stuff for my boys

---

Jenny

on December 11, 2012 9:27 am

Cool ideas! My girls would love all of them.

---

Jenny

on December 11, 2012 9:28 am

I also "like" you on FB!

---

on April 18, 2013 4:53 am

Hmm it seems like your blog ate my first comment (it
was super long) so I guess I'll just sum it up what I wrote and say, I'm thoroughly enjoying your blog.
I as well am an aspiring blog blogger but I'm still new to the whole thing. Do you have any helpful hints for beginner blog writers? I'd really appreciate it.

---
Leave Us Some Comment-Love