December 4, 2012
written by Cathy Baker, mom of two tween daughters, living in the Missouri Ozarks
When my kids were younger, I could easily complete my Christmas shopping with a simple walk through at Toys R Us! This year, I knew I was in trouble when the Toy Catalog arrived in the mail and they could hardly find anything they liked! So I set out to search for gift ideas that both my tween girls (ages 9 & 11) would both love, enjoy and appreciate!  Let me offer you a few suggestions, along with the chance to WIN one of these great gifts, and several discount codes for you, our very special readers!
Games! Every year for Christmas, we always get our kids a game!   Some of our past favorite games  include, Apples to Apples, Jr,  Pictureka and Banagrams.  But I'm really excited about the game I found for this year! Well, it's more of an activity than a game, but I still think it serves the same purpose – of playing together, of having fun as a family or with friends!  It's called Colorfall...and I can't wait to play it with them on Christmas morning! In fact, both Parents Magazine and Good Housekeeping have named it one of the 'toys of the year'!   It contains tiles (like dominoes) in bright fun colors and you set them up in fun designs and then push them over and watch them fall! See…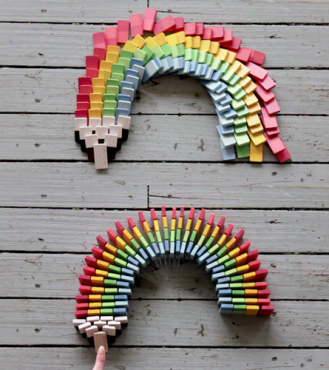 You can find it at The Brain Store for $44.99.  What I LOVE about Colorfall?  The tiles are hand-painted, in a rainbow of brilliant colors and are all made out of wood! They also include a cloth bag for you to keep the tiles in…can someone say easy cleanup!?! I love that they provide an initial deck of cards to spark ideas for things you can make, but that is only the beginning of the fun pictures to create! I like the twist on the old classic dominoes…I mean who hasn't loved setting up old dominoes and watching them fall over?! Add bright fun colors, and it's love in my book!
*** And guess what?!?! *** One of you lucky readers can WIN Colorfall for your family!! All details for entering to win are listed at the end of this article, so don't forget to leave a comment and WIN! ***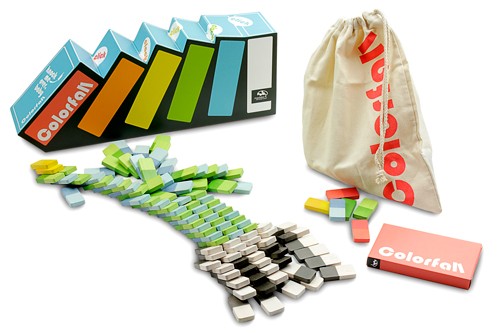 Craft Kits! We kinda really love crafts in our house!  But honestly, I don't need any more craft kits with cheap plastic beads nor foam pieces.  I wanted something more 'grownup'. I was on the search for  'quality'.  Projects that inspire creativity and let them express themselves! I'm excited about both these awesome companies I discovered – Artterro and Eye Can Art. Both companies offer high quality craft kits that definitely inspire creativity, unique kits that I haven't seen anywhere else AND they are both MADE IN THE USA!  Check them out…
Artterro. They have many eco-friendly art kits available, but I recently got Artterro's  Wool Felt Wearables Kit.   As the box of supplies spilled out before them, my girls immediately went to work, putting things together, making new creations.
Check out these cute earrings my daughter made!  Can you see how happy her creation makes her?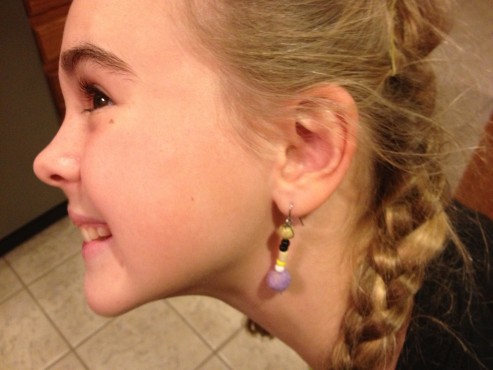 I love the quality of their products.  And I love how quality products lead to creative play, and I really love the smiles on their faces after they've created their own finished jewelry.  Artterro also has other unique kits I haven't seen elsewhere, like Garden Art and Bubble Wands.  Also, check out their Art Journal Kits – quality paper and a variety of project ideas included! The journal is a place to experiment and keep all their projects in one place (you do need to provide your own art supplies.)  At only $12.95, I see these being a fun project for upcoming snowy days!   And guess what, Artterro is offering 20% off for all Good stuff Guide readers til December 14th!  Just use promotion code HOLIDAYART at check out to receive your 20% discount! Oh, and I love all the company's efforts at sustainability!
Eye Can Art. First, I adore the packaging – in a can – catchy, fun.   Eye Can Art has several unique kits available that I haven't seen elsewhere, kits like Sumi-e Painting, Wax Drawing, and the one I got, Fabric Sun Photo Kit!
We had some extra time during Thanksgiving Break, so I knew it was the perfect time to pull out this craft to do with my girls!  We didn't quite finish the project because the uncooperative weather decided to rain…not good when the project requires sunshine! But we did lots of creating inside and have several templates ready to go for when we are home on the next sunny day!! My girls decided to do a Christmas Carol theme – here's a couple of the squares we got done before the rain, I can't wait to see them all assembled together!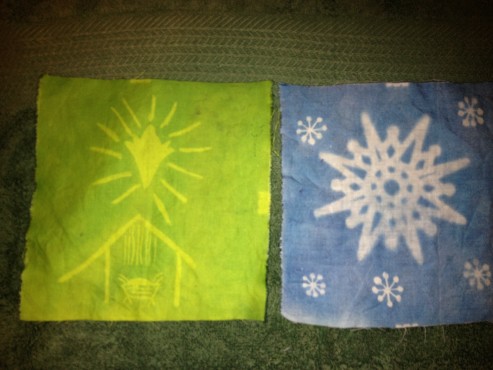 These kits definitely include quality materials to create art with, inspire creativity, and are everything I was looking for in an art kit!  Again, they are also Made in the USA and you, our faithful readers, can get $5 off when you order through Eye Can Art website, by using code HOLIDAYKITS12, now through 12/17/12. Limit one discount per order.
Headphones! Most tweens have some sort of electronic device – but I got to thinking, my girls only have the cheap, simple earbuds that came with their devices, and they are working poorly these days!  If you are looking for some top of the line headphones, that they will love now, and will continue to grow with them, look no further than BigRAudio Headphones (made especially for iphone/ipad/ipod)!
These superb headphones are sure to please your tween! We have a set of the Madison headphones, pictured above.  I love the quilted look, it's perfect for me my tween girls!   They also have officially licensed MLB headphones!  You can purchase them directly for $129 at their site, BigRAudio, and they also sell them on amazon. They are designed with extra plush-ness in the ear pieces, so they are very comfortable to wear, and stay in place securely when moving about.  The sound is excellent (and if I turn them up loud enough I can ignore my girls arguing! ha!)! I also like that when it's plugged into my iphone, my phone will ring in my headphones and pause my music while I take the call. It even has a built in microphone, so I can just chat away!  Added bonus is a nice bamboo box to store them in!  Here's a picture of my daughter at her sister's recent volleyball game, enjoying her headphones.
Building Sets – If you look at the recommended age for products like Lego sets, K'Nex, and Model Car Sets…many start at the perfect 'tween age! (The sets do vary by age, just look for the age 8-12 sets. I think we might try one of the K'Nex Roller Coaster sets!) They can successfully complete these sets on their own, what a great sense of accomplishment! What a fun Christmas afternoon project! And then pull it out again for some snowy day fun!
Jewelry– My tween girls are all about accessorizing!  I love these fun 'make-it-your-own' accessories I found at Shains Recycled Fashion.  Bracelets, belts, smartphone cases, notebooks, hair accessories, watches, and more — all ready to personalize and made from recycled materials!    Here's a picture of my girls deep in thought while personalizing their own BFF bracelets.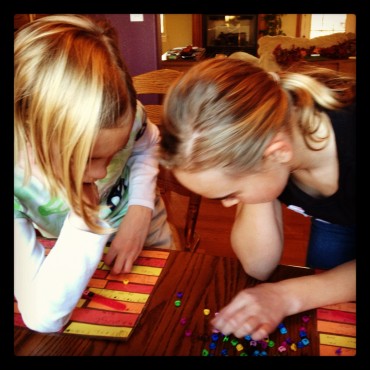 What do they love about them?  "We can change them every day if we want!"  The little tiles/buttons snap in and out, as often as they change their mind, but they are also snug and stay in there securely too! I also love that they are made out of recycled materials and they are recyclable!  And you, our lovely readers, can save 10% at their website by using the code SAVE!
Tickets/Gift Certificates How about tickets to a concert, a local theater, the movies? Or gift certificates to go see a favorite team play later this year,  or to a local tubing or skiing resort, or indoor water park? How about annual passes to local museum or amusement park? And don't forget about gift certificates to take a class – pottery, horseback riding, music lessons.  My girls' aunt and uncle usually get them something along this line, and they LOVE it!!
*** GIVEAWAY DETAILS!! *** (Yes, you've made it to the end!)
One lucky, lucky winner can win COLORFALL simply by leaving a comment by Friday December 14th. I'll choose the winner using Random.org and announce it on Saturday December 15th!
Because I just LOVE comments, here's how to gain extra entries (please leave them as separate entries):
1. Do you subscribe by email or RSS to The Good Stuff Guide? I love my subscribers, so you get an extra entry. Wahoo!
2. Email 5 of your friends about The Good Stuff Guide and tell them what a rockin' website this is. We'd love to have them join us!
3. "Like" The Good Stuff Guide on Facebook and receive the latest news. (We LIKE you too!)
4. "Share" any recent post from The Good Stuff Guide on your Facebook wall by clicking 'Share' under our Facebook posts with links to The Good Stuff Guide site.  This makes a visit to our site just a click away for all your Facebook friends – the more the merrier…
5. "Pin" COLORFALL to one of your pinterest boards!
6. Follow @goodstuffguide on twitter and tweet this article with one of the following the hashtags #GSGgiveaway #colorfall
(Feel free to do them all – that's a total of 7 entries! Are you feeling lucky?!)

Share this post
You might like...
Category: Random and Fun, Toys and Gift Ideas
Tags: tween gift ideas |
36 Comments »
Ann Holmes

on December 4, 2012 8:07 am

Love the wool felt kit!

---

Julie R.

on December 4, 2012 8:41 am

Another huge tween favorite game is Qwirkle.
http://www.amazon.com/MindWare-M32016-Qwirkle-Board-Game/dp/1933054395
Love it also that it comes in a carry bag. This travels with us to all of our holiday gatherings. Both the kids and adults love to play it.

---

Julie R.

on December 4, 2012 8:44 am

Regarding headphones – my 12yo has been BEGGING (ie BOTHERING) me to order these for him.
http://www.amazon.com/Crossfade-Over-Ear-Noise-Isolating-Headphone-Gunmetal/dp/B003BYRGKY/ref=sr_1_1?s=electronics&ie=UTF8&qid=1354628604&sr=1-1&keywords=v-moda+crossfade
I personally have no idea the pros and cons of different audio equipment, but looks like these got good reviews.

---

Julie R.

on December 4, 2012 8:45 am

email subscriber

---

Julie R.

on December 4, 2012 8:45 am

FB follower

---

Penny M.

on December 4, 2012 11:47 am

Love the colorfall game!

---

Connie B.

on December 4, 2012 5:36 pm

Fun stuff!!!

---

on December 4, 2012 7:55 pm

Some great gift ideas here. I think the K'nex would go over big here.

---

Jocelyn

on December 4, 2012 9:29 pm

Looks like lots of fun!!

---

Kaijsa

on December 5, 2012 11:55 am

Cute stuff!

---

Kaijsa

on December 5, 2012 11:55 am

email subscriber

---

Kaijsa

on December 5, 2012 11:56 am

Liked on FB!

---

Kaijsa

on December 5, 2012 11:56 am

pinned it!

---

Kaijsa

on December 5, 2012 2:58 pm

tweeted!

---

Rachel C

on December 5, 2012 9:51 pm

This looks fun – I'd love to win!

---

Rachel C

on December 5, 2012 9:51 pm

email subscriber

---

Jackie J.

on December 6, 2012 4:36 pm

Oh my goodness! What wonderful ideas for Christmas gifts. I'll be able to finish shopping for my granddaughters from these great suggestions. Thanks!

---

Jackie J.

on December 6, 2012 4:37 pm

I'm. an email subscriber

---

nannypanpan

on December 6, 2012 8:59 pm

would love this for my niece

---

nannypanpan

on December 6, 2012 9:00 pm

e-mail
nannypanpan@gmail.com

---

Jessica Crump

on December 8, 2012 1:37 pm

I follow by email

---

Jessica Crump

on December 8, 2012 1:38 pm

I emailed 5 friends about this wonderful site

---

Jessica Crump

on December 8, 2012 1:38 pm

I follow on facebook

---

Jessica Crump

on December 8, 2012 1:39 pm

I shared the link on my facebook wall and tagged you in it

---

Jessica Crump

on December 8, 2012 1:40 pm

I pinned colorfall on my pinterest board called stocking stuffers

---

Jessica Crump

on December 8, 2012 1:42 pm

I retweeted on twitter and follow the good stuff guide
schaubje69

---

Jessica Crump

on December 8, 2012 1:57 pm

I have a hard time buying for my tween cousins this would be perfect as a gift

---

on December 8, 2012 11:38 pm

Subscribe by email!

---

on December 8, 2012 11:48 pm

Shared by email!

---

on December 8, 2012 11:48 pm

Liked on FB!

---

on December 8, 2012 11:51 pm

Shared post on FB!

---

on December 8, 2012 11:52 pm

Pinned Colorfall on Pinterest!

---

on December 8, 2012 11:53 pm

Tweeted!

---

on December 8, 2012 11:54 pm

Colorfall looks fun!

---

on December 9, 2012 8:19 am

We also play family games Christmas day. This would be a fun addition to our collection. My family would enjoy it. Thanks.

---

ACMommy3

on December 4, 2013 11:45 am

Great post here! I found you by searching the web for gift ideas – love your ideas, they are more creative and fun than most "gift ideas" I found on websites today! This Colorfall game looks like a lot of fun! Count me in for a chance to win! 😀

---
Leave Us Some Comment-Love