July 4, 2011
Happy, happy 4th of July to you!
I hope you are having a great day.  We've made it to Michigan (ahhh, just the words make me relax) and are enjoying the sunshine and heat that this state currently provides.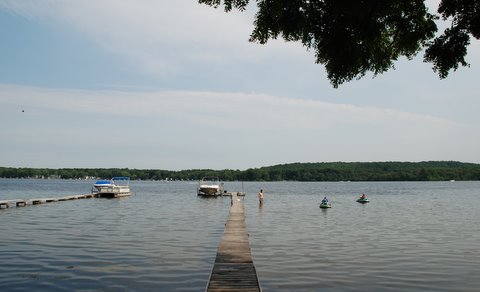 Get ready this month of loads of giveaways!  July is Traveling, Summer Giveaway Month!  To top it off, we also have some incredible Home Tours lined up this month too.  It's going to be a GREAT month!!
Today, meet Woody the Rocking Horse from Prince Lionheart: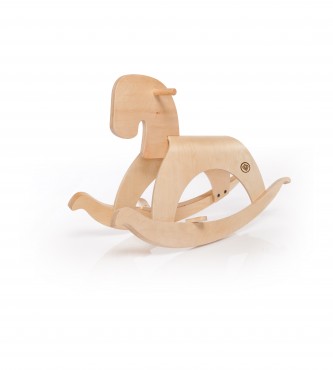 This simple, modern rocking horse was originally created in 1973 by Prince Lionheart and has just been reintroduced.
The rocking horse features:
Solid birch hand grips.
Oversized rockers prevent tipping forwards or backwards.
Height: 18.5"; Width: 11.6";  Length: 31"
Footrests help children balance and position themselves properly.
Holds up to 100 lbs.
18+ months.
Sure to be a classic for generations to come!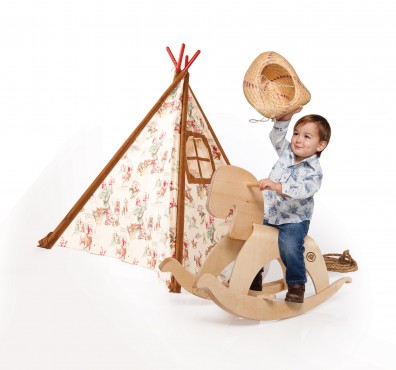 And you can win one…
Giveaway
One lucky, lucky winner can win Woody the Rocking Horse from Prince Lionheart simply by leaving a comment by Tuesday, July 12th.  I'll choose the winner using Random.org and announce it on Wednesday.
Because I just LOVE comments, here's how to gain extra entries (please leave them as separate entries):
1. Do you subscribe by email or RSS to The Good Stuff Guide? I love my subscribers, so you get an extra entry. Wahoo!
2. Email 5 of your friends about The Good Stuff Guide and tell them what a rockin' website this is. We'd love to have them join us!
3. "Like" The Good Stuff Guide on Facebook and receive the latest news and your chance at additional giveaways. (I LIKE you too!)
4. "Share" any recent post from The Good Stuff Guide on your Facebook wall by clicking 'Share' under our Facebook posts with links to The Good Stuff Guide site.  This makes a visit to our site just a click away for all your Facebook friends – the more the merrier…
(Feel free to do them all – that's a total of 5 entries!)
Share this post
You might like...
Category: Activities, Toys and Gift Ideas
72 Comments »
Jules Greenaway

on July 6, 2011 6:01 pm

I'm an email subscriber…

---

Jules Greenaway

on July 6, 2011 6:01 pm

As well as, I "like" you on FB!!

---

Jessica Crump

on July 7, 2011 1:26 pm

I love this horse. Would make a great gift for a friend.

---

Jessica Crump

on July 7, 2011 1:27 pm

I subscribe via email.

---

Jessica Crump

on July 7, 2011 1:27 pm

I like you on facebook.

---

Jessica Crump

on July 7, 2011 1:28 pm

I shared a post on facebook.

---

Jessica Crump

on July 7, 2011 1:28 pm

I am emailing 5 friends about your awesome site.

---

Amy

on July 8, 2011 8:13 pm

My little cowgirl would just love this!

---

Katie

on July 11, 2011 10:36 am

What an awesome rocking horse!

---

Katie

on July 11, 2011 10:37 am

I'm a fan on FB.

---

Hyang

on July 11, 2011 11:59 pm

This is so cute!

---

Hyang

on July 11, 2011 11:59 pm

Email subscriber.

---

Hyang

on July 12, 2011 12:00 am

Emailed friends.

---

Hyang

on July 12, 2011 12:00 am

Facebook liked.

---

Teresa Gunn

on July 12, 2011 3:22 pm

FB fan. ADORABLE. My brand new nephew deserves a horsey ride. 😉

---

Danielle

on July 12, 2011 4:34 pm

So perfect! My little guys nursery is retro cowboy themed and this little rocking horse would be the perfect addition. What a beautiful piece it is sure to become an heirloom for whomever owns it.

---

Guillermo

on July 12, 2011 8:30 pm

Awesome!

---

Guillermo

on July 12, 2011 8:31 pm

Email subscriber

---

Guillermo

on July 12, 2011 8:33 pm

Emailed my friends

---

Guillermo

on July 12, 2011 8:33 pm

Facebook liked

---

Lynsi

on July 12, 2011 11:47 pm

My sister just found out she's having a boy. Would love to share this.

---

Lynsi

on July 12, 2011 11:48 pm

Also a fb fan!

---
Leave Us Some Comment-Love