July 12, 2011
It's Hockey Camp today for us!  Wish my eldest adorable luck as he skates with the big boys of Michigan.  We're not in Connecticut anymore folks… this is serious, intense Michigan youth hockey.  And luckily, he loves it!
I want to share with you something else we've loved – and you can win your own copy!  Today, I have 2 copies to give away, so you have double the chance of winning.
This is not just any book – it's all about math.  Surprise!
What do you think when you hear the words "primes, multiplication, factors and factor trees, factorials"?  Is it sheer panic, nervous hives??
(Perhaps that's just me…)
But do not fear – Open this book and find a very innovative, visually clear presentation of multiplication and factor trees – I could even understand prime numbers in a new way.
And that's saying something…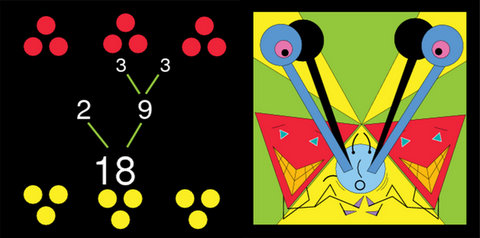 Every page illustrates a number down to its primes, with a corresponding monster illustration – part of the fun is finding the primes in the illustration.  Trust me, it's captivating.
Giveaway
TWO lucky, lucky winner can win a copy each of You Can Count on Monsters simply by leaving a comment by Tuesday, July 19th.  I'll choose the winner using Random.org and announce it on Wednesday.
Because I just LOVE comments, here's how to gain extra entries (please leave them as separate entries):
1. Do you subscribe by email or RSS to The Good Stuff Guide? I love my subscribers, so you get an extra entry. Wahoo!
2. Email 5 of your friends about The Good Stuff Guide and tell them what a rockin' website this is. We'd love to have them join us!
3. "Like" The Good Stuff Guide on Facebook and receive the latest news and your chance at additional giveaways. (I LIKE you too!)
4. "Share" any recent post from The Good Stuff Guide on your Facebook wall by clicking 'Share' under our Facebook posts with links to The Good Stuff Guide site.  This makes a visit to our site just a click away for all your Facebook friends – the more the merrier…
(Feel free to do them all – that's a total of 5 entries!)

Share this post
You might like...
Category: Books, Toys and Gift Ideas
54 Comments »
alison

on July 17, 2011 12:37 am

would like this book

---

alison

on July 17, 2011 12:38 am

email subscriber

---

alison

on July 17, 2011 12:38 am

emailed 5 friends about the giveaway

---

alison

on July 17, 2011 12:38 am

like the good stuff guide on fb @ alison sheardy czischke

---
Leave Us Some Comment-Love