August 22, 2013
written by Cathy Baker, mom of two sweet tweens, who sometimes enjoys a break from them
So have you heard of glamping? What is that, you ask? It's Glamorous Camping!!
It seems to be most popular over in Europe and Africa, but it also seems to be spreading here to the United States, and this makes me smile!
If you've been glamping, I'm jealous.  Extremely.
It's definitely on my bucket list. And if you've never heard of it, let me introduce it to you through some pinterest-inspired glamping pictures.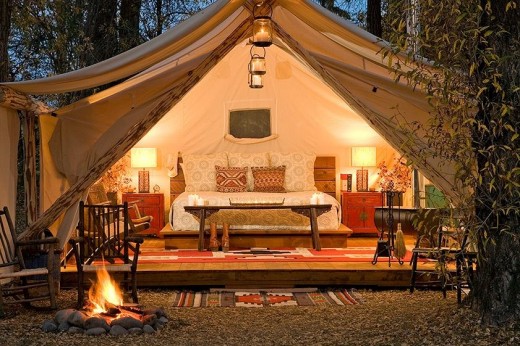 This kind of camping would definitely be replenishing!! Fresh air, beauty, comfort, and luxury!
Oh, I wish I knew exactly where this place was!! I think it must be located in paradise!
So modern, and yet the joy of experiencing the great outdoors! Can I just lay there and read a book for an entire day?
Anniversary getaway? Solitude retreat? Definitely a no kids getaway!
source: Blog Con Queso
A week here? Yes, please! I can imagine it now — hiking woodland trails, canoeing clear rivers, soaking up sunshine, and then relaxing HERE in the evenings, watching the sun go down, watching the lightening bugs dance like a million fairies in the woods. Ahhhh…
This is a Yurt at the Wild Cherry Resort in Michigan. They even include 2 bottles of wine, cheese, crackers, fruit and firewood!
Are words even needed? This is just one of many glamping pictures found at Beauty Hill website.
Let me guess, glamping is on your bucket list now, too?!
Here's a blog that lists a few places to consider, and also there's www.goglamping.net and www.glamping.com.
Also, FYI, glamping can also include tree forts, RVs, tepee's  and other unique sleeping arrangements, but I'm kind of partial to the tents and yurts!

Share this post
You might like...
Category: Lovey-Dovey Time, Random and Fun, Travel
Tags: glamping, Travel |
2 Comments »
Marykate

on August 22, 2013 8:15 am

Awesome. My sister will love! She camps but is really about the glamping. Beats the backyard – our bucket list camping destination!

---

on August 29, 2013 10:55 am

Have you ever heard of the Tree House Resort?
http://treehouses.com/joomla/index.php/treesort/accommodations

And then there's mountainside camping, which just gives me a panic attack just looking at the pictures lol!!
http://izismile.com/2011/05/30/high_mountain_camping_17_pics.html

---
Leave Us Some Comment-Love