October 19, 2011
Written by Contributing Writer, Sarah Farthing

If you are looking for, well, great and useful home storage and organization solutions, you'll find one stop shopping at www.greatusefulstuff.com.  This site is full of good ideas and well designed products to help you keep clutter at bay in your home.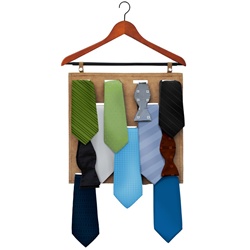 I recently acquired this tie holder for my husband and let me tell you it has been a closet sanity saver for us!  It fits neatly in with his shirts and we haven't had a tie avalanche with it yet!
I also love these shoe boxes: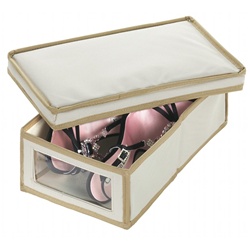 My heels (seldom worn) all reside on the highest shelf of our master closet.  Doing away with manufacturer boxes and storing them in these neutral boxes with see-through sides will not only be so much more functional, it will look so much nicer!
I can't forget to mention these mesh wire baskets, reasonably priced at $14.99, that will do wonders for your hall closet, laundry room or under counter space.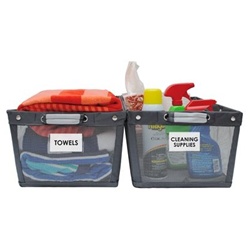 Check out the g.u.s. website and find other affordable solutions for:
cord spaghetti
closet avalanche
kids room chaos
tech travel trauma
guests with no room
photo pile-up
You'll love what you see!
Share this post
You might like...
Category: Organizing
No Comments »
No comments yet.
Leave Us Some Comment-Love