May 13, 2013
Happy Mother's Day to all the moms out there!  I hope you had a fabulous day!
I found this recipe in my May 2013 Better Homes and Gardens Magazine and it has fast become one of our household favorites.  The Running Man and I have really been trying to eat much healthier and this is seriously healthy, tastes amazing, and has all the fresh crunchy ingredients that remind me of summer.
And the adorables like it too (sans the yogurt sauce – but the very same yogurt sauce makes the recipe for the adults.  Crazy kids.)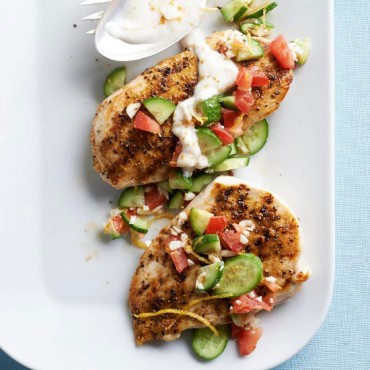 Ingredients
4 skinless, boneless chicken breast halves
1 – 2 tablespoons  olive oil
2 teaspoons  ground cumin
1/2 teaspoon  salt
1/4 teaspoon  cracked black pepper
1 medium seedless cucumber, chopped (2 1/2 cups)
1 large tomato, chopped (1 cup)
1/4 cup  finely chopped onion
1/2 teaspoon  finely shredded lemon peel
2 tablespoons  lemon juice
2 cloves garlic, minced
1/3 cup  nonfat plain Greek yogurt
1 tablespoon  honey
1 tablespoon  milk
Directions
1.
Brush chicken breast halves with olive oil; sprinkle with ground cumin, salt, and pepper. Grill on a covered grill directly over medium heat for 12 to 15 minutes, until done (170 degrees F), turning once.
2. Meanwhile, for Lemon-Cucumber Relish, in a medium bowl combine cucumber, tomato, onion, lemon peel, lemon juice, and garlic; stir to combine. In a small bowl combine yogurt, honey, and milk; stir to combine.
3. To serve, top chicken with Lemon-Cucumber Relish. Drizzle with yogurt sauce. Makes 4 servings.
That's it!
Love that Better Homes and Gardens also includes the calorie count – each serving is just 283 calories!
Enjoy…
Share this post
You might like...
Category: Cookin'
1 Comment »
Marykate

on May 13, 2013 8:01 pm

Looks de-lish!

---
Leave Us Some Comment-Love