November 5, 2009
Elizabeth Darcy is the single most complicated, witty, clever heroine in the history of literature.
(Now that's some assertion.)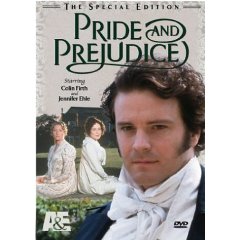 I am ever grateful to the BBC for making my favorite novel of all time into my favorite movie of all time.  After 100s of viewings, the movie stands in a league of it's own – that of perfection.
The crisp dialogue is what strikes me the most. They say exactly what they mean in very few words. There's no beating around the bush or floundering about.
Then there's the tumultuous love story between Mr. Darcy and Miss Bennett. You will never look at Colin Firth the same way.
Recent productions of the same name, I am sorry to say, do not reach the same level of greatness. It takes 6 hours to tell this story and you will never enjoy the time more. I promise. I only wish there was a sequel hidden somewhere.
As always, you can find it at Amazon.
PS: The Running Man loves it too.
PPS: I wrote this post and edited and deleted and wrote again and I still didn't do this movie justice.  Alas, I'm no Jane Austen.
PPPS: If you have eaten this movie and the book like candy and are still hungry for more, you can find Pride and Prejudice Sequels
here.  I've read Mr. Darcy Presents His Bride
(twice), Pemberley Remembered
, and I'm about to start the Rebecca Ann Collins
series. Can't wait!

Share this post
You might like...
Category: Brilliant
Tags: colin firth, Pride and Prejudice |
2 Comments »
marla

on November 5, 2009 10:00 am

No the best version is the 1940's version with Greer Garson! But then I guess I'm showing my age!

---

on November 5, 2009 11:11 am

Perfect evening = Pride & Prejudice + glass(es) of wine. Of course it also includes my husband grumbling in the background. It's nice your Running Man also loves it.

---
Leave Us Some Comment-Love