November 11, 2010
First and foremost, a very hearty thanks to all of our Veterans out there. I can't even imagine what this country would be without your service.
Happy Veterans Day!
____________________________________________________
I have a news flash that might make you quake in your boots: It's been 30 years since Gund produced its first super-soft and snuggly Snuffles bear.
For me the really scary part is that I actually remember seeing this little cute bear for the first time – looking a little anxious and just ready to be snuggled.  I remember feeling this Gund bear and thinking, "Now that's soft."  The fact that this was roundabout 30 years ago is a little perplexing.
Where has the time gone??
To celebrate 30 years, Gund has launched a special Anniversary Snuffles bear.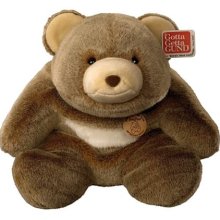 Just like the original, Snuffles is big and cozy and perfectly cuddly.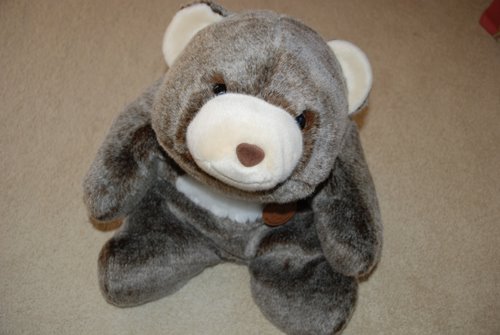 I mean, isn't that seriously cute?
Giveaway
You can win a Gund Snuffles Bear simply by leaving a comment by Tuesday, November 16th.  I'll choose the winner using Random.org on Wednesday.
Because I just LOVE comments, here's how to gain extra entries (please leave them as separate entries):
Do you subscribe by email or RSS to The Good Stuff Guide? I love my subscribers, so you get an extra entry. Wahoo!
Email 5 of your friends about The Good Stuff Guide and tell them what a rockin' website this is.  We'd love to have them join us!
"Like" The Good Stuff Guide on Facebook and receive the latest news and your chance at additional giveaways. (I LIKE you too!)
Good luck!
You can find Snuffles in Caramel or Chocolate on Amazon:
Gund Caramel Snuffles Bear

or
Gund Chocolate Snuffles Bear
Share this post
You might like...
Category: Toys and Gift Ideas
Tags: Gund 30th anniversary, Gund bear, Gund Snuffles bear, Snuffles giveway |
50 Comments »
Jen Moore

on November 11, 2010 8:57 am

Snuggly, soft, cute and cuddly! Who doesn't love a GUND! Perfect for little ones.

---

Susie Kerner

on November 11, 2010 9:06 am

What a cute bear! I'd like to win.

---

Martha

on November 11, 2010 9:47 am

Funny how softness can sometimes photograph. I'd love to win.

---

Marci

on November 11, 2010 10:22 am

He is so cute and my daughters would give him a very good home.

---

Ronda

on November 11, 2010 11:16 am

What a cute bear!

---

Ronda

on November 11, 2010 11:17 am

Facebook friend

---

Lisa

on November 11, 2010 11:58 am

My friend had a well loved white "Snuffy" growing up, so I can't help but think of her when I see this cute little guy!

---

Lisa

on November 11, 2010 11:59 am

RSS Feed subscriber

---

on November 11, 2010 2:23 pm

Super cute! Love Teddy Bears.

---

Patricia Conary

on November 11, 2010 3:27 pm

I love Gund, so soft & squishable

---

Patricia Conary

on November 11, 2010 3:28 pm

I like the Good Stuff Guide on fb

---

Jamie

on November 11, 2010 4:27 pm

Love him, hes so cute!

---

Jamie

on November 11, 2010 4:27 pm

Im a friend on facebook

---

Jamie

on November 11, 2010 4:28 pm

Also subscribe by email!

---

Lesa

on November 11, 2010 9:50 pm

Calculating my age minus 30 years… yikes! I wasn't even a kid when they came out, I was a teen… oh my… thanks for reminding me of how old I really am; you made my day. ha Still hope I win.

---

on November 12, 2010 2:46 am

Awww, hes adorable!

dragonflye2003(at)hotmail(dot)com

---

on November 12, 2010 2:47 am

Petes Sake is my FB name and I like you on there!

dragonflye2003(at)hotmail(dot)com

---

on November 12, 2010 2:47 am

Email subscriber!

dragonflye2003(at)hotmail(dot)com

---

Noreen Marando

on November 12, 2010 7:13 am

I still remember my first gund bear!!!

---

Noreen Marando

on November 12, 2010 7:13 am

so cute!

---

Noreen Marando

on November 12, 2010 7:13 am

my daughter would love it!

---

Sue

on November 12, 2010 8:12 am

online subscriber. We love teddy bears!

---

Rachel C

on November 12, 2010 8:45 am

Cute – what a great baby/Christmas gift

---

Rachel C

on November 12, 2010 8:46 am

email subscriber

---

Chelsea

on November 12, 2010 9:43 am

Love, love, love that bear! And my smallest adorable would love it too =)

---

Linda

on November 12, 2010 10:27 am

Just seeing this photo made me remember how soft this bear is. Thanks for the memories!

Linda

---

on November 12, 2010 10:32 am

I remember Gund so well from when I was little! They were always the softest!

---

Linda

on November 12, 2010 11:06 am

I like you on facebook

---

Linda

on November 12, 2010 11:06 am

I subscribe!

---

Tona

on November 12, 2010 1:54 pm

How adorable. I already like you on FB & I already subscribe to your email feed.

---

Beth W

on November 12, 2010 9:08 pm

He's so cute-talk about warm fuzzy feelings! I already like you and subscribe-after today I think I love you!

---

on November 12, 2010 9:29 pm

I may have a little adorable that would love this!!!

---

gillette

on November 12, 2010 10:11 pm

darling!

---

gillette

on November 12, 2010 10:13 pm

I'm a subscriber

---

nan lara

on November 13, 2010 10:16 pm

i had one when i was a kid
nannypanpan at sbcglobal.net

---

nan lara

on November 13, 2010 10:16 pm

e-mail subscriber

---

Jules Greenaway

on November 13, 2010 11:27 pm

Oh how cute!!!! Would love to give to son or maybe even me!!!! You're never too old for a cuddly teddy bear!!

---

on November 15, 2010 1:57 am

aawww too adorable! Look at their eyes!! I want to squeeze all the cuteness out of them!

---

on November 15, 2010 1:58 am

Liking goodstuffguide on FB! yaay!

---

Rose in Ohio

on November 15, 2010 9:41 pm

My sweet baby girl's first teddy bear was a pink Snuffles. She's 19 now, and I'd love to surprise her with another Snuffles!

rosemills (at) bex (dot) net

---

Rose in Ohio

on November 15, 2010 9:43 pm

As of this minute, I am your newest email subscriber! Thanks for offering this Gund giveaway!

---

Jenny

on November 16, 2010 10:05 am

I have an old, raggedy Gund polar bear that I sleep with every night (yes, I'm 30!). I know my little one would love one as well!

---

Jenny

on November 16, 2010 10:06 am

I'm an email subscriber!

---

Jenny

on November 16, 2010 10:06 am

I'm a fan on facebook!

---

nan lara

on November 16, 2010 9:52 pm

rss subscriber

---

Shaney

on August 27, 2011 8:39 am

I love teddy bears! soo cute!

---

Kim

on November 14, 2011 11:53 am

I've been a fan of GUND ever since a friend of mine showed me his Snuffles bear. Gotta Getta GUND!

---

Kim

on November 14, 2011 11:54 am

I am newly subscribed by email (:

---

Kim

on November 14, 2011 11:55 am

Also, I emailed 5 friends about this site and giveaway

---

Kim

on November 14, 2011 11:56 am

..and I "Like" The Good Stuff Guide on Facebook! Thanks for hosting this giveaway. I look forward to seeing new GSG news in the future!

---
Leave Us Some Comment-Love