March 17, 2015
Written by Marykate O'Malley, mother of three wonderful children, Gladwyne Pa 
Blessings for your day!
If God sends you down a stony path,
may he give you strong shoes.
May there always be work for your hands to do.
May your purse always hold a coin or two.
May the sun always shine on your windowpane.
May a rainbow be certain to follow each rain.
May the hand of a friend always be near you.
May God fill your heart with gladness to cheer you.
God bless the corners of this house,
And be the lintel blest,
And bless the hearth and bless the board,
And bless each place of rest,
And bless each door that opens wide
To stranger as to kin,
And bless each crystal window pane
That lets the starlight in,
And bless the rooftree overhead
And every sturdy wall.
The peace of man, the peace of God,
The peace of love on all.
And this makes me laugh…. just a wee bit.
May those who love us, love us,
And those who don't love us,
May God turn their hearts;
And if He doesn't turn their hearts,
May He turn their ankles so we'll know them by their limping.
And a bit of history on the potato famine, the great tragedy that drove the Irish from their homeland. So as we are celebrating today, we can remember those who went before us and their great sacrifice and courage. Slainte!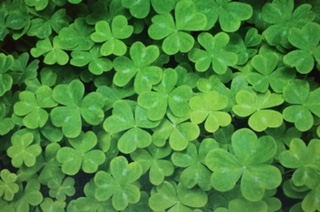 Share this post
You might like...
Category: Random and Fun
Tags: family, holiday, ireland, irish, peace, St. Patrick's Day |
No Comments »
No comments yet.
Leave Us Some Comment-Love