September 1, 2011
Written by Contributing Writer, Sarah Farthing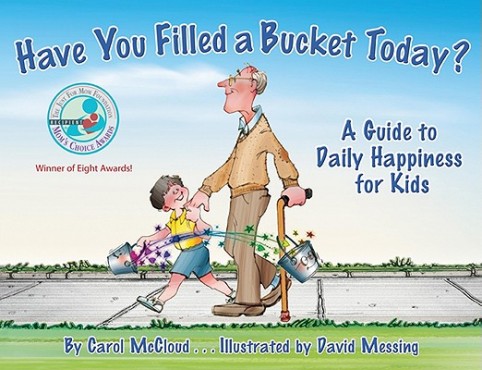 I heard friends discussing this book a few years ago when their oldest children started school.  I didn't think about it again until we moved into a new neighborhood and found ourselves playing every night outside with kids of all ages and, inevitably, emotions would run high from time to time and feelings would get hurt in one child or another.
We would discuss feelings and intentions, reactions and choices, etc… but sometimes keeping such expansive topics simple is hard.  Like I do with most concepts that are complicated to explain sufficiently to a preschooler, I looked for a book to help explain the power we all have to both build other people up or break them down.
This book, Have You Filled a Bucket Today by Carol McCloud, is wonderful.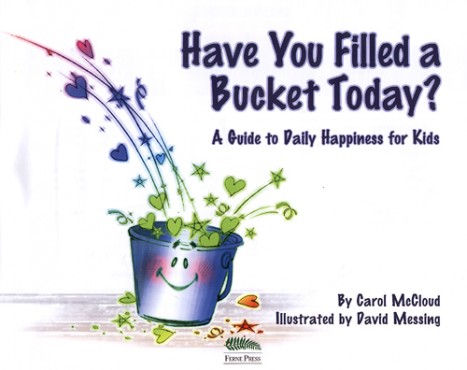 It starts by explaining that we all have an invisible bucket to hold our good thoughts and good feelings about ourselves.  When your bucket is full you feel happy and good and when you're feeling very sad and lonely your bucket is empty.  People can fill each others buckets by showing love to someone, doing or saying something kind; generally being a loving, caring person that says and does nice things.  Conversely, dipping someone's bucket happens by teasing, making fun and saying or doing mean things.
I'm paraphrasing the story here but you get the idea!  The response from children to the text and illustrations in this book are very real and genuine.  I honestly sensed relief from my boys that there was this clear framework to characterize the way people act.  We have literally mentioned our invisible buckets (sometimes they bring it up and sometimes I do!) every single day since we first read the book.
If your child has siblings, plays with other children, goes to daycare or school… I urge you to share this book, and the concept of bucket-filling, with them.   It is a parenting tool you'll be glad you have, over and over again!
Make sure you check out the Bucket Fillers website to find more information, products and even lesson plans.  There is an entire Bucket Filling movement going on here, parents, get on board!
Share this post
You might like...
5 Comments »
Heidi Farmer

on September 1, 2011 8:34 am

I just ordered this book – can't wait to read it!!

---

Mama Nolte

on September 1, 2011 10:23 am

Every Grandparent should have this book, too. The concept of filling up and emptying out is so basic to children. Using the bucket analogy for pre-schoolers and beyond will give a foundational tool that can be understood in very literal terms. I can imagine the language of this book will be used as any family grows in maturity and understanding.

I know a certain precious grandson who filled his Grandad's bucket with his kind words last evening

---

on September 1, 2011 11:19 am

There is also a book that talks about how to put a lid on your bucket to prevent others from dipping it! I think we need to get that one too. One of the great messages of this book is that you feel good when you do good. I will often ask one of my guys how his bucket is after he's done something nice for his brother or for me. I want to draw attention to how good it feels to do good for others. I think a real marker of maturity is realizing that it is actually more satisfying than having good done unto yourself!

---

MJ

on September 24, 2011 11:52 am

I need this for my kindergarten class!

---

Jenny H

on November 17, 2011 5:47 pm

I ordered 2 copies of this book. One for home and one for my kiddos kindergarten class. We now speak about the "bucket" to tell others how they made them feel. It has been GREAT!

---
Leave Us Some Comment-Love