May 3, 2013
It's here –  Home Tour Friday.
Today we get to see an incredible basement renovation that will surely put a smile on your face.  The adorables that live here were in for a fantastic surprise when their parents created a child heaven below stairs.
So here's how it started:
A blank canvas.
And with a several weeks and a lot of imagination, they created this: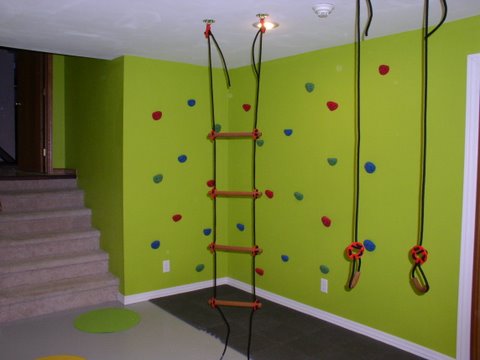 Climbing wall, ladder, swinging ropes.  I love the color!
and this: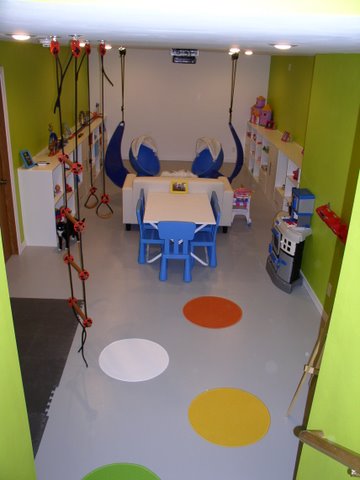 This happy place has been christened "The Cave" by the family.  The back wall is a projection television (you can see the projector up in the ceiling).  Shelves for toys, a seating area, a table for projects…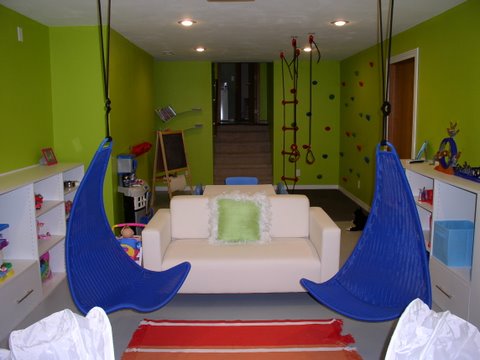 How fun are these hanging chairs?  I love the space for the easel in the background.  This room is perfect for young adorables and can certainly grow up with them.
Special thanks to:
The BoettcherFamily

Share this post
You might like...
Category: Home Tours
Tags: Home tour Friday |
4 Comments »
sarah

on December 4, 2009 12:26 am

Great room! thanks for the peek

Get this: IKEA makes those adorable rings and ladder for incredible prices (i'm pretty sure the rings are $15, dunno about the ladder)

Just wanted to share that with you,
Sarah

---

Kelly Micolichek

on December 16, 2009 7:06 am

I love the basement toy room! The climbing wall and the projection TV are great ideas!

---

Laurie Boettcher

on December 16, 2009 10:29 am

Yes, we purchased all of the furniture, except for the table, from Ikea. The prices are unbeatable. The shelving was done by my husband and a friend. The kids basically live down here.

---

on May 3, 2013 11:01 am

Love that! Did the family install the climbing wall or did they have someone else come in and do that? Need to know!!!

---
Leave Us Some Comment-Love