November 18, 2011
******Using random.org, we've chosen the winner of the J&S Coffee giveaway and it's # 54, Nan!  Congratulations, Nan, you have won two pounds of coffee for yourself and two pounds for three other people you specify as well.  Thank you everyone for all the comments.  Keep J&S Coffee in mind when you're making your gift lists this season!******
And now….
This is a home tour from the archives (2 years ago!), but I had to show you something funny at the end!
Happy, Happy Home Tour Friday to ya!
Today we're heading to Lake Gatson, Virginia, a gorgeous lake that sits right along the North Carolina/Virginia border.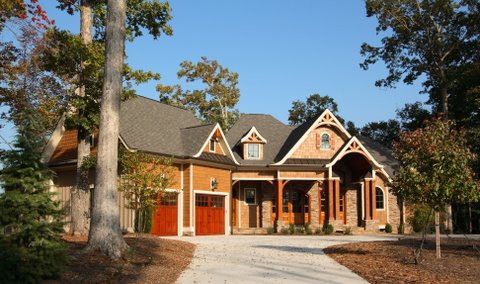 Why am I suddenly hungry for Gingerbread?
Never mind.
This is the delicious second home of one lucky couple.  Isn't she beautiful?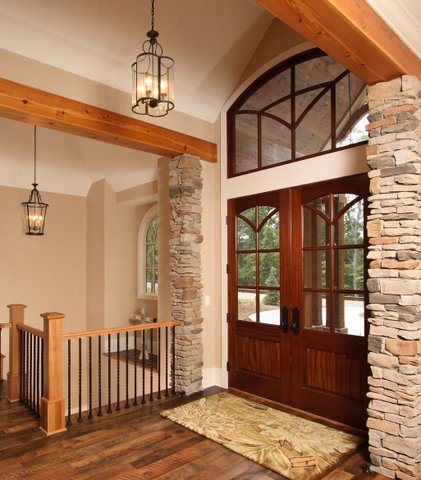 The wood, the stone, the openness, the big double doors – I'm home.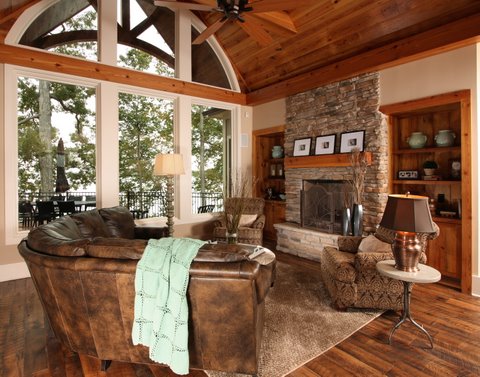 The Lodge Room, with its vaulted greatness, opens directly to the deck and stunning views of the lake.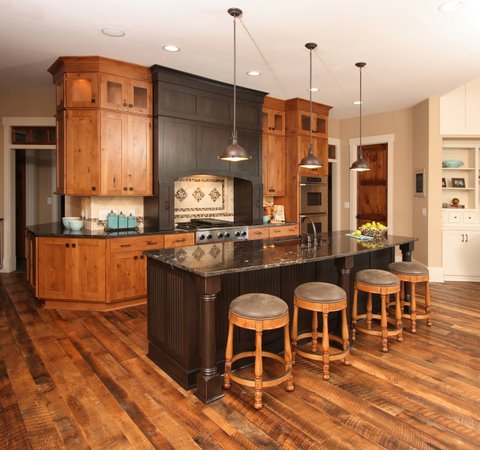 The heart and soul of the home – the kitchen.  This one is a stunner.  Love the floors.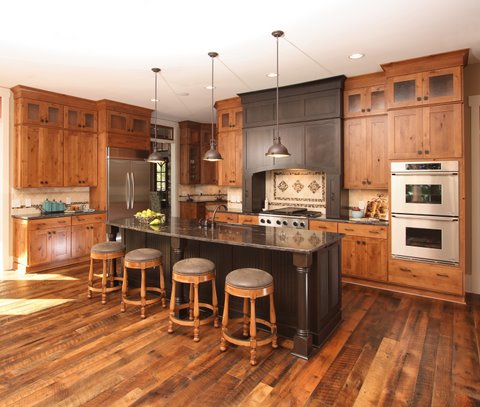 Another look.  Also love the tiled mosaic backsplash.
My favorite part of any home is when the kitchen opens directly into the family room, so it makes essentially one big room.
Love the coffered ceiling, the built-ins, the giant flatscreen, the comfy couches, the colors.  I think this room is perfect.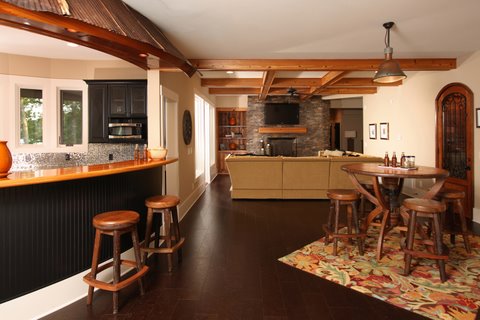 The game room in the lower level.  I don't even know where to start.
Gorgeous view, and please notice that two-level dock.  I've never seen anything like it and I'm thinking brilliant.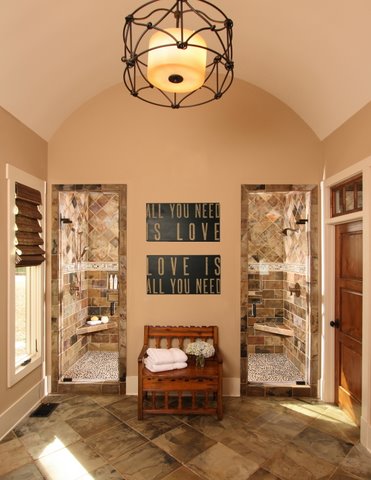 His and Her showers.  And if that art doesn't get you singing a snappy tune… (or keep singing in my case)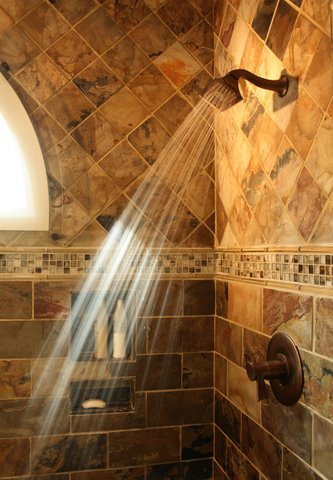 Stunning tile work.
And because you understand my thing for bunk rooms, I had to save it for last.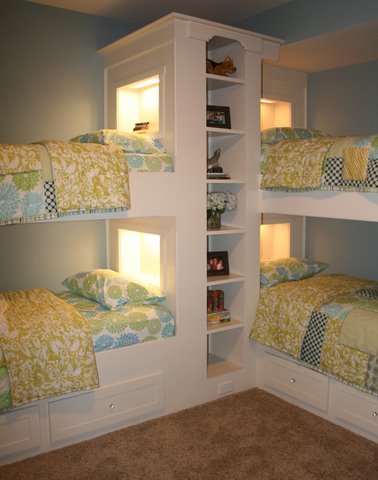 Happy, happy room.  Perhaps it's because I imagine all the giggling…
Anyway, many thanks to the following team for creating all this beauty:
Interior Design:
Vicky Serany, Southern Studio Interior Design
Builder/Contractor:
Sid Cutts, Corbitt Hills Construction
Photograhy:
Jennings Mitchell phone 252.792.6690
Okay, remember those Beatles inspired art in the Master Bath?
I treated myself for my Birthday (happy birthday to me wayy back in Sept) and thought they looked familiar!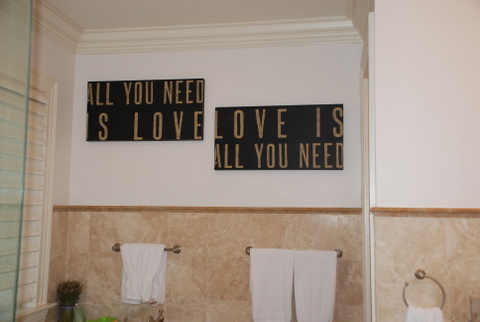 For better or worse, I can not leave the bathroom without singing that song!
Happy Weekend to each and all!
Share this post
You might like...
Category: Home Tours
Tags: Home tour Friday, Home Tours |
12 Comments »
on November 6, 2009 9:37 am

What are those wood floors? They are gorgeous! Also love the bunk room – the bedding is so cute.

---

Tracy Greenway

on November 6, 2009 10:51 am

Wow, from the doors to the ceilings to the floors…this builder has not missed one single detail. Absolutely amazing detail. I need to get this guys number!

---

on November 6, 2009 3:28 pm

I love the room with the four bunk beds! What a great way to save space!

---

Heidi Farmer

on November 7, 2009 7:22 am

Asked the designer about the floors and she said:
"Reclaimed oak in 8″ and 10″ random widths with saw marks
Finished with a clear water based sealer
Since it's reclaimed, and then has added saw marks, it has lots of character."
They are gorgeous!

---

Heidi Farmer

on November 7, 2009 7:22 am

I agree! I also love the cubbies with the lights. Great idea.

---

marla

on November 8, 2009 10:23 am

Gorgeous wood!!!

---

Frank Gowarty

on November 9, 2009 11:27 am

There is so much to love here. Photography usually doesn't do most homes justice unless they are truly great as this is. Its a perfectly done but I do like the lit niches in the bunk beds. When you have varying kid types in one room at bedtime it will show its value

---

on November 9, 2009 12:07 pm

Wow! The views from those gorgeous rooms of the lake must be amazing! The bunk beds, combine that with the play room from a few weks ago and you have my dream kids suite… Poppa might be a little busy the next time he visits us. :0)

---

Sarah

on November 10, 2009 6:45 pm

I LOVE the bunk room (well really the whole house let's be honest:)

---

on November 18, 2011 9:35 am

Can't wait to see your new art work!

---

on November 18, 2011 2:27 pm

I remember the entry way and separate showers from this post! So beautiful!!

---

Christine

on November 18, 2011 2:48 pm

Wow, this is so gorgeous! I love the different woods and tiles that were used throughout the house.

---
Leave Us Some Comment-Love