April 5, 2013
A happy Home Tour Friday to you!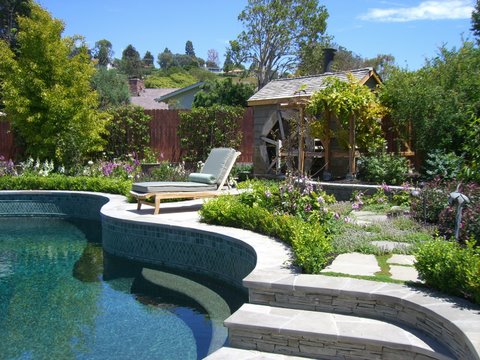 Now this is where I want to be!  Heaven.
This Cape Cod style home is located in Palos Verdes Estates, a swanky suburb of LA.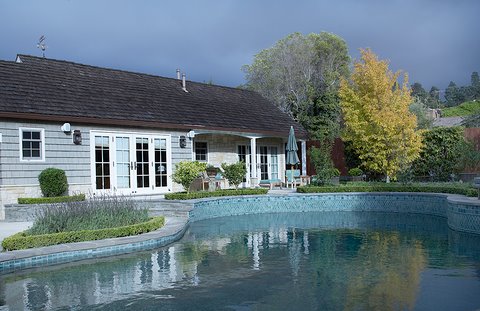 This facade is simple and unassuming in its beauty.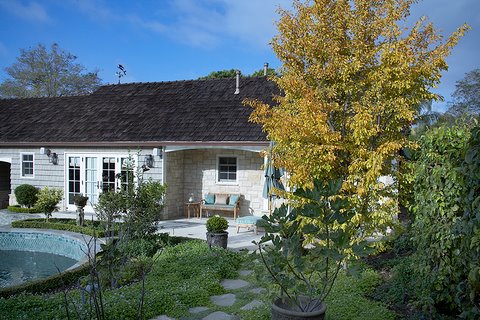 And snaps to the landscaper.  Love the lushness of the surroundings.
This entire home centers around the outdoors and most rooms open up to the patio and pool.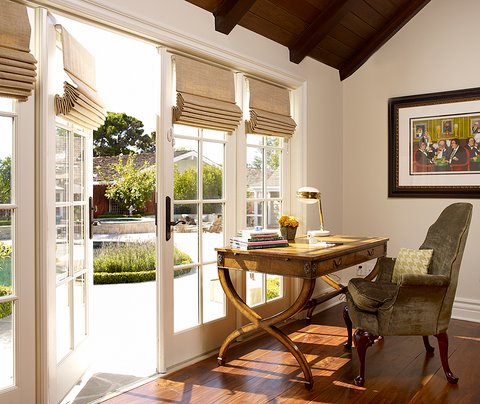 Now this is where I would love to work.  What an inspired view.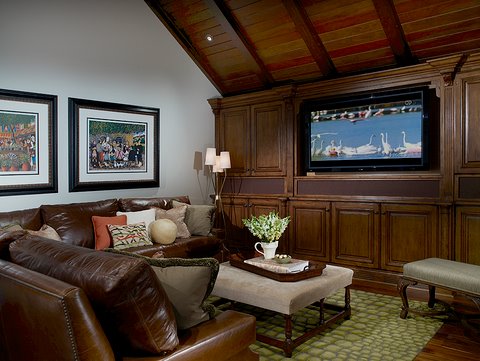 The living space also features this plasma and built-in wall unit to maximize storage.  The ceiling is stunning.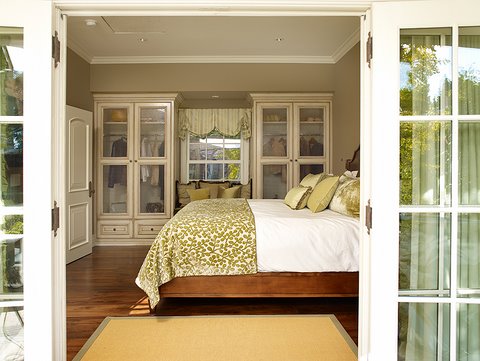 This bedroom with it's windowed closets and windowseat is tranquil and gorgeous.  Love the color palette.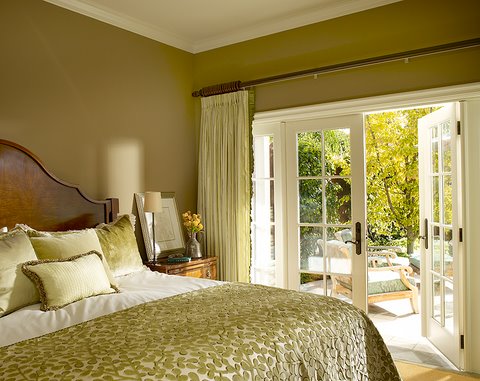 Another look.  I imagine these doors open all the time.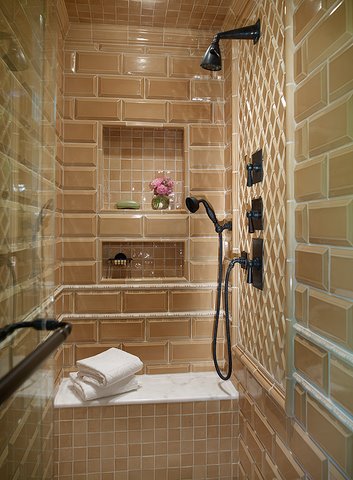 I love the full surround tile work in the bathroom.  The quilted pattern on the right side adds interest and breaks it up a bit.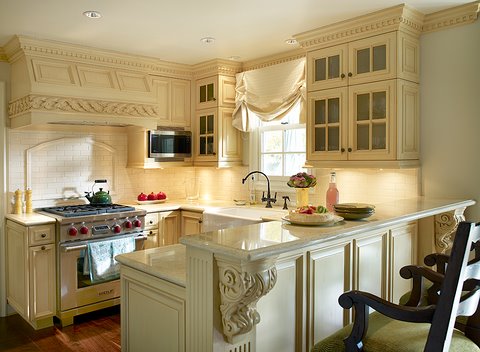 I love a cream kitchen with French accents.  This has such a nice design and would be a pleasure to cook here.
A special thanks to Sarah Barnard of Sarah Barnard Design in Los Angeles for this marvelous home tour.
Happy weekend everyone!

Share this post
You might like...
Category: Home Tours
Tags: Home tour Friday, Palos Verdes Estates |
9 Comments »
on April 23, 2010 7:37 am

This place is amazing. It seems like the perfect size and I am dying over that pool!

---

Melissa

on April 23, 2010 10:51 am

Ok, I LOVE this house. From the landscaping to the little details…..perfecto!

---

on April 23, 2010 3:24 pm

My type of house and would be perfect for us!

---

on April 24, 2010 6:44 pm

Ok, I LOVE this house. From the landscaping to the little details…..perfecto!

---

on April 24, 2010 7:49 pm

My type of house and would be perfect for us!

---

on April 25, 2010 5:32 am

Ok, I LOVE this house. From the landscaping to the little details…..perfecto!

---

Jacquie

on April 25, 2010 5:45 pm

Would I love this house. So relaxing by the pool and all the beautiful plants.

---

on January 15, 2011 3:41 pm

Love this! Do you ever share a basic floor plan of the homes you feature?

---

Marykate Wurster

on April 5, 2013 9:47 pm

beautiful!! My favorite thing? it was so hard to choose – the stove with the red knobs that just pop. Love!!!

---
Leave Us Some Comment-Love