March 9, 2012
The temperature has been nudging higher and it makes me think "Summer!"
This week, we're off to the Delaware beach to see a wonderful beach cottage.
I know, I know.  Isn't this so beachy and happy?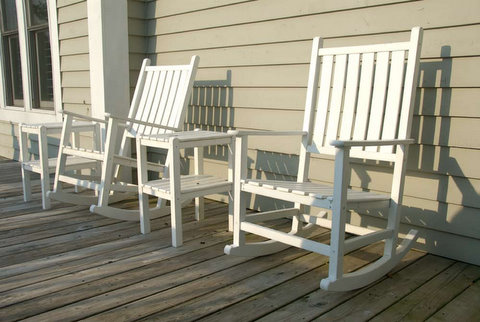 So take a seat and drink in the view.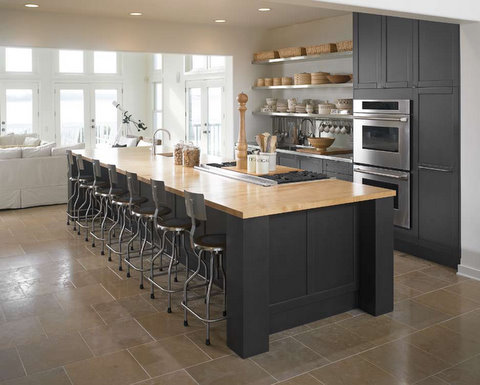 This is one awesome kitchen.  I can just imagine taking a seat at the bar and watching the cooking unfold.  It's required that excellent chefs live here.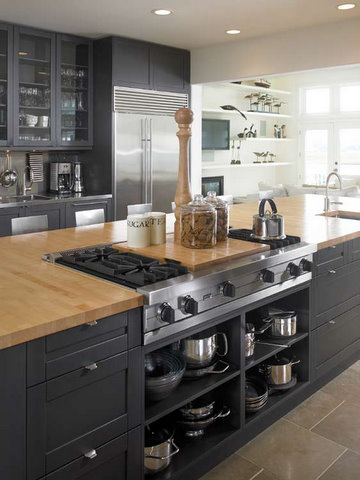 Look at all this cookware!  I can just smell the creations.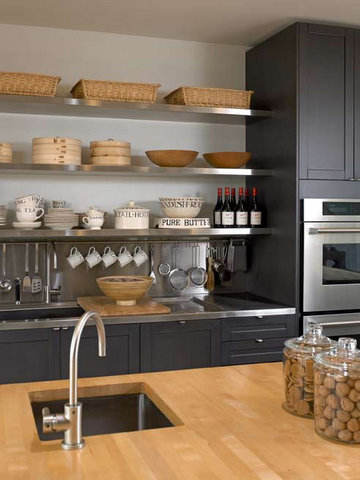 Open shelves are such an enigma to me.  I love having everything at the ready, out where I can see it, but you need to be super clean to pull this off well.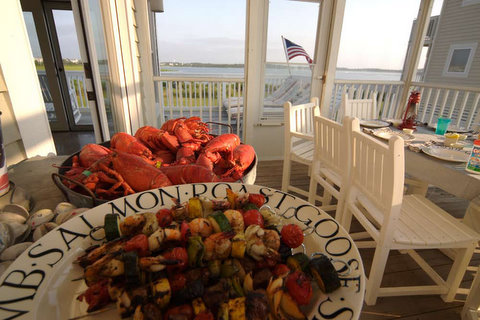 I told you they were chefs!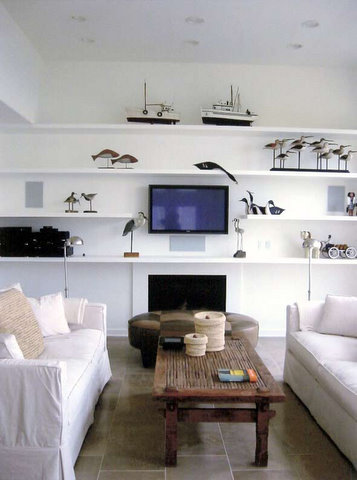 Simple. Open. Beachy. Perfect.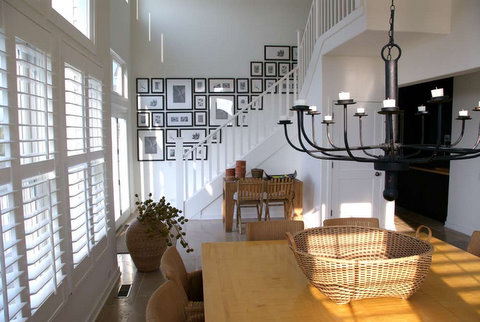 I love these big open tables that serve as the heart of the home. Don't worry, I have another photo of this wall.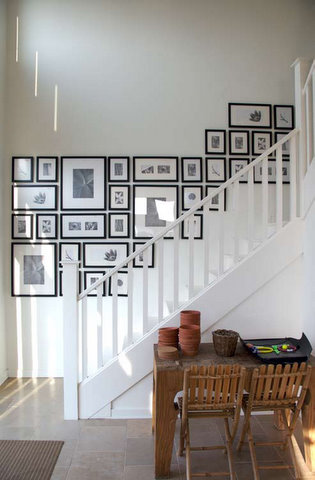 This wall of framed photos is just awesome, isn't it?  I have plans to do this, but how to hang them is my stumper – I'm just not that proficient with the laser level. Nevertheless, I love the effect!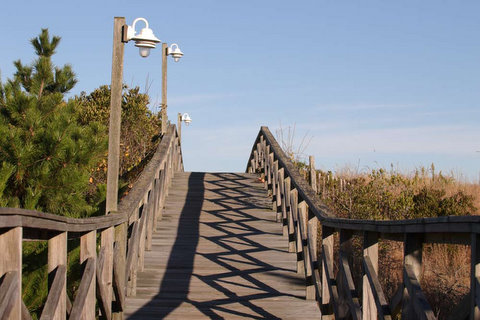 Just to remind you that we are in fact at the beach.  And if you have snow where you are currently, just picture it warm and sunny with the sand between your toes.
Special thanks again to Joanne Hudson for this tour of her Delaware cottage.  Joanne is a premier kitchen and bath designer based in Philadelphia, PA.  Check out more of her work at www.joannehudson.com.  She has a housewares area that is worth the look!  And in case you were wondering, Joanne is also the lucky owner of this Canadian cottage.
Have a wonderful weekend!
Share this post
You might like...
Category: Home Tours
Tags: Delaware cottage, Home tour Friday |
6 Comments »
Sarah

on December 18, 2009 11:45 am

Could we make this house part of the giveaways? Love it!!

---

on December 18, 2009 2:46 pm

Joanne's website is amazing! I have a new love: the Provence Blue CornuFé 110 – http://www.joannehudson.com/cook/la-cornue/provence-blue-cornufe.html
Hello?!!! Unbelievable!

---

Heidi

on December 18, 2009 4:00 pm

Sarah, now that would really be something, wouldn't it!

---

on December 18, 2009 4:56 pm

Can the Lobsters and the rest of the food go with???

---

Heidi Farmer

on December 22, 2009 9:31 pm

I went and looked too – that stove is incredible!

---

Bjorn Button

on June 5, 2012 11:41 am

I absolutely love cottages like this on the beach. having done a bathroom remodel for a ocean side home, I can appreciate the beauty of these homes and the work that goes into maintaining them.

---
Leave Us Some Comment-Love