April 29, 2013
written by Cathy Baker, mom of two tweens
I wish I knew what source to give credit to for these yummy nuggets, but my friend Lori forwarded it to me a few years ago. I wish I was a great cook like her, could just mix this n that together and make something really yummy. That's not me. But I can follow a recipe. Most of the time, at least.
I LOVE these nuggets,they are so much better than anything store bought!  I also like that I can freeze them in a bag, and can usually get 2-3 meals out of them from just one prep time. We make them every month and they are a family favorite.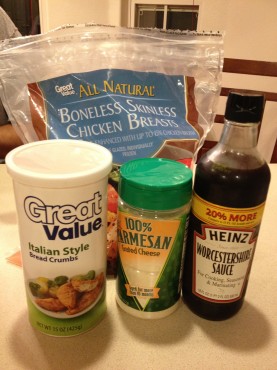 So, I forgot the butter in the picture. Sorry. And yes, when you live 2 minutes from Walmart, you shop there a lot. And buy a lot of Great Value products.
(Side note: When you live in this part of the country, so close to Walmart headquarters, there are Walmarts everywhere! I still remember when my sis-in-law visited remarking about how many there are.  We have at least 10 Walmarts within a 20 minute drive our house! crazy, yes!)
Parmesan-Chicken Nuggets (or as you can see from the picture, we make chicken strips)
1 lb chicken tenders (although I make a 3 lb bag up. Need to double butter/Worcestershire but usually enough bread/cheese for 3 lbs)

3 TBS Margarine or Butter

1 TBS Worcestershire sauce

1 cup Italian Bread Crumbs

1/4 cup Parmesan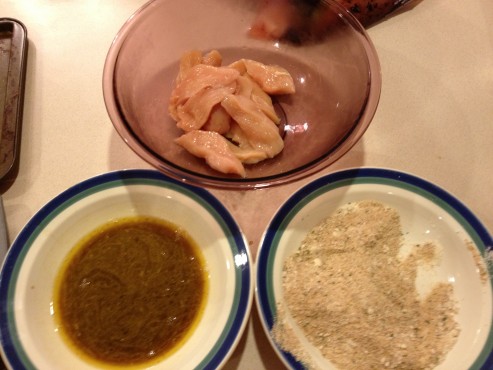 Prepare & Assemble: Melt butter and then add Worcestershire.  Mix bread crumbs and Parmesan in another bowl or a bag. Dip chicken into butter mixture, then toss into bread/cheese mixture.  Place chicken on a single layer ungreased cookie sheet.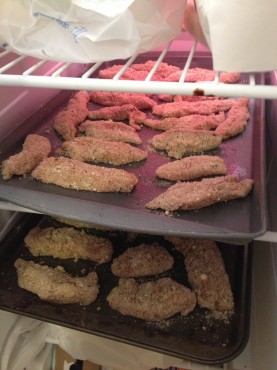 Put nuggets in freezer to 'flash freeze' for 30-60 minutes.  Then remove from cookie sheets and place into a freezer safe bag or container til ready to use.
To cook: SPRAY PAN with cooking spray. Bake uncovered at 375 for about 30 minutes, turning chicken once with tongs. Bake until juice of chicken runs clear and thickest area is no longer pink.
We usually make homemade mac and cheese or mashed potatoes to go with them.  And always green beans. We eat lots of green beans for some reason.

Share this post
You might like...
Category: Random and Fun
Tags: dinnertime, freezer meals, recipes |
2 Comments »
Heidi Farmer

on April 29, 2013 10:32 am

These look great! And really easy!

---

on April 29, 2013 1:24 pm

These look good! I'm going to have to try them for my girl…she loves chicken nuggets, and I'm not a fan of feeding her the fast food or icky frozen ones. Thanks for sharing!

---
Leave Us Some Comment-Love