September 11, 2013
We have been pickling cucumbers with the adorables around here and I'm happy to report they are fantastic.
All 3 of my boys, including the Running Man, live for pickles.  Ours are tart, tart, tart.
We didn't grow any in our garden this year (I will rectify this next year), so we sourced our Kirbys from the local grocery store and farmer's markets.
For every 1 qt jar of pickles, you'll need about 1 pound of Kirby or pickling cucumbers.  Look for the briny skin.  This thinner skin allows the vinegar and other spices to permeate and do the work.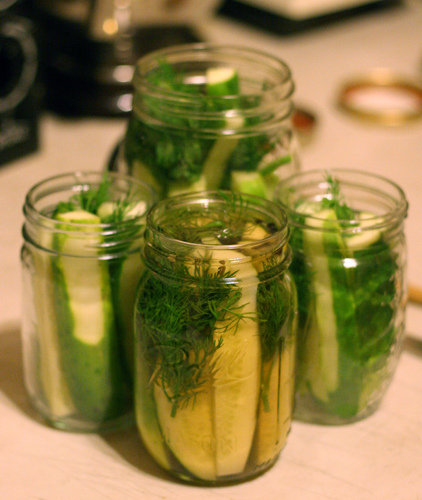 Here's the recipe for our Masterpiece Fridge Pickles:
For every 3 Jars:
3 pounds of Kirby cucumbers
2 cups of Apple Cider Vinegar
2 cups water
1 1/2 cup sugar (we skipped this for ours as we like them suck-out-your-mouth-tart – and they were!)
2 T Pickling Spice
1-2 tsp Red Pepper Flakes
1 bunch of Dill (separated small clumps for stuffing into the jars)
Directions:
Wash and dry your jars.
Pour everything except the pickles into a large saucepan and bring it to a boil.
Prepare your pickles into the jars (spear them, make long thin slices, round slices, etc)
Pour the hot brine into the jars, and stuff the dill fronds along the sides.
Cover.  If you refrigerate, these will keep 2 weeks – a month and perhaps longer.
If you want to store on a pantry shelf, place sealed jars into a boiling waterbath for 10-15 minutes.  We borrowed the pot and insert from a neighbor.
Enjoy!!
Share this post
You might like...
Category: Activities, Cookin', Garden
No Comments »
No comments yet.
Leave Us Some Comment-Love