October 25, 2012
Remember my post committing to cleaning out my house?  Well, I am happy to report I have made huge strides, friends.
Really, really big.
I committed an entire day 8:30-3 sorting, finding little pieces, reconnecting missing parts that haven't seen each other in years (sidenote: of course there was dialog to entertain myself: "Playmobil fireman mixed in with Playmobil knights, meet your fellow Playmobil fireman.  You guys will probably need a minute to hug and reconnect."  What can I say? It was a long day.)  I set up bins on each level and spent most of the day on the stairs getting everything back together.  Next, it was cleaning and batterying time.  Then when this was done, I created a boutique in my living and dining rooms.
Running Man went through and picked out the board books that he just couldn't possibly part with (this after I had already sorted those I couldn't part with).
My adorables, shockingly, were fine with it!
Now I was ready to call in the troops.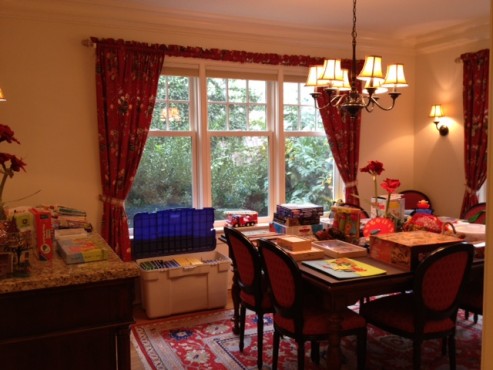 Phase 1: Inviting Moms from my old Preschool with younger children.
I sent out an email offering coffee and treats, with a 2 hour window to come shop.  A whopping 2 moms show up.  But together they took out tons, and I was grateful.
Take: $210; 2 hours
Phase 2: Craigslisting big items left from Phase 1.
In this phase I listed the following both individually and as a group with a title calling for moms of toddlers:
"Toys – Pirate ships, fire trucks, dress-up, Matchbox sets, cars, dinosaurs etc, etc
Real Wood IKEA play kitchen with 2 tubs of food
Books – Board books, Picture books, readers, etc, – more than 150 to choose from
Puzzles – floor puzzles, frame puzzles, etc
Games
Blocks,
Storage units
Radio Flyer Pathfinder red wagon
Car seat
All has been cleaned, fresh batteried, etc.
Smoke/pet free home.
Email me and we'll set up a time for you to come this week!"
Take: $320 from 3 separate women who came to the house and shopped.
Phase 3: Down to my last dredges; Craigslist
In this final phase I am really just down to the following:
"Books – Board, Picture, early Readers
Puzzles
Games
Toys
Fill a bag for $10. I just want it gone by this weekend!"
Again for safety reasons, I had people email me for my address and asked for women only (I was a little hesitant on this, but it's worked).  I posted times I would be available.
Take: $50 from 2 women.  Still in this phase…
So total $580 and I'm still going!
The best part?  A MUCH cleaner house, and the boys can FIND the toys/games/puzzles they are looking for.
But MOSTLY, the hugs and cries of gratitude from moms finding exactly what THEY need.
Bliss!

Share this post
You might like...
Category: Brilliant, Mission Control, Random and Fun
1 Comment »
Marla

on October 25, 2012 10:31 am

Sounds like a complete success!

---
Leave Us Some Comment-Love