November 27, 2013
I probably shouldn't admit this, but I am 39 years old and I've only made Thanksgiving dinner a few times in my life.  When my mom has visits in years past, she rules the kitchen and I take the sous chef roles of peeling potatoes (which I frankly enjoy – I also LOVE to spend an afternoon peeling wallpaper), cleaning up dishes, making pies, etc.
But I leave the turkey/stock/gravy to her.
I think of this as the hard part.
Since I'm in charge this year, mom was sweet and emailed me everything I need to do.
So if you're like me and have no idea where to start – start here!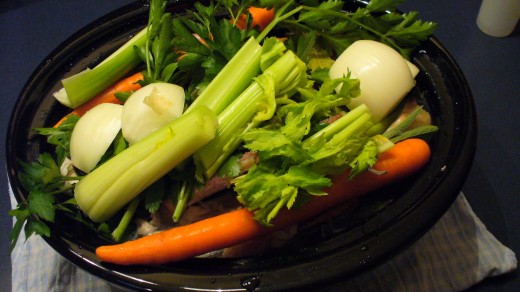 This may be done 2-3 days ahead, but start in the morning.
Buy 1-2 packages of extra turkey wings.
Cover in a stock pot with water and add:
Tops of celery
Peelings from onions
Couple of Bay Leaves
Carrots (Whoops!  I checked with mom again and she said NO Carrots.  It changes the flavor.)
Salt and Whole Pepper Corns
Boil for 2 hours.
Remove meat from pot, cool, and take meat from bones.  Throw bones and skin back in pot and boil for several hours until reduced.
Taste it and make sure it has good flavor.
Strain and put in a container and use it for dressing and gravy.
When I did all this, it took 4-5 hours from start to finish.
Thanks mom!  Do you add anything else to your stock?
Share this post
You might like...
1 Comment »
Marykate

on November 27, 2013 6:52 am

Thanks – I have never made this!!! Thank God for Moms!!!

---
Leave Us Some Comment-Love