February 7, 2013
written by Cathy Baker, mom of two sweet tween daughters, Missouri
Last Spring, my girls were being terrible to each other. I mean absolutely terrible.  I actually wrote about this "Hugs Jar" prior to implementing it.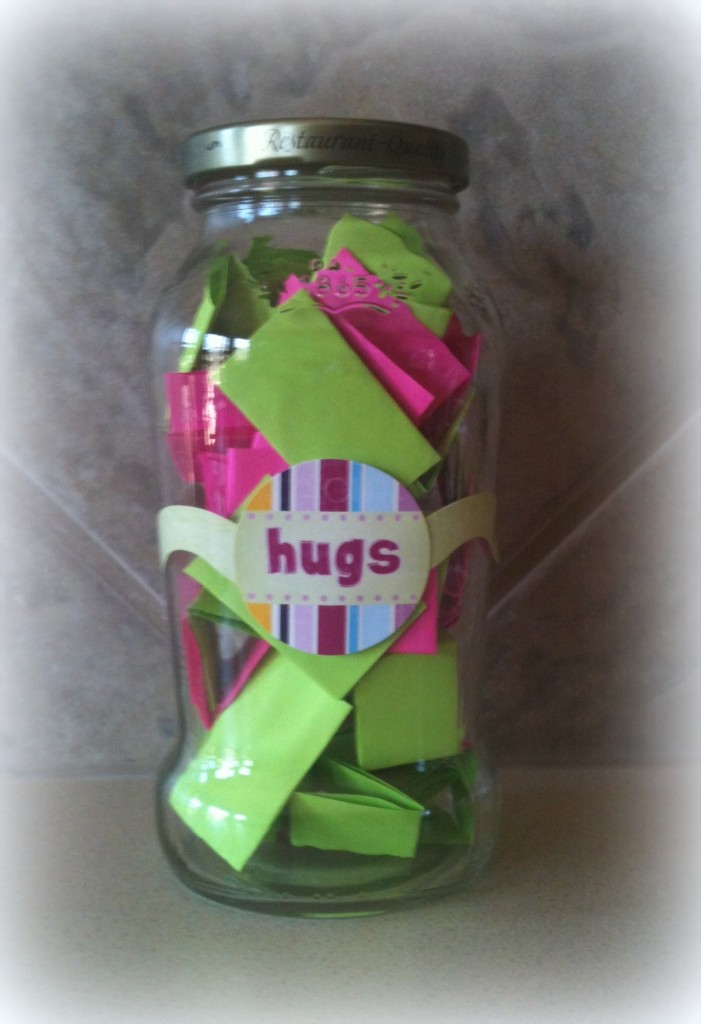 So,  I turned this spaghetti jar (with the help of a few stickers) into what came to be called the  "Hugs Jar". Adorable, isn't it?
This is how I introduced it to my girls.  "You have been given the gift of a sister. But lately, you haven't been treating her like the gift she is to you. So, every time I hear you not treating her nicely, I will ask you to go to the 'hug jar' and get a slip of paper out. You need to do whatever the activity is."
Let me tell you, I didn't think the slips of paper would even last the first few days!  And we did go through several slips!  But the amazing thing…it worked! They really started treating each other nicer. And I think they kinda liked they mystery of the activity.
No yelling nor lecturing.  Just a fun little activity to remind them of truth.
And guess what, it's 11 months later, and we still have some of the original slips in there!   It still sits on our counter. And from time to time when I see/hear them not treating one another nicely, I simply say, 'Go grab a slip from the Hugs Jar'.  And they do. Without complaint.
My jar began with  about 30 slips of activities. You can purchase all the ideas at my etsy store, CelebratingTheMoment. Here is a sample of activities I came up with for consequences –
THANK YOU SIS!: Think of two

specific

things nice your sister has done for you. Write her a letter telling her thank you.

CARD MAKING: Using my scrapbook stuff and/or cricut machine, go make your sister a special card.

THANKFUL HEART: Go find your thankful journal and write down 10

specific

things you are thankful for about your sister.

MAKE THE BED: Go and make your sister's bed really nice for her. NOW, Sit on her bed and say a prayer of thanks to God for giving you a sister.

I'M NOT JOKING AROUND: Find 3 jokes and then tell them to your sister.

I HEART YOU: Make 10 hearts out of paper. On each heart write something you love about your sister. Start with "I love you because…"Hide the hearts around her room for her to find.

DICTIONARY: Find the definition for KINDNESS on the dictionary on my phone. Write down the definition of kindness. Below that write down 3 ways you can be kind to your sister today.

10 WAYS: Write down the top 10 ways you can make sure your sister does NOT like you today. (or, 10 things you can do to make sure she goes to bed mad at you tonight.) – trying reverse psychology with this one!
So, I attempted the impossible, to get my girls to be kinder to each other, and it actually worked! So, I thought I'd share it with all of you moms out there.  Just in case I'm not the only weary mom attempting to nurture sibling love. I hope it works for your family too!

Share this post
You might like...
Category: For Kids, Random and Fun
Tags: Discipline, Siblings |
6 Comments »
Ann Holmes

on February 7, 2013 8:00 am

Wish I had that when my girls were younger~great idea!

---

Heidi Farmer

on February 7, 2013 9:35 am

Cathy, this is amazing! Where do you come up with all these fabulous ideas??? I'm never sure if I should interrupt the wrestling, punching, kicking matches between my boys which out as fun and rapidly decline to all out fighting. OR, do I work to redirect their energy? I think this is exactly the thing I've been looking for! THANK YOU!

---

Lisa Ernst

on February 7, 2013 9:50 am

What a great idea! My girls have been so hateful to each other lately and my attempts to help them get along have failed miserably. I'm starting this today! The only thing I
Am doing different is to make a jar for each girl since their reading/writing abilities are at different levels. Thanks again for your parenting wisdom!

---

Kelly R.

on February 7, 2013 11:18 am

I'm so making one of these this weekend! My girls need some reminding of the good things about having a sister.

---

Marla

on February 8, 2013 10:50 am

What a great idea! Wish I had it when my girls were young. The best I could come up with is that they were not allowed to touch one another for the entire summer! Didn't last long though.

---

Marykate Wurster

on February 11, 2013 7:03 pm

Brilliant – love this!!

---
Leave Us Some Comment-Love