November 16, 2012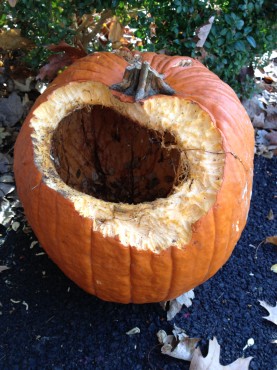 Written by Marykate OMalley, mother of three wonderful children, Gladwyne, PA
I am not a complainer. Probably to a fault. I am a 'look on the bright side of life' kind of gal. And when it comes to my children – I just don't have a tolerance for it. I tell them they are allowed to have a complaint but they have to follow with a solution. You see how it is in my house. However, if I was to complain, here is what I would tell you. But I wont tell you, I will only explain what I would tell you, if I was to complain. You follow?
I am always cold. As in always. cold. I blame it on my Irish ancestry, poor circulation or something. I can turn up the heat, dress in layers, it doesn't matter. I am not cold during July and August, except when in air conditioning, and otherwise, cold. I want to feel really, really sorry for myself about this. But I can't. I know how ridiculous it is. Maybe you will feel sorry for me. You people who aren't cold. all. the. time.
I have a youthful voice. When I answer the phone, I get, "Is your Mommy home"? And I am not quick enough, or frankly sassy enough, to have a good response. So I just say, "This is Marykate OMalley". Or sometimes if it is telemarketer I say, "No, she isn't home right now".
I didn't carve a pumpkin with my children this Halloween, a yearly tradition since basically forever. And I am into traditions. So it bothers me. I have all my reasons which don't really matter and what I can tell you is that I still intended to carve it, even after Halloween. My wonderful mother dropped off the perfect pumpkin for carving, a beautiful sphere shaped pumpkin begging for angular eyes and a toothy grin. My plan was to extend Halloween with my children and get to it the weekend following. But a squirrel started on it before I could. It began with a small hole, then a larger one, and it now looks like he is ready to occupy my pumpkin. And make it into his squirrel abode, his delectable and digestible chateau. I could get another one, but I won't. I need to let this one go. If I was complaining, I would mention the squirrel pumpkin thing.
And that is all I have for today.  You?

Share this post
You might like...
Category: Random and Fun
2 Comments »
on November 16, 2012 2:47 pm

Oh, my fondness for you keeps growing!! I, too, am ALWAYS cold! Cold hands, warm heart, right?! I hang that sign in my house during the winter! AND, just last week, someone called our house and asked if my mom was there! Apparently, it doesn't matter how close to 40 I am, I still sound young! ha!

---

Marykate wurster

on November 16, 2012 2:57 pm

Cathy so funny I tell my kids the same – cold hands warm heart" every time I hear "Mom, your hands are freezing!" Which is a lot! How funny about the phone too!

---
Leave Us Some Comment-Love