March 12, 2013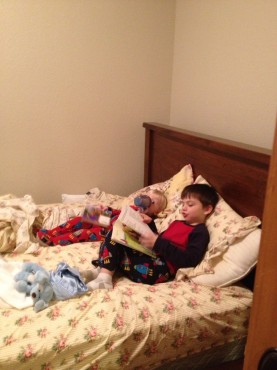 My younger adorable is on his way to reading.  He is in kindergarten full-day (silent cheer!) and I'm very impressed with how much they can teach from 8:30-3:10 at school.
However, another parent scared the pants off me by sharing that just to remain on grade level, students need at least another 20 minutes of reading at home every night.  Just to remain on grade level.
So here's all the little things we do to support this at home:
1) Games:
We have played a lot of this Sight Word Bingo Game from Lightening Bug Learning ($11.95):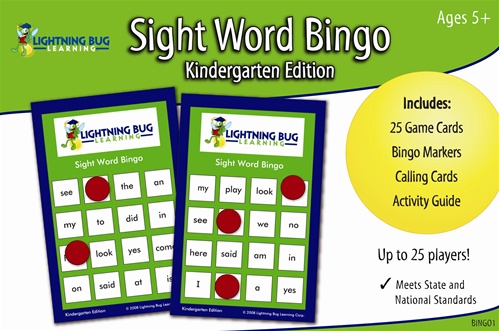 Little Guy is always the caller and "gets" to call out the words for each of us to check our boards (we usually use 4-5 boards at a time).
In addition to the initial reading of the word, he also has to find the word on his boards.  Not so easy for a little guy!
He has really become consistent with these words, and I think this game is solely to thank.
There are many others from Amazon: Sight Word Bingo Games
.
Another game is from Lakeshore Learning What's The Rhyme? Sorting Houses ($29.99):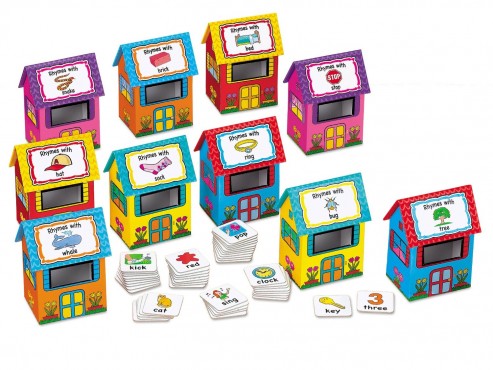 This was a Christmas gift from us of yore (yes, we are so mean!) and after my adorable got over the shock that it, indeed, was not a Lego, he set to work.  I would say the Bingo game is more of a ROI* for learning, but this is cute and fun.
(Return on Investment)
2) Leveling Books at Home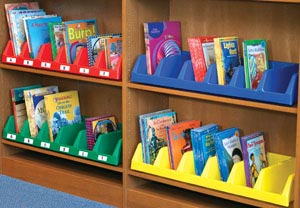 You've all seen this in schools so I found 4 big baskets around my house to re-purpose for our leveled reader collection: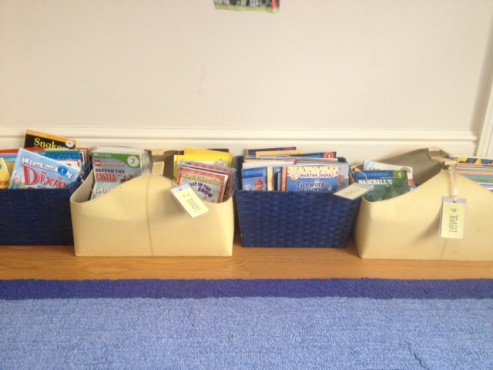 I have 4 baskets for levels  1-4 (with 4 also holding level 5's and chapter readers).  Boden, who is a level 1 gets his books from his basket, my older son, Sloan gets his from his basket.
This also makes clean-up a snap! (and I hadn't thought of that before)
While I'm thinking of it, I really wish publishers would get on the same page about what makes a level.  So many Level 1's were really Level 2 or 3.  I found the Step Into Reading series from Random House to be spot on.
3) Headlamps
We received these as a favor when our boys went camping with a big group and ever since, they have been used for reading.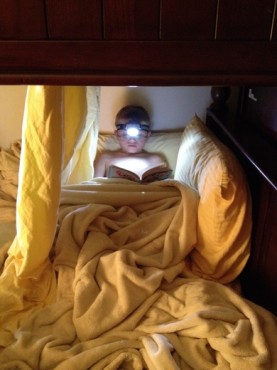 Perhaps just because they are awesome, and also the whole hands-free thing, but I can ALWAYS get my boys to do loads of extra minutes of reading if I simply suggest they strap on their headlamps.
Amazon has different colors for sale for $14.99-$19.99: Lucky Bums Youth Head Lamp
I highly, highly recommend this!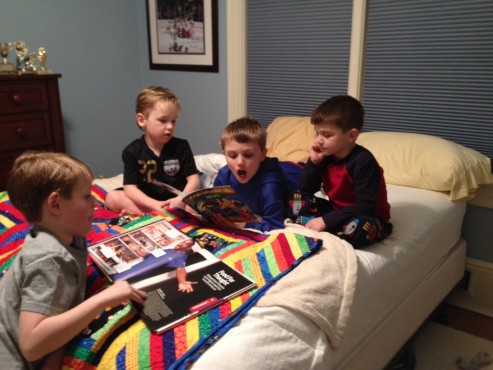 We have house guests, and here they all are cuddled up on the bed reading together.  Love these moments!
What has worked for your adorables?  Please share!
Share this post
You might like...
1 Comment »
on March 27, 2013 10:32 am

Great ideas for little ones. I have three kids from Pre K to first grade. I am always looking for more ideas to keep them reading. My middle kid will read and look at books sometimes up to 2 hrs a day.

---
Leave Us Some Comment-Love