January 23, 2010
Just back from my annual (or sometimes biannual) trek to IKEA.
*Heaven*
It's just 45 minutes away, but it's not on the way to any of my usual haunts, so it feels like a trek.
Here's my rule I repeat to myself as I walk through the door (while focusing on my deep breaths): I need to have a place for it at home before I buy it.
None of this, "I'll just figure out where to put it."
It needs to have a place and fit there perfectly.
This saves The Running Man large credit card bills. (Boy, does he love the small ones the best.)
Okay, so here some of my favorites to check out next time you're there:
1) Dristans food storage containers – $1.99 for 3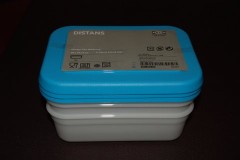 I'm using them for drawer organizers for Bakugan, Pokeman the multitude of other little pieces that the adorables find priceless.
2) Legitim Cutting Boards – $2.99 for one large and one small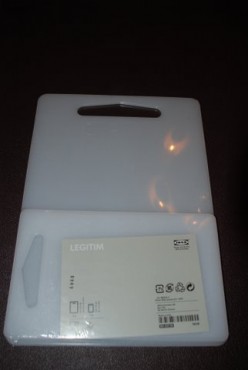 I have 4 sets of these and we use them several times a day.  I love the small ones for cutting up fruit snacks for the adorables.
3) Trojka Scissors – $1.99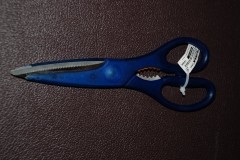 These are the best scissors, even better than the $15 kitchen shears I registered for that are too good to use and throw into the dishwasher.  So they sit on the shelf while I beat the heck out of these.  I bought several sets thinking I would just replace them when they gave out from all of my abuse.  And as always happens, after 6 years,  I'm still using the original pair.  But now I've stowed the rest around the house (up above the adorables reach because these are wicked sharp): in the bathroom, at my mail area, in my wrapping area, in my toolbox, and I replenish every year at IKEA *just in case*.
4) Akut Kitchen Utensil set – $.79 for 3, yes that was 79 cents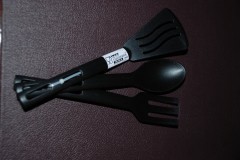 These make a trip through the dishwasher every day.  These very small utensils are the perfect size for my one-man scrambled eggs in the morning, Ramen noodles or Mac & Cheese at lunch for the adorables.  I bought an extra set because the spatula is worth it alone.
5) Sortera Recycling Bin – $18.99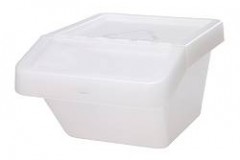 This is the best recycling station ever.  They stack, so I use one for my paper recycling and one for my bottles and cans to return for my coveted 5 cents (oh to be back in Michigan where I could really make the big bucks with this endeavor!).
5) I drooled over this kitchen for the adorables, but I haven't bitten yet.  – $138 for the top and bottom.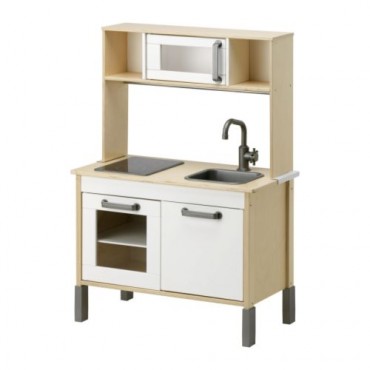 I'm still thinking… and talking to the Running Man, so we'll see, but I had to share.
What are your IKEA wonders?  Do you have one nearby?  Do you make a big trip out of it?  Can't wait to hear!

Share this post
You might like...
Category: Kitchen Gadgets, Wondermom Resources
Tags: IKEA, IKEA finds |
6 Comments »
on January 23, 2010 7:33 am

Our IKEA is about 90 minutes away, and I haven't made the trek yet. I know it'll be like a vacation for me, and I'll need the whole day. I like that kitchen! The price isn't too painful, and I really like the look of it a lot more than the ones from the big box stores.

---

on January 23, 2010 10:42 am

wow! based off your listings Ikea really doesn't seem to be all that expensive?! I've been in there a few times here in Orlando,FL and things do seem a bit pricey…I wonder if the adjust pricing to their locations….

---

Julie

on January 23, 2010 11:55 am

I use to live about 15 minutes from one and now moved 2 hours away.
Since I have moved, I have made an average of about one trip a month to help set up the new house. LOVE the IKEA PAX wardrobe. I have used it in the bedroom and the laundry room. (still might use one in the bathroom too – haven't decided yet). Somethings are definitely worth the $. Some others, depending on their use, are a throw away kind of product (I'm thinking couches…I don't they last – but depending on their need, could be the perfect solution), and I probably wouldn't purchase.
Would be lost without my IKEA.

---

on January 23, 2010 11:55 am

I couldn't even begin to count the things I love from Ikea. One of my favorite pans is from their 365 stainless steel line. I also have utensil set (2 of them) and cutting boards you list above. They are great! Just waiting for one to show up in Denver!!!

---

on January 23, 2010 11:01 pm

I dream of the place. I also plan trips around ones. It's a day event of course. Thanks for all the tips, can't wait for my next trip!

---

Katie Fisher

on January 25, 2010 11:29 am

well i live 10 min. from my IKEA and i am there too often. i too love that kitchen set heidi. it really is a great price for that sort of thing. we are going to buy our 2 year old her mattress there. awesome stuff.

---
Leave Us Some Comment-Love