July 22, 2013

Written by Marykate O'Malley, mother of three wonderful children, Gladwyne PA
Ilove – switch the o and i – and you have olive or ilove! Ha – so happy I just noticed that! It doesn't take a lot to make me happy. In case you didn't notice.
My darling darling sister in law who I just adore (in case you didnt notice) told my mom about this who told me. And being a wonderful wonderful mother (in case you didn't notice) she bought me a bottle and then replenished it this past week – just as I was running out.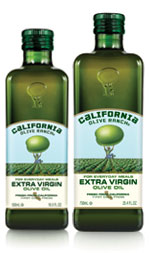 I have never understood the olive oil thing. Some do taste better than others but not enough that I made a fuss about it. Until I tried California Olive Ranch. It converted me to being fussy about olive oil. Try it and you will understand. They sell it at most markets – everywhere from the larger chains on the East Coast like Giant and Stop and Shop as well as Whole Foods.
Ilove this olive oil (making me smile). This you didn't notice (since you cannot see me). I am smiling. And thinking about California Olive Ranch and wanting to have a flaky baguette just about now dripping in it. Ilove!

Share this post
You might like...
Category: Brilliant, Cookin', For Moms, Girl Time, Kitchen, Kitchen Gadgets, Kitchen Pantry, Momzone, Random and Fun, Travel, Wondermom Resources
4 Comments »
RLR

on July 22, 2013 7:25 am

I only saw the post title in my feed, and immediately wondered if this post was about the same square bottles of olive oil that we have come to love! And … Yes!
I never realized, either, until I tried this brand (and only because I had a coupon) that olive oil can taste so good!

---

Heidi Farmer

on July 22, 2013 2:07 pm

Okay, I will have to try! I love the Trader Joe's Extra Light Olive Oil (mostly for the price!), but I'll give yours a whirl.

---

Marykate

on July 22, 2013 7:39 pm

RLR – it really does!! Coupons – I need to get me some of those! I have a bargain shopper in me – I get it from my grandmother – couponer extraordinairre. Heidi – havent tried the trader joes – this is pretty well priced and even if it a touch more – it is really worth it!

---

on March 17, 2014 1:40 pm

My favorite Ilove!

---
Leave Us Some Comment-Love