November 24, 2014
Written by Marykate OMalley, mother of three wonderful children, Gladwyne PA 
Years ago I remember a colleague remarking, while we waited in line for squash soup, that it reminded him of the baby food he fed his daughter. And I totally get that now. And think in a good way, a delicious squash soup is like pureed baby food, for grown ups!
I made this Sunday morning, before heading off to an all day tournament and it was heavenly to come home to.  I used the cubed pre-cut squash from Trader Joes and found the recipe on Food Network – follow the link or recipe below!
Easy and healthy, need I say more?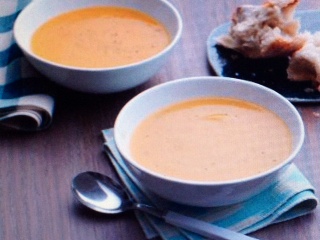 Squash Soup
Ingredients
1 (2 to 3 pound) butternut squash, peeled and seeded
2 tablespoons unsalted butter
1 medium onion, chopped
6 cups chicken stock
Nutmeg
Salt and freshly ground black pepper
Directions
Cut squash into 1-inch chunks. In large pot melt butter. Add onion and cook until translucent, about 8 minutes. Add squash and stock. Bring to a simmer and cook until squash is tender, about 15 to 20 minutes. Remove squash chunks with slotted spoon and place in a blender and puree. Return blended squash to pot. Stir and season with nutmeg, salt, and pepper. Serve.
Recipe Courtesy of Food Network Kitchens
Share this post
You might like...
Category: Random and Fun
Tags: 12 days of giveaways, Brilliant Author Series, Chris Van Dusen, family fun, Father's Day Week of Giveaways, thanksgiving, Thanksgiving dinner |
No Comments »
No comments yet.
Leave Us Some Comment-Love