October 29, 2009
I really need you to read this post carefully, because this idea is EXCELLENT.
BRILLIANT.
SHOW-STOPPING.
And I've been so excited to share.
Okay, see this?
This is the final copy of the Art Book I made with Artimus Art of my elder adorable's art.
This is NOT just another photo book that you create with My Publisher, Photoworks, etc.  Artimus Art SCANS all of the artwork using heavy duty scanners.  So here's how it works:
1.  I went to the website and purchased my book.  There are 3 sizes: The Red Wagon for a 24-page book; The Trolley for a 50-page book (that's what I went for); and The Dump Truck for an 85-page book.
2. I was shipped a huge art box to place all of my art.
3. I shipped it back and in a few days, I recieved a message that my art had been scanned and was ready to create the book.  The book took under 7 minutes to create online.  You can change the order of the pages easily, choose the color of the cover and title the book.
4. Then I received back all of my artwork and MY BOOK! (I saved the box because I'm doing this again.)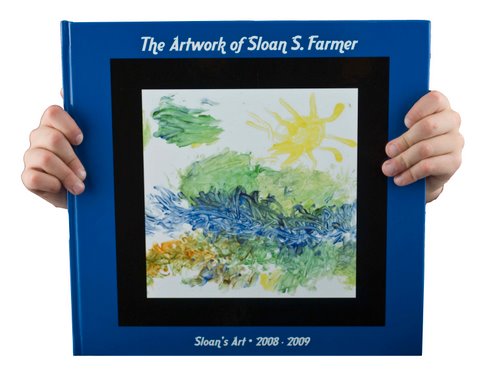 It was love at first sight.
And I wish you could have seen my elder adorable's face when he saw this bound copy of his work.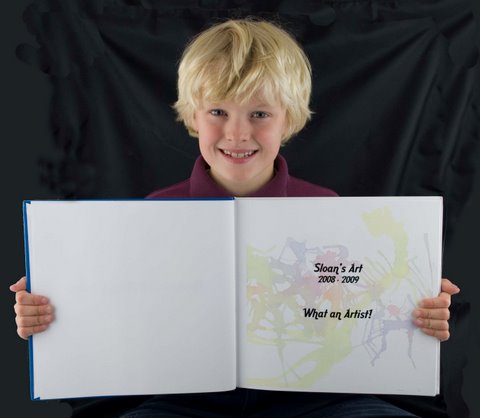 The quality was amazing.
Here's the thing: art that was 3-dimensional actually LOOKED 3-dimensional on the printed page.  Their scanners must be outstanding because you can even see textures.  If you looked at this book, I promise you'd touch a couple pages because you'd think the art is glued in.  But it's not.  Scout's honor.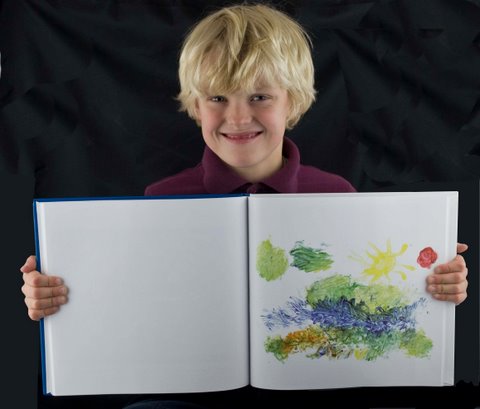 Artimus Art was created by a kind mom to three adorables aged 8 to 16.  She launched Artimus Art just a short time ago when she wondered what to do with all the art created by her prolific little artists.
She's even provided a coupon to get you started: Use code UHGHLUH51 for $10 off at Artimus Art.
I'm thinking I'll make this an annual thing and I've placed the big box under the couch where it is collecting all this year's artwork.
P.S. You can also contact Artimus for your school fundraising.

Share this post
You might like...
Category: Activities, Fundraising, Mission Control
Tags: artimus art, Kids art books |
9 Comments »
on October 29, 2009 11:36 am

I'm in love with these books. I swear it is one of the best ideas I have ever seen. What a perfect way to preserve your kids' artwork forever!

---

on October 29, 2009 2:51 pm

Love, Love, Love this idea! Thanks for sharing.

---

marla

on October 29, 2009 3:38 pm

I wish I could have done this for my "adorables".

---

on October 29, 2009 9:16 pm

what a wonderful idea!! We all have tons of art from our children and what a great way to preserve it in an organized way!! Love it!!

---

on October 29, 2009 11:17 pm

Oh this is a great idea for Grandparents for Christmas!!!!! I love it!

---

gillette

on October 30, 2009 11:16 pm

I am going to pass this idea on to my daughter-in-law! Genius…

---

on October 31, 2009 8:29 am

What an absolutely fantastic and empowering idea. I think it would make a great xmas gift for the artist herself/hisself. In our house we put artwork in sheet protectors and then into binders for the kids to reflect upon. Doesn't work for the big stuff though. I'm assuming size doesn't matter for the art scans though. I will be sure to check it out.

SMILE On!

ML
http://www.MissLori.TV
http://www.MissLorisCAMPUS.com

---

Heidi Farmer

on October 31, 2009 8:47 am

You are correct – any size can be scanned! I'm glad you like it!

---

on October 31, 2009 12:48 pm

I love it, thanks for sharing!

Melissa
http://imaginationsoup.net

---
Leave Us Some Comment-Love