October 1, 2010
House Tour Friday!! Hooray, we made it!
Remember this mudroom/laundry room combo that was so amazing?
Well, all of you thought so too, so I asked to see the rest of the house.
And you will not be disappointed.
Promise.
So we're off to San Francisco's Marina district to see a fabulous remodel.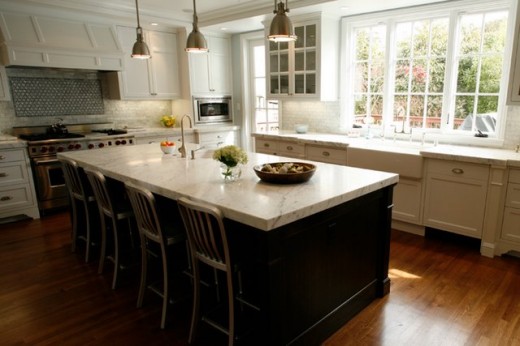 Gorgeous kitchen.  I always have to begin with the kitchen.  I think it shows the most about how you live.  (In my case, messy.)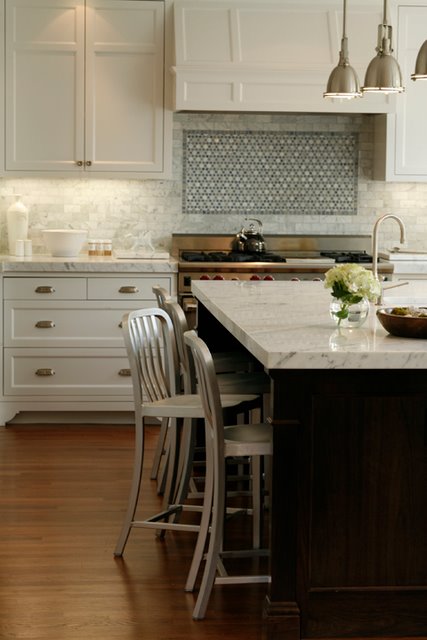 The backsplash is so soothing.  A beautiful finishing touch.  I also love the detail in the cabinets.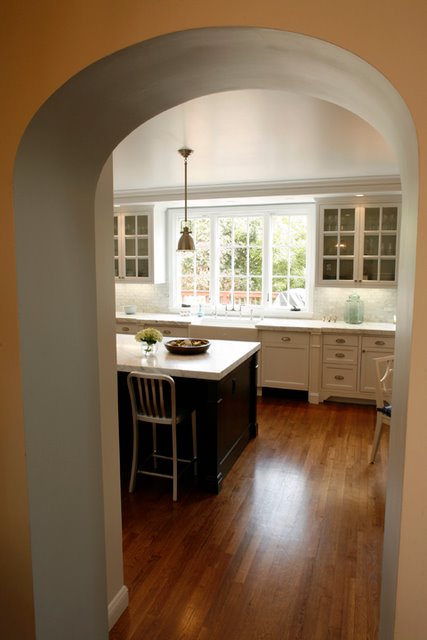 The arch just beckons us in, doesn't it?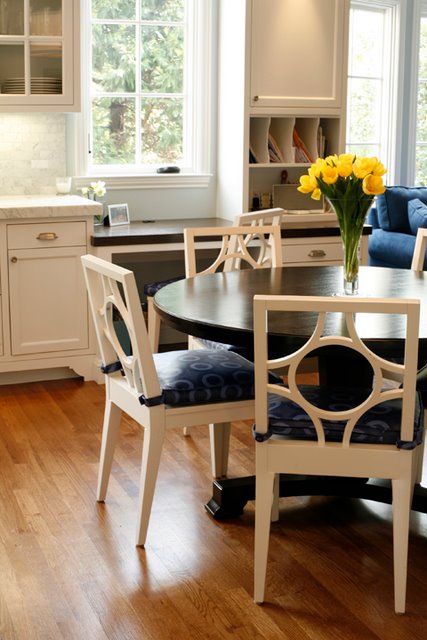 The kitchen table. Love, love, love these chairs.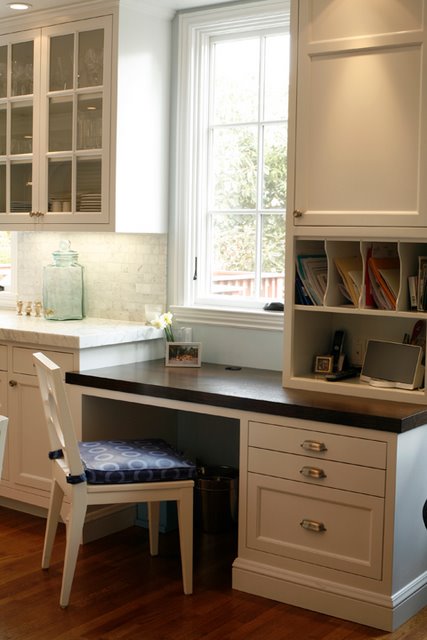 Just imagine The Good Stuff Guide being created at this desk!  I like that the desk is positioned at the window.  Natural light is key. So inspiring.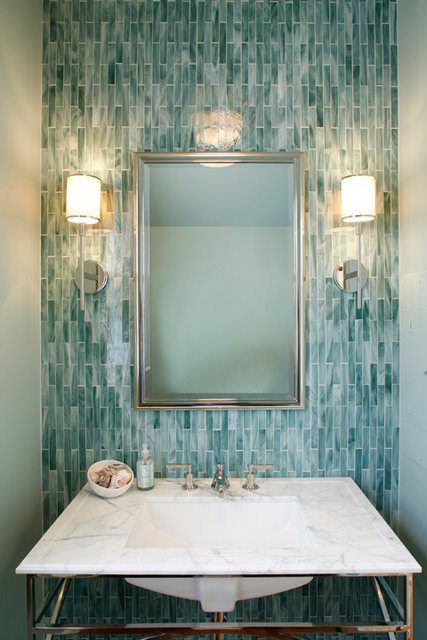 This is perhaps the most gorgeous bathroom I've ever seen.  I love the vertical positioning of the tile.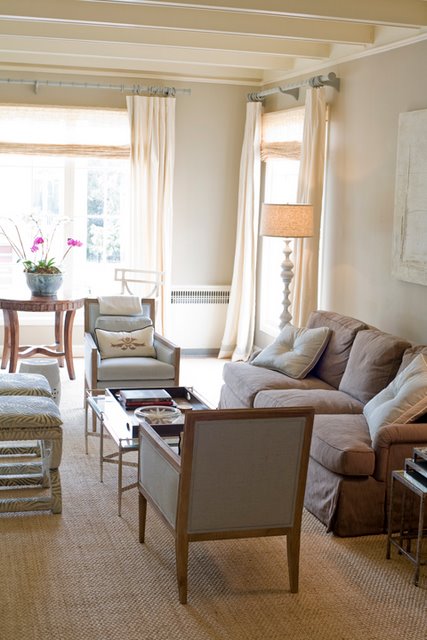 Serene, peaceful living room.  Notice the open-beamed ceiling.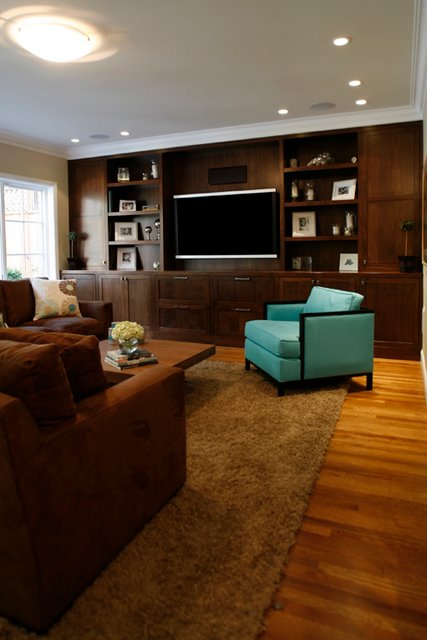 This library is, is, is… the crown molding, the built-ins, the flatscreen, the big, wrap-you-up and keep-you-safe couches.  It's a perfectly complete room.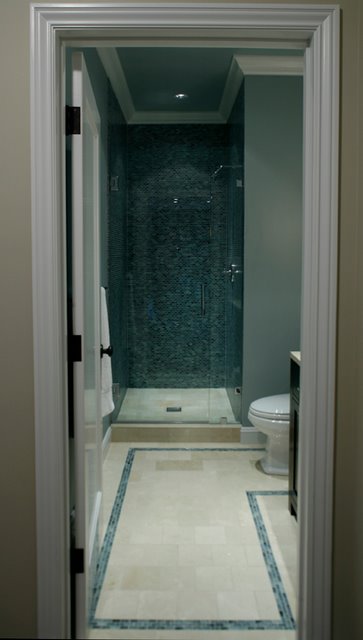 Another stunning bath: the inlaid tile, and that shower!  Gorgeous!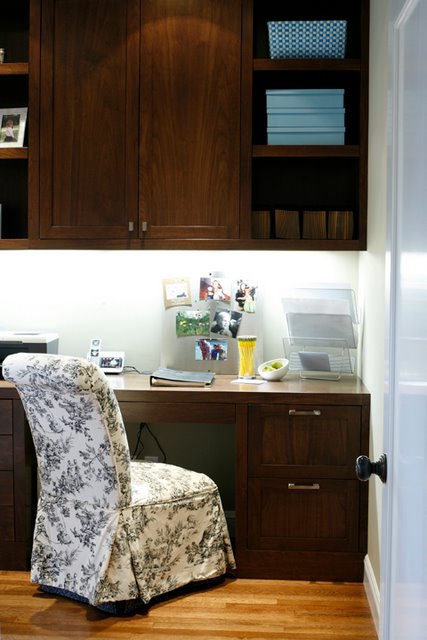 I think I would claim both desks in the house as mine.  But this may be my favorite…
Special thanks to Tineke Triggs, the brilliant designer of this great space, of Artistic Designs for Living in San Francisco.
Click here to see more before and after photos of her amazing work.

Share this post
You might like...
Category: Home Tours
Tags: bay area house, Home Tours |
5 Comments »
on September 4, 2009 10:46 am

Gorgeous! The colors/patterns they used are amazing!

---

on September 4, 2009 4:03 pm

I LOVE this house, especially the kitchen. And the bathroom. Actually, our kitchen is a bit like that one (cream, Shaker style, similar handles), but about 1/3 of the size. We have to knock about 3 rooms together to get those proportions in the UK!

---

on September 8, 2009 12:35 am

That kitchen….and the turquoise tiles in the bathroom!This house is right up my alley.

I just moved into our contemporary farmhouse with my husband a year ago. It was sooo beautiful when we moved in, unfortunately we don't have a budget to design the interior as I had planned. It seems that with three boys we are better off that way.

Thank you for all of your comments on my website.

I will be back again to visit yours.

---

on October 1, 2010 7:52 am

Love this house. It looks so comfortable.

---

Julie R.

on October 2, 2010 7:50 am

love it all. the toile chair at the office desk really caught my eye.

---
Leave Us Some Comment-Love