January 25, 2010
In our efforts to organize this month, I thought this would come in super handy…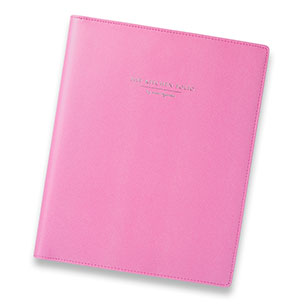 Meet the momAgenda Kitchen Folio.
It is a binder with see-through page sleeves so you can file all that endless, but seriously important, single sheets of paper:
Class lists, sports schedules, lunch menus, after-school activities, volunteer activities, PTA information, etc, etc, etc.
All this and it's gorgeous too!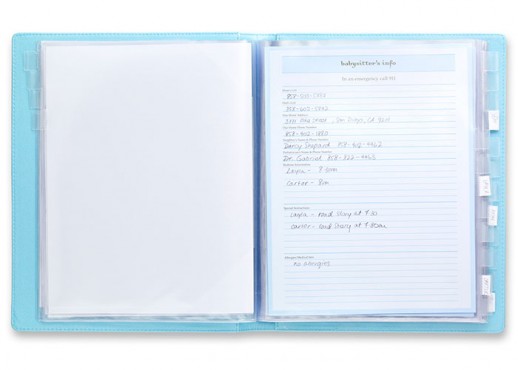 There are also some sheets that come pre-loaded with the binder: Important phone numbers, family medical info, birthdays and anniversaries, and probably the most important, babysitter's info.
I keep mine directly next to the telephone so it's at the ready.
They come in pink and blue (which is new). I have the pink, but I really like the new blue so if you'd like to trade…
Giveaway
You can win one just by leaving a comment by Friday, January 29th and I'll choose a winner using Random.org on Saturday the 30th.  You can garner an extra entry by emailing five of your friends about The Good Stuff Guide, or sharing your love of The Good Stuff Guide on either Facebook or Twitter.  It's on the honor system – I trust ya.  Good luck!
You can also find them – and a plethura of other great things at MomAgenda.com.  While you're there, take a look at the Spiral Calendar and School Years Organizer. You will not be sorry!

Share this post
You might like...
Category: Brilliant, Organizing
Tags: Kitchen folio, momAgenda, Monday giveaway |
33 Comments »
Casandra Clark

on January 25, 2010 8:06 am

The Good Stuff is all of my favorite things combined into one website. Organizational ideas AND home/garden tours with a hint of spectacular decorating ideas. This is my first visit but I am sure it will be one of my top 10 visited sites.

---

RPMom

on January 25, 2010 11:29 am

Just tweeted your contest on Twitter!

---

RPMom

on January 25, 2010 11:29 am

I too have the MomAgenda. Been using it for 3 years and LOT it. The Kitchen Folio would be amazing! Thanks!

---

on January 25, 2010 1:43 pm

Totally want it! Thanks!

---

on January 25, 2010 1:59 pm

Ooh – I have the momAgenda and love it! This would be great, too!

---

on January 25, 2010 2:00 pm

I also RT'ed your Tweet about the contest!

---

Sharon

on January 25, 2010 2:02 pm

I'd love to win!

---

susie

on January 25, 2010 3:21 pm

i love this thing!!

---

on January 25, 2010 11:19 pm

It's beautiful. Would love to win!

---

LMM

on January 26, 2010 2:55 am

Great idea! Beats the folder I currently use!

---

Krys

on January 26, 2010 2:55 am

This is a great time for this prize! I appreciate the opportunity to win such a handy organizing tool!!

---

Judy Riley

on January 26, 2010 7:09 am

This looks like a great idea for a mom of any age. Schedules and agenda are just as busy and hectic for grandmothers as they were when we had the kids at home running around…..

I love your ideas and share them with the moms here at work all the time.

---

jeff

on January 26, 2010 9:05 am

Good for dads/husbands too

---

Julie

on January 26, 2010 9:55 am

Something to help organize me more. Love it. Please enter me in your raffle. Thanks!

---

gillette

on January 26, 2010 10:13 am

I am familiar with the products as well as their original, Mom agenda, and they are terrific! Would love to win one for a daughter-in-law!

---

Laurie B.

on January 26, 2010 1:57 pm

I have one of these and I really like it. And I use it. Weekly spelling lists reside there, take-out menus, ph#s – all of that stuff. It fits in my kitchen drawer but also doesn't look bad out on the counter. Love the blue. If I win one I will give to a friend and make sure she knows about the Good Stuff Guide!

---

Laura

on January 26, 2010 2:12 pm

I need help organizing all of our papers that are currently packed in boxes. This would be great!

---

on January 26, 2010 8:02 pm

Love it.

---

on January 26, 2010 11:43 pm

Hmmm who couldn't use a little organizational help

---

FSR

on January 27, 2010 2:37 am

Definate necessity in my kitchen! Thanks a bunch!!!

---

Deirdre

on January 27, 2010 12:42 pm

(Don't know if my last comment appeared or not.) I will re-type.

New mommy + coupon clipping fool + NYC apartment kitchen = In need of kitchen folio. Thanks for the giveaway.

Deirdre

---

Deirdre

on January 27, 2010 12:42 pm

New mommy + coupon clipping fool + NYC apartment = I need a kitchen folio. Thanks for the giveaway.

Deirdre

---

Lisa A. Ross

on January 27, 2010 4:18 pm

I'm a die-hard for organization (especially organizational tools)! And this is a rather attractive one, to boot!

---

on January 27, 2010 4:33 pm

love it!! I am sloooowly getting organized this year!!

---

on January 27, 2010 4:42 pm

I'm a sucker for these things! Love them!

---

Kowanda

on January 27, 2010 4:58 pm

I love things that help me be organized! I'm always losing important papers (my son is only in pre-K!).

---

Kowanda

on January 27, 2010 4:59 pm

shared the giveaway on facebook.

---

on January 27, 2010 8:41 pm

LOVE, LOVE, LOVE Mom Agenda. Would love to have the kitchen folio – feeling so disorganized and discombobulated this year!!

---

Marie

on January 27, 2010 9:52 pm

The best accessory for my kitchen. Cannot live without it!

---

on January 28, 2010 6:47 am

I have the MomAgenda daily mini and LOVE IT! I would absolutely love to have the kitchen folio too. Thanks for doing a giveaway!

---

on January 28, 2010 12:03 pm

I love MomAgenda. Their items are so attractive to carry around!

---

on January 28, 2010 3:42 pm

This looks amazing! As a new mom, my only "agenda" has been getting on a schedule. Hmm. Now if I can just remember when those darn appointments are, that might help:)

---

Jenny

on January 28, 2010 10:28 pm

This would be soooo handy!!! I tried to create one, but have failed. I need the help!

---
Leave Us Some Comment-Love