October 10, 2011
Written by Contributing Writer, Sarah Farthing
Excellent for entertaining and just as satisfying as a simple Sunday family dinner…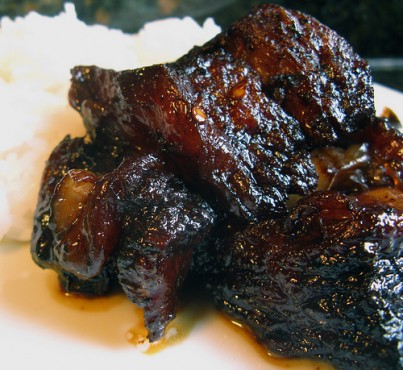 Korean Short Ribs
–beef short ribs (1 or 2 packages)
–1 cup soy sauce (La Choy and Tamari Wheat-Free are gluten free)
–1 cup brown sugar
–5 whole jalapeno peppers
–1/2 cup water
Place beef ribs into crockpot and add soy sauce, water and brown sugar on top.  Throw in the whole jalapenos on top.
If you're starting with frozen short ribs, cook on high for an hour or so before switching to low for another 8 hours or so. When I start with ribs that are not frozen this takes about 6-7 hours in my crockpot.   That's it!!
I serve these ribs with white rice (made with chicken stock, as always) and either broccoli or green beans steamed in the microwave.   Don't forget to spoon the juices over the meat and rice pile on your plate…sooooo sweet and savory!
I snagged this image here, where it is explained that the recipe originated as a stew here, and then morphed into the recipe above here.  Long story short and three links later, this is not my concoction but I do love it so!!
Do you have a sure-fire recipe to share with us?!  E-mail sarah@thegoodstuffguide.com
Share this post
You might like...
Category: Cookin'
4 Comments »
Jessica Crump

on October 10, 2011 5:22 pm

YUM!

---

on October 10, 2011 10:24 pm

They are so delicious, the picture doesn't do it justice!

---

on October 11, 2011 11:44 am

Can't wait to try this – I can't believe how easy it is!

---

Gina

on October 17, 2011 9:48 pm

I tried them and they are awesome!!!! I teach and so need great ideas like this one. Thanks so much for passing it along, Sarah!!!

---
Leave Us Some Comment-Love