November 9, 2009
As the weather begins to turn, I've been hunting for great indoor activities to keep the adorables entertained (and *quiet*).  And, hey, if they're learning something during the process, it's a little added bonus.
So I've stumbled on these workbooks from Kumon and I've been so happy with them.
Here's just a sampling of their titles (and the ones for the giveaway):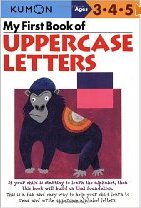 1) My First Book of Uppercase Letters –  Fun and entertaining way to help your adorable learn to read and write uppercase alphabet letters.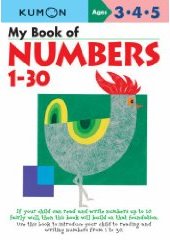 2) My Book of Numbers 1-30 – Great practice for reading and writing numbers from 1 to 30.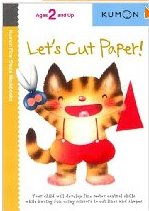 3) Let's Cut Paper – Develop your adorable's fine motor control skills while having fun using scissors to cut lines and shapes.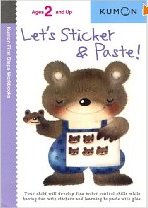 4) Let's Sticker and Paste – Again, work on those fine motor control skills while having fun with stickers and learning to paste with glue.
Here's how I use them:
1) In the car (or airplane if you're really traveling), I whip out the mazes or dot-to-dots or other fun activities.
2) In timeout (it occasionally happens), I hand out the letter practice workbooks, and when my adorable completes a couple pages, he's free.  I usually hug a completely new kid after he's had to concentrate to get his pages done.  Yes, I understand the ramifications of making him practice his letters as a discipline, but it works, so I'm going with it.
3) I include them in my Fun Boxes so when the adorables yelp about being bored, I hand them the box and everything is there for a little fun time.
4) In my perfect world I have this vision of after dinner while we're still at the table, the adorables will be working in their workbooks, while the Running Man and I finish our dinners and talk about our days.  Ha!  Made you laugh…
Giveaway
So the wonderful folks at Kumon are giving one of you 4 of their best workbooks.  Just leave a comment by Friday, November 13th, and I'll use Random.org to select a winner on Saturday, the 14th.
If you're not the lucky winner, you can always find just the book you are looking for on Amazon.
Kumon Workbooks
I've highlighted the books for the little adorables, but Kumon has titles for through grade school to reinforce math, reading, etc.
And a happy Monday to ya too!

Share this post
You might like...
Category: Activities
Tags: Kumon workbooks, quiet kid activities |
12 Comments »
Noreen

on November 9, 2009 10:05 am

I truly love your blog b/c you cover everything in my life! Thx!

---

on November 9, 2009 10:38 am

These look great!

---

marla

on November 9, 2009 10:40 am

Great ideas for Grandmas, too.

---

on November 9, 2009 12:51 pm

The books looks great! We are focusing on numbers and cutting skills with our preschooler right now.

---

Lucy

on November 9, 2009 1:10 pm

I LOVE these books, we have used the coloring in ones which are also great for 1 and 2 year olds, they are great

---

Katie F.

on November 9, 2009 6:55 pm

I love these. My son has used many of them and they are great church books! Would love them for my daughter

---

on November 10, 2009 10:07 am

These are expensive but worth it – they're good quality, colorful and hold my daughter's interest. I don't love the letter practice as much as the cutting and sticker books – those are fabulous!

---

gillette

on November 10, 2009 10:20 am

I want to get them for my little one whom I babysit once in a while.

---

Lynsi G

on November 11, 2009 12:00 am

My first Kumon experience was with my son and the "My First Book of Tracing". It was just "okay". I would love to give Kumon another chance in the hopes the cutting and sticker books would hold his attention a little better.

---

Jill

on November 12, 2009 11:28 pm

I have never seen these. My daughter would love them!

---

on November 13, 2009 11:37 pm

The worksbooks are well designed and provide a good introduction to the Kumon program. Try out the Letter and Number tracing books with erasable pens which help develop fine motor skills along with the readiness skills in reading and math. Better yet, look into the Junior Kumon or Kumon Math and Reading program!! It really works. Susan Rapp, Kumon Instructor, Columbia, Maryland.

---

on December 4, 2009 4:18 pm

This are perfect for learning. Hope I get them.

---
Leave Us Some Comment-Love