October 27, 2010
Excellent news!  Chris Van Dusen, that brilliant author/illustrator behind such instant classics as The Circus Ship
, If I Built a Car
, A Camping Spree With Mr. Magee
, and Down to the Sea with Mr. Magee
has done it again!  The third book in the Mr. Magee series, Learning to Ski with Mr. Magee
, is out TODAY!
Friends, dear reader Sarah F. introduced us to these books six or eight months ago, and they are consistently our very favorites at bedtime.  We've had our newest Mr. Magee pre-ordered on Amazon for a couple months and it mysteriously arrived earlier this week before it's publish date.  When I pulled it out of the box, the adorables went a little bananas.  Wish I had had the Flip ready to record my youngest adorable's chicken dance/"The new Mr. Magee" chant.
We were thrilled with the book!  These books scream to be read-aloud and the illustrations…!
Here's a peek: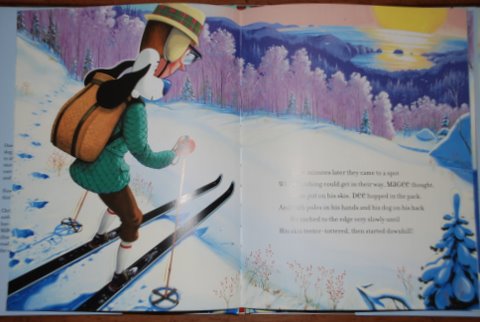 I don't want to give anything away, but here's one more: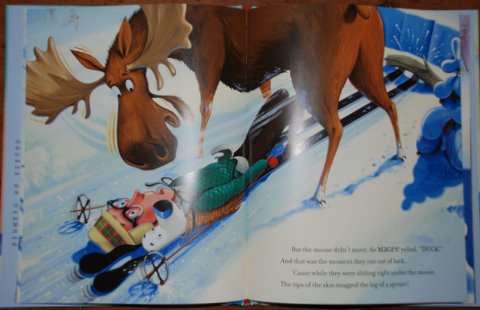 And it only gets more hilarious from there!
I asked Mr. Chris Van Dusen about his inspiration for the book and he had this to say,
"Even though seven years have passed since the last "Mr. Magee" book, I always felt that there was room for one more adventure. When I was working on the book, I'd often mention to school children and library groups that a new MAGEE was coming. This usually led to a happy gasp and, on at least one occasion, applause! So I knew it was not a bad idea.
My original concept for a third MAGEE involved him getting stuck somewhere way up high. But when I told a friend  (who's also an
author/illustrator) about my story idea, she thought it was too similar to "Down to the Sea with Mr. Magee". She suggested that I try something completely different. "How about a winter adventure?" she said. That got me thinking about skiing and soon the new story was born!"
Um, Mr. Van Dusen, I will give you a standing O for MORE!!!  (Please.)
Giveaway
You can win an autographed copy of Learning to Ski with Mr. Magee simply by leaving a comment by Tuesday, November 2nd.  I'll choose the winner using Random.org on Wednesday.
Because I just LOVE comments, here's how to gain extra entries (please leave them as separate entries):
Do you subscribe by email or RSS to The Good Stuff Guide? I love my subscribers, so you get an extra entry. Wahoo!
Email 5 of your friends about The Good Stuff Guide and tell them what a rockin' website this is.  We'd love to have them join us!
"Like" The Good Stuff Guide on Facebook and receive the latest news and your chance at additional giveaways. (I LIKE you too!)
Good luck!
Don't (as in DO NOT) miss the other books: The Wonderful Books of Chris Van Dusen
Many thanks of course to Mr. Van Dusen and to Sarah F. of www.readtheseplease.blogspot.com, where Sarah shares her love of children's literature and suggests tons of great books.  Check out her site!

Share this post
You might like...
Category: Brilliant Authors, Picture Books
Tags: Chris Van Dusen, Great new books for kids, Learning to Ski with Mr. Magee |
44 Comments »
Colleen Gallagher

on October 27, 2010 8:47 am

lov e these books…thx

---

on October 27, 2010 9:47 am

We aren't ski-ers, so I wasn't sure this was a giveaway for me until I saw the second spread. That's so funny, and now I want to know the whole story!

---

on October 27, 2010 9:48 am

You're in my reader!

---

on October 27, 2010 9:48 am

I like GSG on Facebook.

---

Julie R.

on October 27, 2010 10:23 am

This would be good paired with some ski tickets for a Christmas present. =)

---

Julie R.

on October 27, 2010 10:23 am

FB Fan

---

Julie R.

on October 27, 2010 10:23 am

email subscriber

---

susie

on October 27, 2010 11:54 am

how awesome would this be! i have the other books on my boys' christmas wish lists!

---

susie

on October 27, 2010 11:55 am

i'm a FB fan

---

susie

on October 27, 2010 11:55 am

i am an email subscriber too!!

---

Bridget

on October 27, 2010 1:56 pm

we would love to have this book! my husband the avid skiier is still trying to brainwash my 3 adorables into loving skiing too.

---

Bridget

on October 27, 2010 1:57 pm

FB fan

---

Bridget

on October 27, 2010 1:57 pm

email subscriber too! crossing my fingers…

---

on October 27, 2010 3:13 pm

Looks like something my children would truly enjoy reading.

---

Sue

on October 28, 2010 8:43 am

Email subscriber. Cute books!

---

on October 28, 2010 9:18 am

We LOVE this book! Thanks for featuring it, Heidi, and Read These Please!

---

Lauren

on October 28, 2010 9:43 am

These books are great! Thanks!

---

Melissa Mori

on October 28, 2010 9:57 am

Would love this book for my son's library! Love the illustrations

---

Melissa Mori

on October 28, 2010 9:58 am

I am a FB fan!

---

Melissa Mori

on October 28, 2010 9:58 am

I am an email subscriber!

---

Rachel C

on October 28, 2010 10:34 am

This looks really cute. We love books!

---

Rachel C

on October 28, 2010 10:35 am

email subscriber

---

gillette

on October 28, 2010 10:52 am

Would love it for a birthday present for my almost 5 year old who loves to ski!

---

gillette

on October 28, 2010 10:52 am

I'm a subscriber, thank heavens!

---

Linda

on October 28, 2010 10:58 am

I'm an email subscriber. Would love to give this as a Christmas gift!

---

Linda

on October 28, 2010 10:59 am

I "like" you on facebook.

---

Shelley

on October 28, 2010 11:26 am

We sure do love books around here and this one looks great. Thanks for introducing us to a new author.

---

Jules Greenaway

on October 28, 2010 3:43 pm

I have never heard of these books, but sure would love to give them a shot, especially if I win…bonus!!!! My little boy is only 18 months, but loves books!!!! Bring on the reading!!!!

---

Laura

on October 28, 2010 4:22 pm

We don't have any of these books – they look great!

---

Laura

on October 28, 2010 4:23 pm

I am a subscriber!

---

Laura

on October 28, 2010 4:23 pm

and a FB fan!

---

on October 29, 2010 11:09 am

I love his books! I even bought on of his prints for my son's room. He loves it!

---

on October 29, 2010 9:04 pm

Okay. I haven't read these before…but it looks like I might need to start.

---

on October 29, 2010 9:04 pm

I "like" the good stuff guide on FB.

---

Annabelle

on October 30, 2010 8:48 am

If I Built a Car is one of my favorite stories to read to my students at school! It always gets their imaginations going. Can't wait to read the new book!

---

Annabelle

on October 30, 2010 8:48 am

I'm a subscriber!

---

Annabelle

on October 30, 2010 8:49 am

I'm also a FB fan!

---

Sarah

on October 30, 2010 1:34 pm

Looks like a great book, we don't have these!

---

Sarah

on October 30, 2010 1:35 pm

FB fan!

---

nan lara

on October 31, 2010 1:02 pm

looks like a great book
nannypanpan at sbcglobal.net

---

nan lara

on October 31, 2010 1:02 pm

e-mail subscriber

---

Jenny

on November 2, 2010 8:15 am

My little one would LOVE this book!!

---

Jenny

on November 2, 2010 8:15 am

I'm an email subscriber.

---

Jenny

on November 2, 2010 8:16 am

I'm a fan on facebook.

---
Leave Us Some Comment-Love